Michelle Obama Bids Late-Night TV Farewell, Promises to Keep Fighting for Causes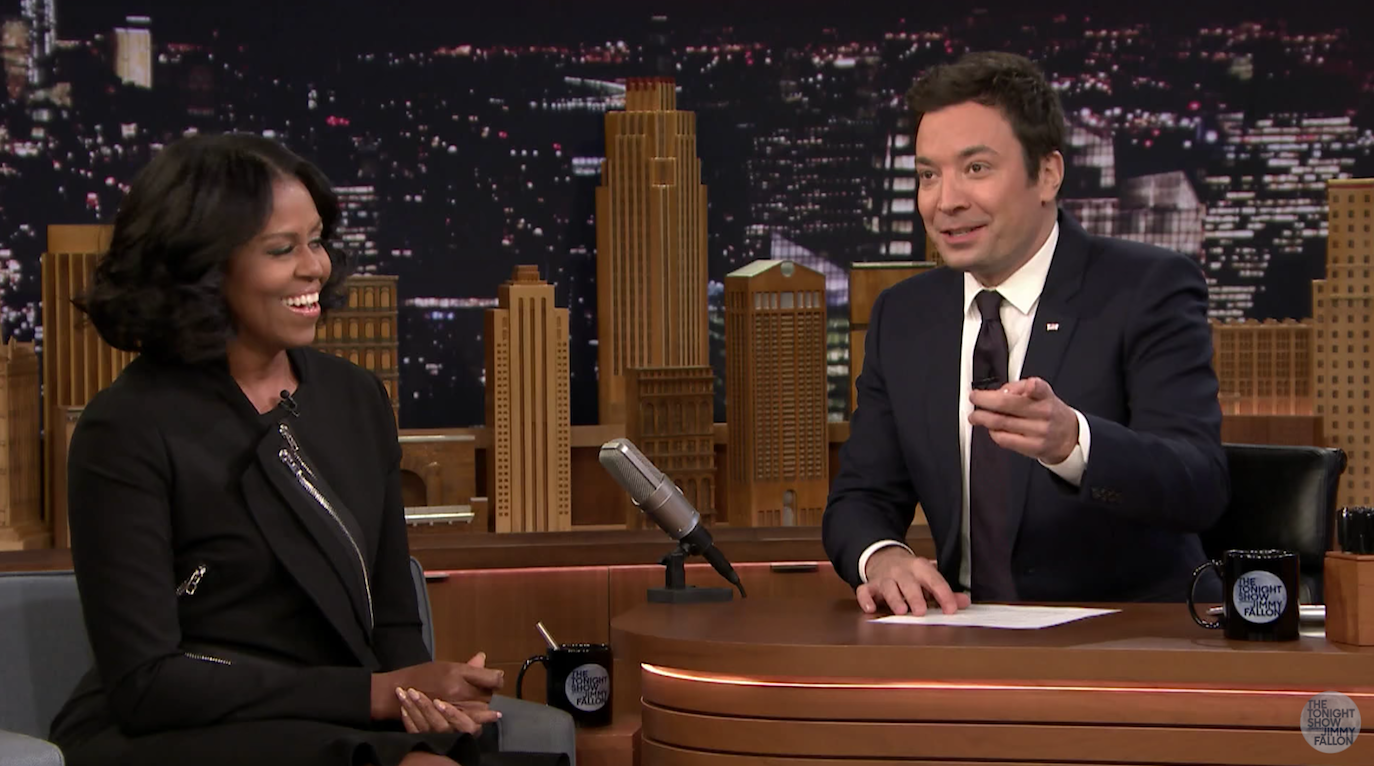 Two days after watching her husband give his farewell address from her hometown of Chicago, Michelle Obama was in New York for her final television appearance as first lady, on the Tonight Show with Jimmy Fallon. She and the host have shared several memorable moments, including a dazzling demonstration of the "Evolution of Mom Dancing" back when Fallon was hosting Late Night (not to mention the "Evolution of Mom Dancing Part 2" a few years later).
Related: Barack Obama's flawed and remarkable farewell speech
There was no dancing during Obama's bittersweet appearance Wednesday night. Instead, she and Fallon discussed what lies ahead for the soon-to-be-former FLOTUS, as well as what it's been like to make the transition out of the White House, which her family has called home for the past eight years. "I feel like crying right now," she said. "I didn't think it was going to be that emotional.... It has been surprisingly emotional for all of us in ways that we didn't expect."
Fallon noted that she was especially emotional during the Obamas' farewell party from the White House last Friday, and the first lady explained that she had been thinking about kids. Not hers, necessarily, but all of the kids around America whose future is uncertain. As usual, though, Obama was optimistic. "Kids are my heart," she said. "When I think about the fact that some of them are afraid about what's to come, what I said is that I don't want them to be afraid. I want them to embrace the future and know that the world is getting better. We have bumps in the road, we have ups and downs, but I want our kids to move forward with strength and with hope."
She also confirmed that one of her own kids, Sasha, was not present at the president's farewell address—because she had a final exam the next morning. "You know the Obamas, girl, sorry," she said, pretending to reenact breaking the news to her daughter. "You've got to take your test. You can say goodbye later."
Kids, of course, were one of the chief focuses of Michelle Obama's time in the White House. Let's Move! was the name of her initiative to combat childhood obesity, and it was the first lady who was behind 2010's Healthy Hunger-Free Kids Act, a reform for school lunches. She made sure to let Fallon know that she is still going to fight for these causes after January 20. "I will continue to stay involved in these issues as long as I live," she said. "I didn't take them on because I was the first lady, I took them on because they meant something to me."
"So yeah, I'm not done," she added. "I'm too young. I'm too young to stop."
Then Stevie Wonder dropped by to bid her farewell.