Michelle Obama's Healthy Lunch Program May Get Dumped by Trump Administration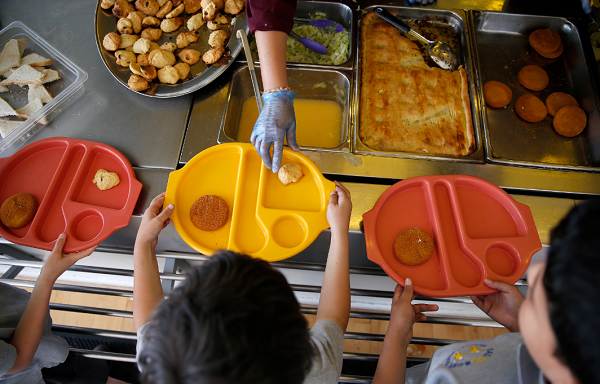 Michelle Obama's Healthy, Hunger-Free Kids Act could become not-so-healthy if a key lobbying group succeeds in persuading the Trump administraton to reduce federal nutrition standards that the former first lady implemented for student lunches during her tenure.
Earlier in March, the School Nutrition Association (SNA) released its Federal Nutrition Standards recommendations, asking the U.S. Department of Agriculture to allow more flexibility in healthy meal planning for student lunches. The group suggested the department allow food items that are naturally higher in sodium on school lunch menus and asked to return grain requirements to former whole grain standards.
In its recommendation, the SNA said the program's "overly prescriptive regulations" may be the cause of reduced student lunch participation and increased costs and waste. SNA suggested federal nutrition standards be modified to include "nutritious meals that appeal to diverse student tastes" and options that students enjoy with their families like white rice, grits, pasta, tortillas and bagels.
The group may be successful in their efforts thanks to support from Republican lawmakers including House Freedom Caucus Chairman Mark Meadows (R-N.C.), who included the Healthy, Hunger-Free Kids Act in a list of more than 300 executive orders, rules and regulations that President Donald Trump's administration should consider cutting in its first 100 days.
"The federal government involving itself in what is served in school lunches is the epitome of government overreach," Meadows told Washington Examiner Monday. "Districts that have chosen to opt out have been able to provide more options to students and better-quality services."
Obama launched the Healthy, Hunger-Free Kids Act in 2010, advocating for student lunches consisting of food items low in sodium and fat to be paired with low-fat milk, vegetables, and only half a serving of whole grains and fruit. The program was created in an effort to reduce child obesity and promote healthy eating habits among students.
However, when Obama's healthy lunches rolled out at the start of the 2012-2013 school year, students were less than pleased with the meals that replaced their French fries and soda. In November 2014, students started a viral Twitter hashtag #ThanksMichelleObama, sharing photos of their lackluster school lunches.