Michelle Obama Surprises Children at Martha's Vineyard Public Library: 'Some of the Kids Were Sobbing'
Former United States first lady Michelle Obama sparked an emotional reaction on Friday after making a surprise appearance at a Martha's Vineyard public library.
The accomplished best-selling author, lawyer and wife of former U.S. president Barack Obama showed up to Edgartown Public Library at about 4 p.m. and spent about 30 minutes talking with staff and schoolchildren in the building, the Martha's Vineyard Times reported.
"Some of the kids were sobbing. They were stunned. They couldn't believe she was in front of them," library director Lisa Sherman told the newspaper, before adding: "I couldn't believe it either.
According to the Martha's Vineyard Times, Sherman said Obama encouraged everyone in the room to continue learning and supporting each other.
Before leaving, she took a group photo with more than a dozen children who attend the space as part of an after-school program. That photograph was later shared on social media by the library staff, who wrote on Facebook: "When you send your kid to the library, you never know what story they will take home."
Chris Look, who works as a circulation assistant at Edgartown Public Library said Obama likely heard the administrators were a fan of her best-selling book and referenced speculation that the family is currently in the process of purchasing a massive 29-acre home on the island.
"With her having a house here, I'm assuming she was in the neighborhood and decided to stop by," Look said, adding: "Everyone was really excited. All the kids were asking her questions. She had a smile on the whole time. It seemed like she was enjoying herself too." Local media reported Obama was accompanied by the Secret Service and her mother, Marian Shields Robinson.
The famous family are known to frequent the region. The Vineyard Gazette previously reported the Obamas spent seven out of eight summers vacationing on the island during Obama's time as commander-in-chief and the island was home to some of his first presidential fundraisers.
As noted, speculation has mounted in recent months that a Martha's Vineyard estate belonging to the owner of the Boston Celtics basketball team, Wyc Grousbeck, was potentially of interest to the Obamas. The sprawling mansion was being listed at $14,850,000, as first reported by TMZ.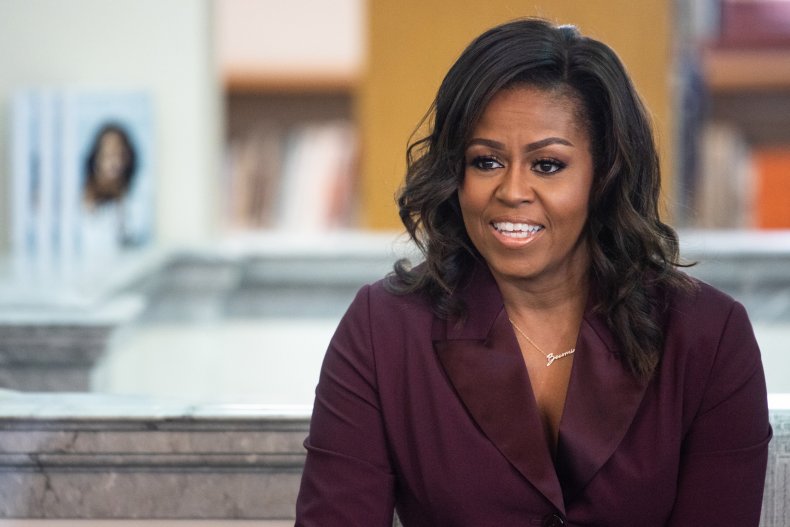 The details of the purported offer have not been made public, and specifics still remain murky. Forbes reported back in September a deal was expected to close that month, however as noted by Snopes, no sales had yet been listed by the Dukes County Registry of Deeds in Edgartown.
In March, it emerged that Michelle Obama's memoir, titled "Becoming," sold over 10 million copies in its first five months, the BBC reported. Published on November 13 last year, the book sold more than 1.4 million copies in its first week in the U.S. and Canada, the Associated Press reported.
Michelle Obama Surprises Children at Martha's Vineyard Public Library: 'Some of the Kids Were Sobbing' | News