Former secretary of state and two-time presidential candidate Hillary Clinton, for the first time in 17 years, is no longer the most-admired woman in Gallup's annual poll published Thursday.
Despite Clinton finishing first 22 times in the past—more than any other man or woman—former first lady Michelle Obama topped this year's list at 15 percent. She was followed by Oprah Winfrey at 5 percent, Clinton at 4 percent and first lady Melania Trump, also at 4 percent.
Obama has been on a book tour for her new best-selling memoir, Becoming: An Intimate Conversation With Michelle Obama. She also appeared on the campaign trail ahead of the 2018 midterm elections, where crowds received her with open arms as she took jabs at the Trump administration.
Meanwhile, the current first lady's approval ratings have continued to decline, with 54 percent of respondents in a CNN poll reporting they had a favorable view of her in October to 43 percent earlier this month. In June, she wore a jacket with "I Really Don't Care, Do U?" written on the back during a visit to facilities housing migrant children, sparking widespread backlash. She had received her highest approval rating, 57 percent, in a CNN poll the previous month.
Other notable women who made the list include Queen Elizabeth, German Chancellor Angela Merkel, Supreme Court Justice Ruth Bader Ginsburg, TV host Ellen DeGeneres, outgoing U.S. Ambassador to the United Nations Nikki Haley, Pakistani women's education activist Malala Yousafzai and presumptive incoming speaker of the House, Nancy Pelosi.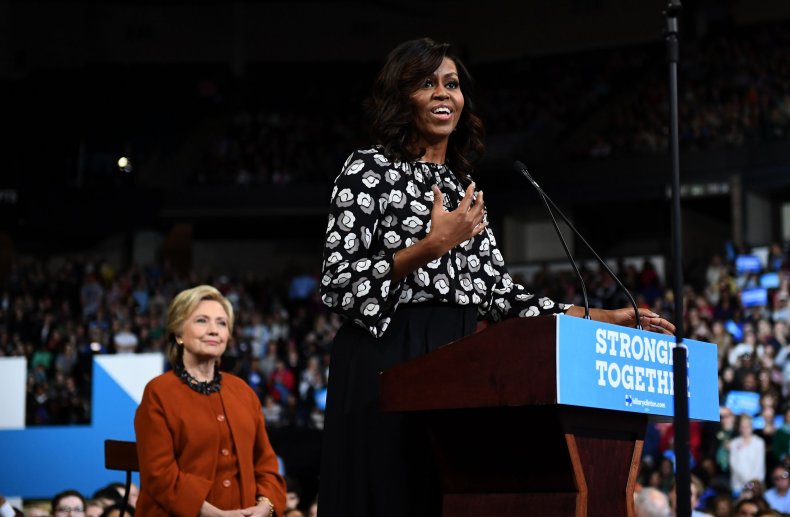 Former President Barack Obama, at 9 percent, also topped the list for most-admired men for the 11th consecutive year, according to Gallup. President Donald Trump came in second, at 13 percent, followed by former President George W. Bush, at 2 percent.
Pope Francis, Microsoft founder Bill Gates, Democratic Senator Bernie Sanders, former President Bill Clinton, the Dalai Lama, former Vice President Joe Biden, Tesla CEO and founder Elon Musk and current Vice President Mike Pence also made the list for most-admired men.
Should Trump leave the Oval Office never having led the list of most admired, he would become only the second U.S. president to do so since Gallup first polled the question in 1946.
The results fell mostly along party lines, with 35 percent of Democrats nominating Barack Obama and 1 percent choosing Trump. Republicans, on the other hand, voted for Trump (32 percent), while 7 percent went for Obama. Independents supported Obama at 13 percent compared with Trump at 10 percent.
Michelle Obama received 28 percent of Democratic votes, while Melania Trump drew 1 percent. Republicans chose Trump (9 percent), followed by Obama and Winfrey at 5 percent, and Hillary Clinton at less than 0.5 percent.
Gallup's survey was conducted from December 3-12, and asked 1,025 adults to "name the man and woman living anywhere in the world today whom they admired most." The poll's margin of error was plus or minus 4 percentage points.