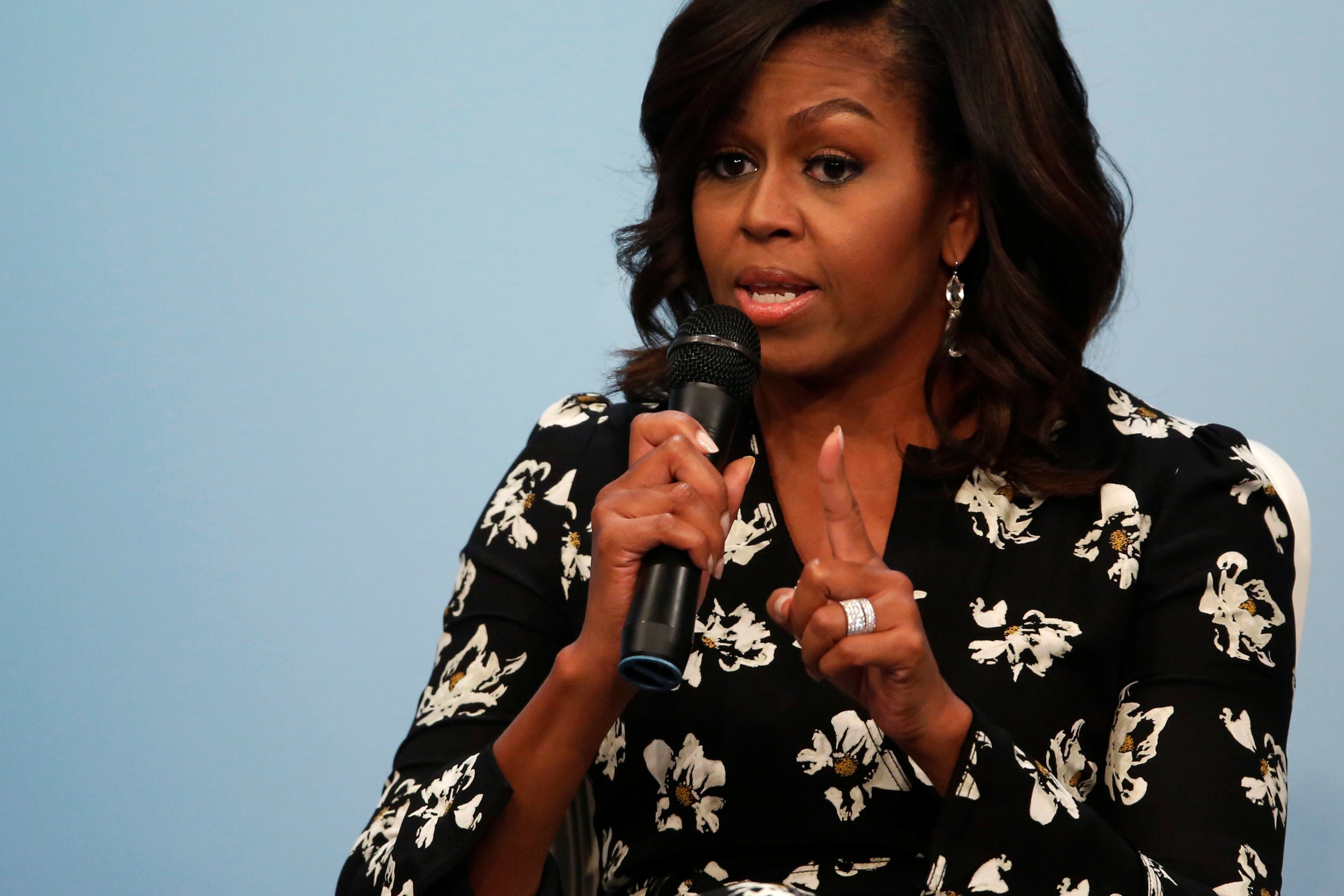 An artist accused of copying a student's painting to create a $12,000 mural of Michelle Obama in the former First Lady's hometown of Chicago, has attempted to defuse a row over the issue by suggesting he pay the original artist a "licensing fee."
The mural, unveiled on a building in Chicago's South Side on April 21, sparked a row when people spotted that its painter, local artist Chris Devins, appeared to have used an image created by Ethiopian art student Gelila Mesfin in Rhode Island.
Mesfin uploaded the digital painting, which portrays Obama wearing a regal green and gold Egyptian headdress, to her Instagram account on October 30 with the caption "Forever Queen."
On April 21, Devins unveiled his mural portrait of Obama on a building several blocks from where she was born. He raised nearly $12,000 to fund his project via a crowdfunding page and originally suggested to local media that he had come up with the portrayal of Obama himself.
"I wanted to present her as what I think she is, so she's clothed as an Egyptian queen," Devins told DNAinfo. "I thought that was appropriate."
Mesfin told The Washington Post on April 24 that she was initially flattered seeing the mural, but when she heard that the artist had claimed the idea as his, she sought advice from an attorney. "There's a common code among all artists that you can get inspired by someone's work but you have to pay homage and you have to give credit for it," she said.
Several people who donated to the mural project criticized Devins for plagiarizing Mesfin's work and expressed their outrage on social media. One woman from Boston set up her own crowdfunder to raise funds for Mesfin.
Devins apologized after the backlash on social media and on Monday said he had spent all the money raised in his original crowdfunding campaign on creating the portrait. He said he was considering donating to the crowdfunding campaign for Mesfin and on Wednesday, Devins told local news site DNAinfo that he would be prepared to give the student a licensing fee for her work.
The offer of payment came two days after he told the news website that Mesfin had "no legal grounds to stand on for copyright infringement." He told The Washington Post on Monday that he had discovered Mesfin's portrait on the sharing platform Pinterest and considered his work a "remix" similar to the work of a DJ.
"Her work is itself considered a derivative work of the original photographer," he told DNAinfo on Monday. "She herself appropriated [photographer Collier Schorr's] image and 'digitally painted' over it. You can't appropriate a bike then sue someone for riding it." Mesfin credited Schorr for the photograph when she shared her portrait on Instagram.
The pair of artists had confirmed to The Washington Post that they were negotiating a resolution. Mesfin called on her angry fans to refrain from insulting the Chicago artist. "I only ask that everyone keep this positive towards him," she wrote on Instagram. "I preach love, not anger or hate of any kind."
Neither Devins nor Mesfin had replied to Newsweek's request for comment at time of publication.