Michelle Obama Opens up About Marriage With Barack Obama: 'Just Us and Our Dreams'
How do married couples keep the love alive? Michelle Obama says the former first couple is working on "finding each other again."
In an interview with People, the 54-year-old former first lady addressed life after her husband's presidency and her newly released memoir, Becoming. She opened up to People about how she's working with her husband to recapture the magic in their marriage. The couple, in doing so, intends to return to their roots.
"We are finding each other again," she explained. "We have dinners alone and chunks of time where it's just us—what we were when we started this thing: no kids, no publicity, no nothing. Just us and our dreams."
Not all has been perfect for the couple post-White House. Obama spoke candidly with People about the pair's troubles, saying: "Because we're role models, it's important for us to be honest and say, if you're in a marriage and there are times you want to leave, that's normal—because I felt that way."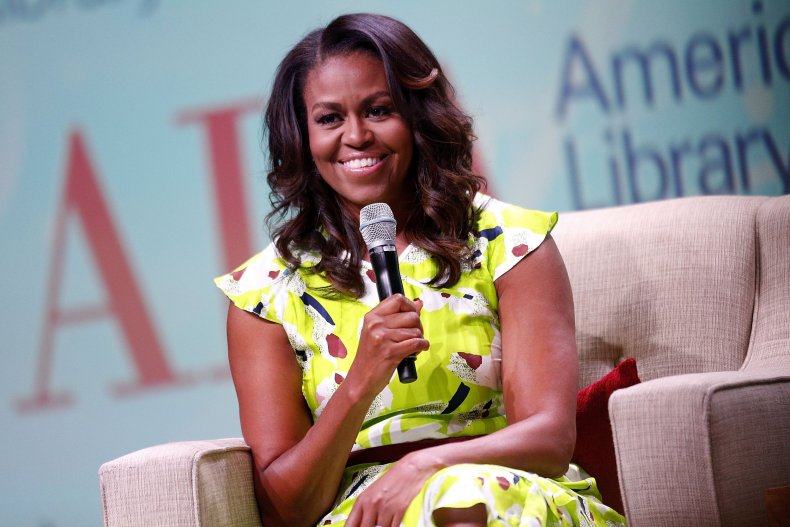 Obama delved further into the ups-and-downs of her marriage in Becoming. In a highly revealing passage, she addressed the couple's struggles with conceiving children. Her conception issues resulted in her suffering from a miscarriage.
The Obamas' daughters—Sasha, 17, and Malia, 20—were both conceived by in vitro fertilization (IVF). The costly medical procedure is a method of assistive reproductive technology that enables the egg to be fertilized by sperm outside of the body.
"We had one pregnancy test come back positive, which caused us both to forget every worry and swoon with joy," she wrote, according to the Associated Press. "But a couple of weeks later I had a miscarriage, which left me physically uncomfortable and cratered any optimism we felt."
Obama also discussed her difficulties conceiving in an interview with Robin Roberts for Good Morning America on Sunday. "I felt lost and alone, and I felt like I failed because I didn't know how common miscarriages were, because we don't talk about them. We sit in our pain, thinking that somehow we're broken," she said.
Becoming is Obama's second book. Her first, titled American Grown: The Story of the White House Kitchen Garden and Gardens Across America, was published in 2012. The book depicts the White House Kitchen Garden throughout the seasons while detailing the importance of eating healthy.
To mark Becoming's release Tuesday, Obama's husband took to Twitter to praise her work.
"Of course, @MichelleObama's my wife, so I'm a little biased here. But she also happens to be brilliant, funny, wise—one of a kind," he tweeted. "This book tells her quintessentially American story. I love it because it faithfully reflects the woman I have loved for so long."