Michelle Obama Praises Baltimore STEP Team after Trump Calls City a 'Filthy,' 'Rodent-Infested Mess'
Former first lady Michelle Obama issued glowing praise to a Baltimore-based STEP team on Saturday, hours after President Donald Trump tweeted cruel remarks about the team's hometown city.
"On #NationalDanceDay, I'm shouting out the Lethal Ladies, a Baltimore STEP team who I saw perform back in 2017," Obama wrote on Twitter. "I'm so proud of you all—and everyone who's dancing today!"
The former first lady shared a video of the team stepping to a routine that included Obama's popular refrain about taking the high road: "When they go low, we go high," the dancers said in the clip.
Her decision to resurface the 2017 footage came shortly after President Donald Trump thrust Baltimore into the national spotlight. Seemingly inspired by a negative Fox News segment, the president blasted the Maryland City and the congressman who represents it in a series of denigrating tweets.
"[U.S. Rep. Elijah Cummings'] district is considered the Worst in the USA. As proven last week during a Congressional tour, the Border is clean, efficient & well run, just very crowded," Trump wrote. "Cumming [sic] District is a disgusting, rat and rodent-infested mess. If he spent more time in Baltimore, maybe he could help clean up this very dangerous & filthy place."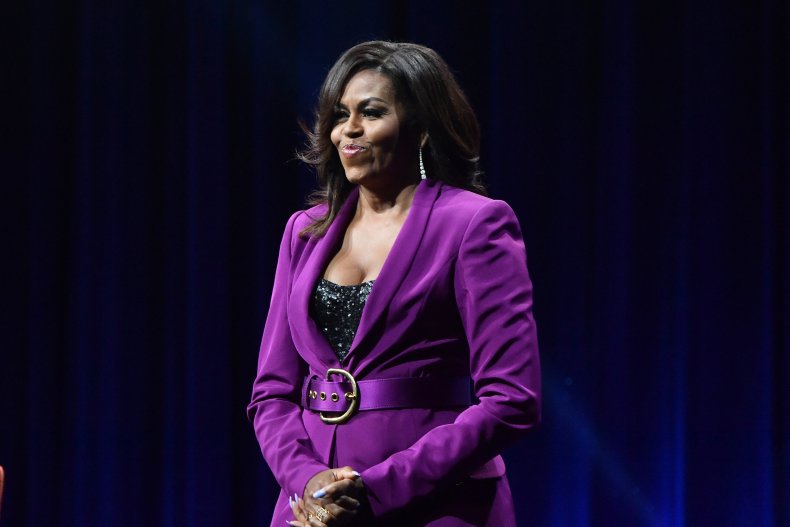 Cummings has been an outspoken critic against President Donald Trump's administration. Last week, the congressman—who also serves as the chairman of the House Oversight and Reform committee—subpoenaed personal emails used for official business by top White House staffers, including Ivanka Trump and husband Jared Kushner.
While Obama's opted for a more subtle defense of the city, other electeds issued more forthright condemnations of Trump's words. House Speaker Nancy Pelosi immediately decried Trump's insults as "racist."
"Rep. Cummings is a champion in the Congress and the country for civil rights and economic justice, a beloved leader in Baltimore, and deeply valued colleague," she tweeted. "We all reject racist attacks against him and support his steadfast leadership."
The Baltimore Sun's editorial board, meanwhile, issued a scathing article that touched on the myriad controversies that have engulfed Trump's tenure in the White House, from the conditions at the U.S. Southern border to the president's emboldening of white supremacist groups.
"We would above all remind Mr. Trump that the 7th District, Baltimore included, is part of the United States that he is supposedly governing," the board wrote. "The White House has far more power to effect change in this city, for good or ill, than any single member of Congress including Mr. Cummings. If there are problems here, rodents included, they are as much his responsibility as anyone's, perhaps more because he holds the most powerful office in the land."
The editorial concluded: "Better to have some vermin living in your neighborhood than to be one."
Despite the pushback on his original comments, Trump continued his attacks on Baltimore and Cummings on Sunday morning.
Once again citing a Fox News segment, the president tweeted a quote from Fox & Friends co-host Pete Hegseth that, "Elijah Cummings has had his chance to address it (crime & conditions in Baltimore) for decades, and he hasn't gotten it done."
The president then added his own musing on Cummings, implying that the legislator's position as chair of the House Oversight Committee is somehow preventing Cummings from helping to improve conditions in Baltimore: "How can he get it done when he just wants to use his Oversight Committee to hurt innocent people and divide our Country!"