Michelle Obama's Jubilee Message to Queen Sparks Debate on Colonialism
Former first lady Michelle Obama was one of many famous faces to record messages of thanks and congratulations to be broadcast at the Platinum Party at the Palace honoring Queen Elizabeth II's Platinum Jubilee. While many fans applauded her, some took issue with her decision to honor someone whose family has represented a colonial institution.
"Your majesty, I'm wishing you my warmest congratulations on your Platinum Jubilee," Obama said in a shorter version of the video posted to her Twitter account on Thursday. "Over the years, your graceful, steady hand has offered us all a shining example of dignity, service and grace. Congratulations on a remarkable 70 years."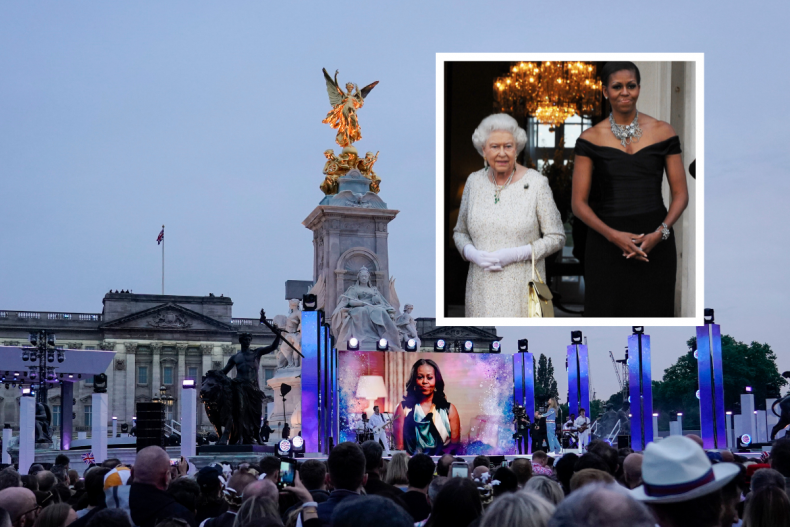 In a longer version of the clip that aired during the broadcast, Obama also thanked the queen for making her feel at home the first time she visited Buckingham Palace as a nervous first lady alongside her husband, former President Barack Obama.
Most viewers praised her for her message. "Two brilliant women I much admire, her Majesty The Queen and Michelle Obama," wrote Twitter user @prometheus3.
"Queens recognize queens!" tweeted user @Now_Jenn.
However, plenty of other followers took issue with Obama's message. "We fought a war a couple of hundred years ago so that we wouldn't have to give a s*** about this stuff," Twitter user @antedelopean wrote in response to her tweet.
"She's no longer a First Lady and had no obligation to do this," wrote Twitter user @Mrs_LeeJ. "Why would she post this knowing the history this family has caused?"
"Congratulations to the poster family of colonialism, imperialism and its myriad negative effects on the so called colonies, their cultures etc and establishing a traitor class to govern the 'former' colonies," Twitter user @girlsoldier333 wrote.
Still, others stuck up for Obama. "The Queen is the UK Head of State," user @EllPezz tweeted. "All US Presidents, First Ladies etc understand the importance of recognising this. Apparently you don't."
Conversations about the British royal family's role in colonial, often race-based oppression have grown louder since Harry and Meghan, the Duke and Duchess of Sussex, laid bare what they perceived as racist treatment from the family while they were working royals.
The pair told Oprah in a bombshell interview last year that an unnamed family member had "raised concerns" about their then-unborn child's skin color. They also implied that this was linked to conversations about whether their children would have titles. The allegations caused Harry's brother, Prince William, to proclaim, "We are not a racist family," when asked about the allegations at an event a few days later.
Earlier this year, the conversation about colonialism grew to a fever pitch when William and his wife, Catherine, Duchess of Cambridge, went on a royal tour to the Caribbean. The couple endured a series of PR gaffes, and the tour ended with Jamaican Prime Minister Andrew Holness publicly telling them that the nation would like to break away from the Commonwealth of Nations, of which Queen Elizabeth II is the head of state.