Michelle Obama Says America's Gotten 'Super, Super Bad,' Implores People to Vote
Former first lady Michelle Obama debuted her podcast with an urgent message to Americans: November is not the time to sit out the presidential election.
Former President Barack Obama joined the former first lady for the first episode of her namesake podcast, during which the couple discussed the current state of America. Whereas the former president is the "eternal optimist," according to Michelle, Barack said his wife takes the view that things have to get "super, super bad before folks figure stuff out."
"Well, I hope we're at that point…," Michelle said. "As cynical as I can be, I agree, we don't have an alternative."
Michelle noted that her husband, who she called the "yes, we can, man" in reference to his campaign slogan, believes people will learn before we "crash into the sun."
Newsweek reached out to the White House for comment but did not receive a response in time for publication.
National general election polls put presumptive Democratic nominee Joe Biden as the front-runner in a race between himself and President Donald Trump. Two recent Ipsos and Morning Consult polls give Biden a seven- and eight-percentage-point edge respectively and FiveThirtyEight noted that voters are starting to not just pick Biden for themselves, but are seeing his chances at winning improve.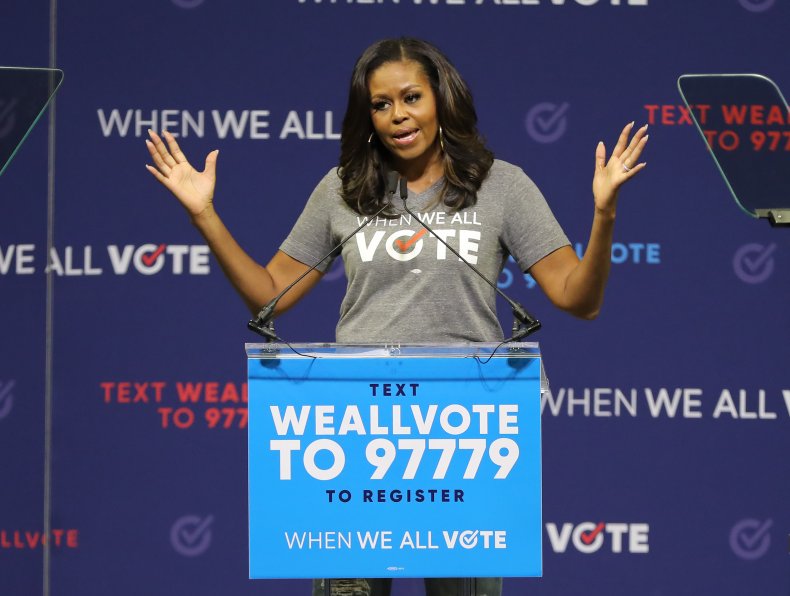 In June, Trump had about a 10 percentage point lead over Biden to win in a poll jointly conducted by The Economist and YouGov. In July, voters considered the two to have near equal chances of ending up in the White House.
Young people overwhelmingly vote Democratic and the activism displayed by young people in the wake of George Floyd's May 25 death after an officer knelt on his neck gave Michelle and Barack hope, but the former first lady was concerned it might not carry over to the polls. Michelle worried the same people who are leading protests and calls for change hold such a cynic view of government that it would turn them off to voting.
"I hear too many young people who question whether voting, whether politics is worth it," Michelle said.
Barack reasoned that young people are asking these questions because the message that's being sent to them every day is that "government doesn't work." Over the past few months, the federal government has faced criticism for failing to properly invest in public health in preparation for a pandemic similar to the one the country is now facing, problems with testing and legislators' inability to come together on a bipartisan basis to help people who are still unemployed and businesses who were affected by the new coronavirus outbreak.
While the government is far from a well-oiled machine, Barack said young people "take for granted" the things a working government has done in the past. Without a "marketing budget," Michelle said it's difficult to teach people what the government is doing for them. People only become knowledgeable about what the government's doing is "when it doesn't work," Michelle added.
"We're getting a good lesson in that right now," Barack said.