Former First Lady Michelle Obama said much of the racial unrest, "lack of empathy" and "systemic racism" America's children are seeing is emanating from the White House.
Obama made the Friday remarks in the wake of Kenosha, Wisconsin racial unrest which was sparked by the police officer shooting death of 29-year-old Jacob Blake last Sunday. Blake, a Black man, was seen in recorded video leaning into his vehicle as he was shot in the back seven times by a white officer. On Tuesday, two individuals in Kenosha protests were shot to death and a third was injured in an attack allegedly carried out by 17-year-old Kyle Rittenhouse, who was arrested Wednesday.
"These past few months, I've been thinking a lot about what our kids are seeing every day in this country—the lack of empathy, the division stoked in times of crisis, the age-old and systemic racism that's been so prominent this summer," Obama said in a Friday statement responding to the recent shootings deaths and racial unrest in Kenosha, Wisconsin.
"Sometimes they see it on the news. Sometimes they see it from the White House Rose Garden. And sometimes they see it from the back seat of a car," the former first lady said.
"I'm just devastated by the shootings in Kenosha. And I can't stop thinking about what our kids are seeing every day—and our obligations to them going forward," reads the tweet from Obama, which includes a link to the Obama Foundation website offering ways for Americans "to find out how you can take action."
The Kenosha unrest, which led to the burning and looting of much of the Wisconsin city, has become a focal point of the 2020 presidential election between Democratic candidate Joe Biden and President Donald Trump. Mrs. Obama, who spoke at the Democratic National Convention, followed up her comments critical of the administration with Friday's remarks.
"We work to help leaders change their world—and the world needs changing. The killings of George Floyd, Breonna Taylor, Ahmaud Arbery, and the loss of far too many Black lives to list, have left our nation anguished and outraged. While now is a time for grief and anger, it is also a time for resolve. Find resources below to learn what you can do to create a more just and equitable world," reads the Obama.org mission statement.
"Over 1,000 people are killed by police every year in America, and Black people are three times more likely to be killed than White people. We can take steps and make reforms to combat police violence and systemic racism within law enforcement."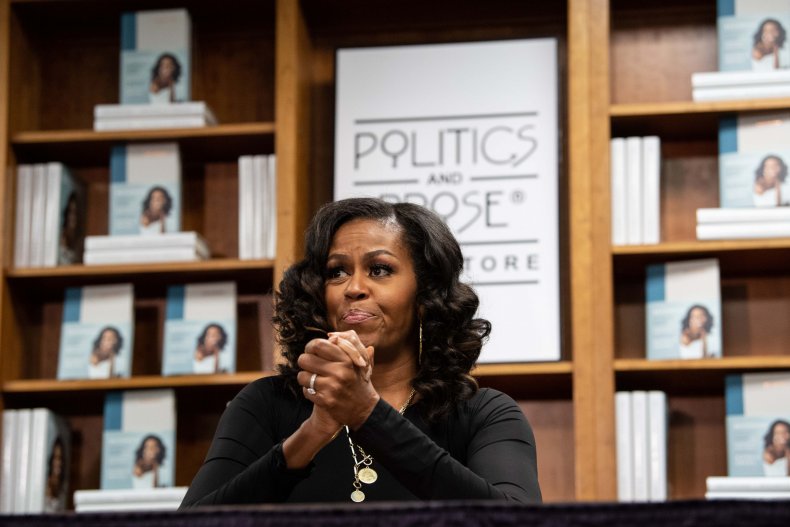 Both of the Obamas had remained largely quiet during the past several years of the Trump administration, working through their organization and offering their thoughts in books to assist Americans—Black and otherwise—despite repeated attacks from the president. During Mrs. Obama's remarks to the Democratic National Convention last week, she urged young women to express their voices and rebuked the Trump campaign's repeated attempts to paint a Biden administration as chaotic.
During her remarks at the DNC last week, she labeled Trump "the wrong president for our country ... If we have any hope of ending this chaos, we have got to vote for Joe Biden like our lives depend on it."
Newsweek reached out to the White House for additional reactions Friday evening.