Michelle Obama Says Trump Administration 'Hypocrisy' Left Her With 'Low-Grade Depression'
Michelle Obama said that she is "dealing with some form of low-grade depression" after witnessing the Trump administration's "hypocrisy."
On the latest episode of The Michelle Obama Podcast, the former first lady said she has had to take personal days, "not just because of the quarantine but because of the racial strife, and just seeing this administration, watching the hypocrisy of it, day in and day out, is dispiriting."
Obama also said that President Donald Trump's response and inaction regarding the nationwide protests in the wake of George Floyd's death have taken a toll on her.
"I'd be remiss to say that part of this depression is also a result of what we're seeing in terms of the protests, the continued racial unrest that has plagued this country since its birth," she said.
"I have to say that waking up to the news, waking up to how this administration has or has not responded, waking up to yet another story of a Black man or a Black person somehow being dehumanized or hurt or killed or falsely accused of something, it is exhausting. And it has led to a weight that I haven't felt in my life in a while," Obama added.
Newsweek reached out to the White House for comment but did not hear back before publication.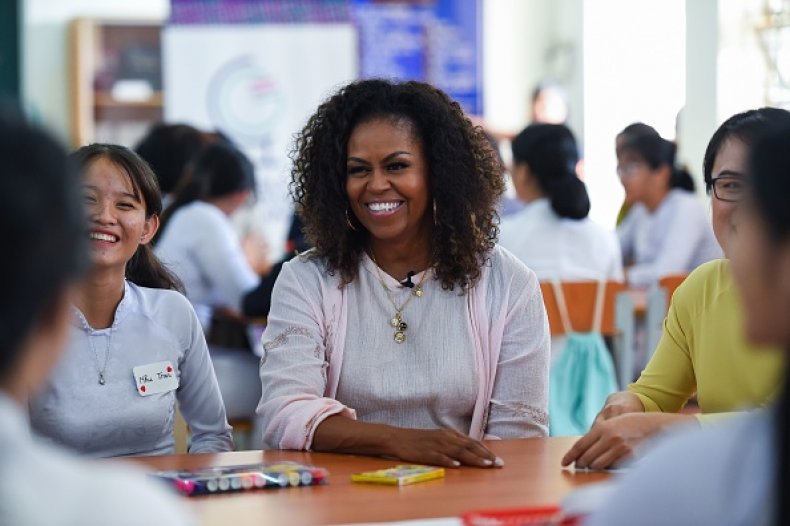 In her podcast's second episode, the former first lady discusses the protests across the country and the coronavirus pandemic with guest and journalist Michele Norris.
Obama said that knowing Americans are out protesting for racial justice "helps [her] sleep at night," but she acknowledged that those who have felt threatened by the Black Lives Matter movement have acted from a place of fear.
"I mean, it's easy for us, as people of color, to demonize folks who are out there protesting against Black Lives Matter. They're not right in their positions, but their fears are coming from somewhere," she told Norris. "Because folks aren't just crazy. You know, folks are out there trying to work and trying to keep it together, and when you can't do it, and when things feel stacked against you, as many of the people who are afraid are, then you lash out."
Obama said instances like this call for strong leadership that "can understand where the common challenges are."
Earlier in July, former President Barack Obama commended presumptive Democratic nominee Joe Biden for his ability to resonate with everyday Americans during a pretaped and socially distant conversation.
"If you can sit down with a family and see your own family in them and the struggles that you've gone through, or your parents went through or your kids are going through, if you can connect those struggles to somebody else's struggles, then you're going to work hard for them," the former president said. "And that's always what's motivated you to get into public service."