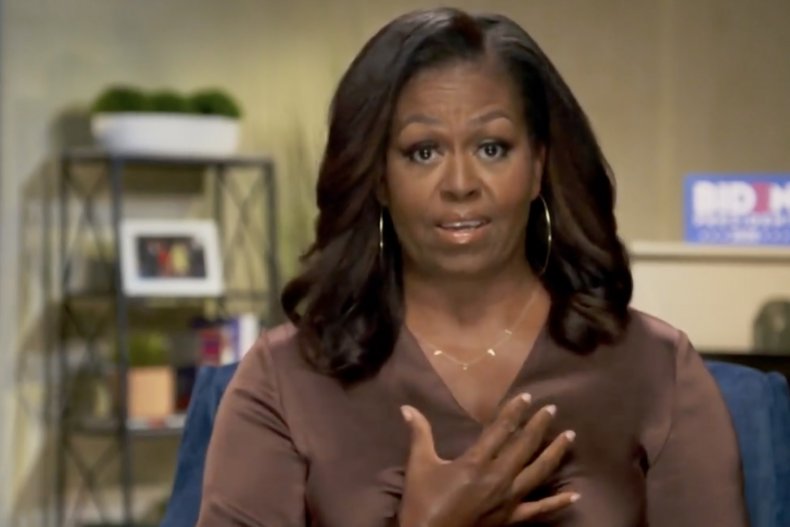 Former First Lady Michelle Obama said that President Donald Trump is "in over his head" while urging enthusiasm for former Vice President Joe Biden at the opening night of the Democratic National Convention on Monday.
Obama praised Biden as a "profoundly decent man" while delivering Monday's keynote address. She urged voters to cast their ballots for Biden so they will "be able to look our children in the eye" after defeating Trump.
"Let me be as honest and clear as I possibly can, Donald Trump is the wrong president for our country," Obama said. "He has had more than enough time to prove that he can do the job, but he is clearly in over his head. He cannot meet this moment, he simply cannot be who we need him to be for us. It is what it is."
The former first lady also acknowledged that Biden was not the first choice of many Democrats, saying that he would be "the first to tell you" that he is "not perfect." However, she stressed that there is "no perfect candidate" and warned that those who choose not to vote in protest could aid Trump's reelection.
"This is not the time to withhold our votes in protest or play games with candidates who have no chance of winning," said Obama. "We have got to vote like we did in 2008 and 2012. We've got to show up with the same level of passion and hope for Joe Biden."
"We've got to vote early, in person if we can," she continued. "We've got to request our mail-in ballots right now, tonight, and send them back immediately and follow-up to make sure they're received. And then, make sure our friends and families do the same."
Earlier on Monday, President Donald Trump blasted Obama during a campaign stop in Wisconsin for recording the speech ahead of the convention, insisting that she would be watching as Republicans deliver a "real" speech at the White House next week.
"Who wants to listen to Michelle Obama do a taped speech?" Trump said. "No, you have to have her get up there. But we're doing a real speech on Thursday, next Thursday, and she'll be listening. We'll be doing it live from the White House. And we have plenty to say."
The former first lady had been suggested as a possible pick for the role of Biden's vice president before Senator Kamala Harris was chosen as his running mate last week. However, she made it clear that she had no interest in becoming a candidate. On Monday, she suggested that she was speaking at the convention despite a reluctance towards further involvement in politics.
"You know I hate politics, but you also know that I care about this nation," Obama said. "So if you take one thing from my words tonight, it is this: if you think things cannot possibly get worse, trust me, they can; and they will if we don't make a change in this election. If we have any hope of ending this chaos, we have got to vote for Joe Biden like our lives depend on it."
Newsweek reached out to the Trump campaign for comment.