Michelle Obama Tells Crowd it's not Enough to Just Lean In: 'That S*** Doesn't Work all the Time'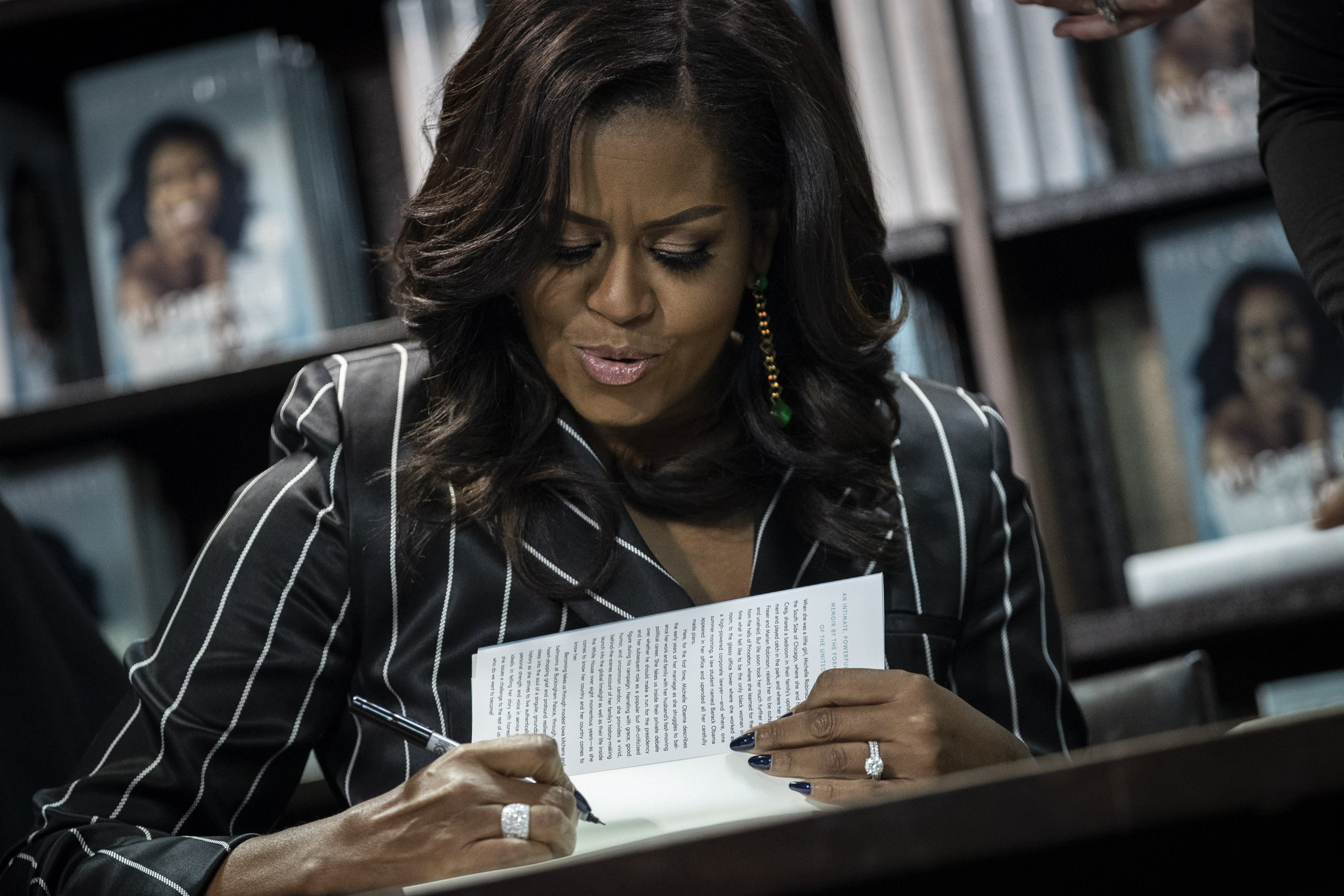 Former First Lady Michelle Obama celebrated her memoir, "Becoming," with fans at the Barclays Center in Brooklyn Saturday, and shocked the crowd when she swore. While speaking about inequality for women in both the workplace and marriage, she noted women can't be responsible for changing their own placement.
"And it's not always enough to lean in, because that s*** doesn't work all the time,'" she said of making equality and respect work. Twitter users reported the statement with shock and love. According to podcast host Touré, who attended the show, Obama also apologized for the slip up. "I forgot where I was for a moment," she said.
"Lean In" is a phrase coined by Facebook Chief Operating Officer Sheryl Sandberg. She published a book by the name about women's workplace equality.
Another Twitter user noted the swear was worth the whole night. "Despite waiting in the rain for an hour to get into the Barclays Center, I was just in the same room as @MichelleObama and she accidentally said "shit" and it was amazing and my life has been forever changed," the user wrote.
Social media users shared other specific moments from the talk as well, like Obama explaining she's "still salty" about being told she's "not Princeton material." "Even though I'm Michelle Obama, First Lady and blah blah blah," she expressed.
Obama was also met with a series of direct tweets asking her to be President after the talk, though during, she explained why she didn't, and most likely won't, ever run for the position. "I don't wanna be president," she said, as reported by the New York Post. "My path has never been politics. I just happened to marry somebody whose passion was politics. Just because he likes it doesn't mean that I like it!"
"Becoming" was released on November 13 and has already been declared the year's best selling book with more that 2 million hardcover copies sold. The book, a memoir, details Obama's young life growing up on Chicago's south side, as well as her time in the public eye, and out of it, while she resided at the White House.
The next stop on Obama's book tour will be London, though she will return to Barclays Center on December 13, according to her website.