Michelle Obama Slams 'Misogynist' Donald Trump in New Book: Former First Lady's Fiercest Attacks on President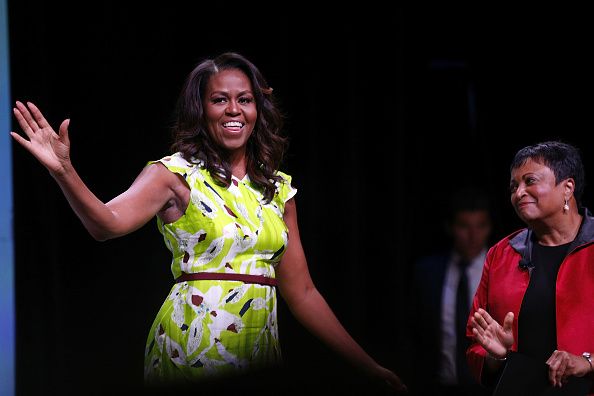 In one of the most highly anticipated political books of the year, former first lady Michelle Obama reportedly puts President Donald Trump on blast for spreading the "birther" conspiracy and his misogynistic behavior.
Obama's new 426-page memoir, Becoming, is set to hit bookstands Tuesday. The book's release will be followed by a 10-city promotional tour at some of the country's largest arenas and feature guest appearances from celebrities like Reese Witherspoon and Sarah Jessica Parker.
The memoir is largely about Obama's marriage to former President Barack Obama, his early political career and their days in the White House. According to the Associated Press and The Washington Post, which received an advance copy, the former first lady also reflects on the racist commentary that was aimed at their family.
But Obama also takes time to slam her husband's Oval Office successor, whom she has often criticized for his inappropriate behavior toward women and for his divisive rhetoric.
Here are some of the things the former first lady had to say about Trump:
"I'd never forgive him" for "birther" conspiracy
Obama slams Trump for his 2011 accusation that her husband was not a United States citizen and that his birth certificate, showing he was born in Hawaii, was a fraud.
"The whole [birther] thing was crazy and mean-spirited, of course, its underlying bigotry and xenophobia hardly concealed," Obama writes.
Trump finally admitted that Barack Obama was born in the U.S. in 2016, but then falsely claimed that Hillary Clinton was the one behind the conspiracy theory.
Obama goes on to write that the lie was "dangerous" and "deliberately meant to stir up the wingnuts and kooks."
"What if someone with an unstable mind loaded a gun and drove to Washington? What if that person went looking for our girls? Donald Trump, with his loud and reckless innuendos, was putting my family's safety at risk. And for this I'd never forgive him," she added.
According to The Washington Post, Obama's comments on the "birther" conspiracy are her most direct criticism of Trump.
Trump tried to "stalk" Hillary Clinton
At one point in the memoir, Obama argues that then-candidate Trump used body language to "stalk" Clinton during an election debate.
She writes that Trump continually followed his Democratic rival around the stage and stood extremely close Clinton. Obama described his behavior as "trying to diminish her presence."
Trump is a "misogynist"
In other passages, she expresses disappointment and disbelief that the real estate mogul was elected president. In one section of the book, she writes that she thought Trump was just "grandstanding" when he first announced his candidacy in 2015.
She also writes that she could not believe how many women chose to vote for a "misogynist" over Clinton, whom she refers to as an "exceptionally qualified female candidate."
Obama also writes that her body "buzzed with fury" after the infamous Access Hollywood tape that showed Trump bragging about sexually assaulting women. The now-infamous 2005 tape surfaced shortly before the 2016 election and showed Trump talking about trying to seduce a married woman, saying, "I don't even wait. And when you're a star, they let you do it. You can do anything. Grab them by the pussy. You can do anything."
At one point, she says Trump's message was "I can hurt you and get away with it."