Michelle Obama Talks Melania Trump Plagiarism and Being Friends with Beyoncé on 'The Late Show'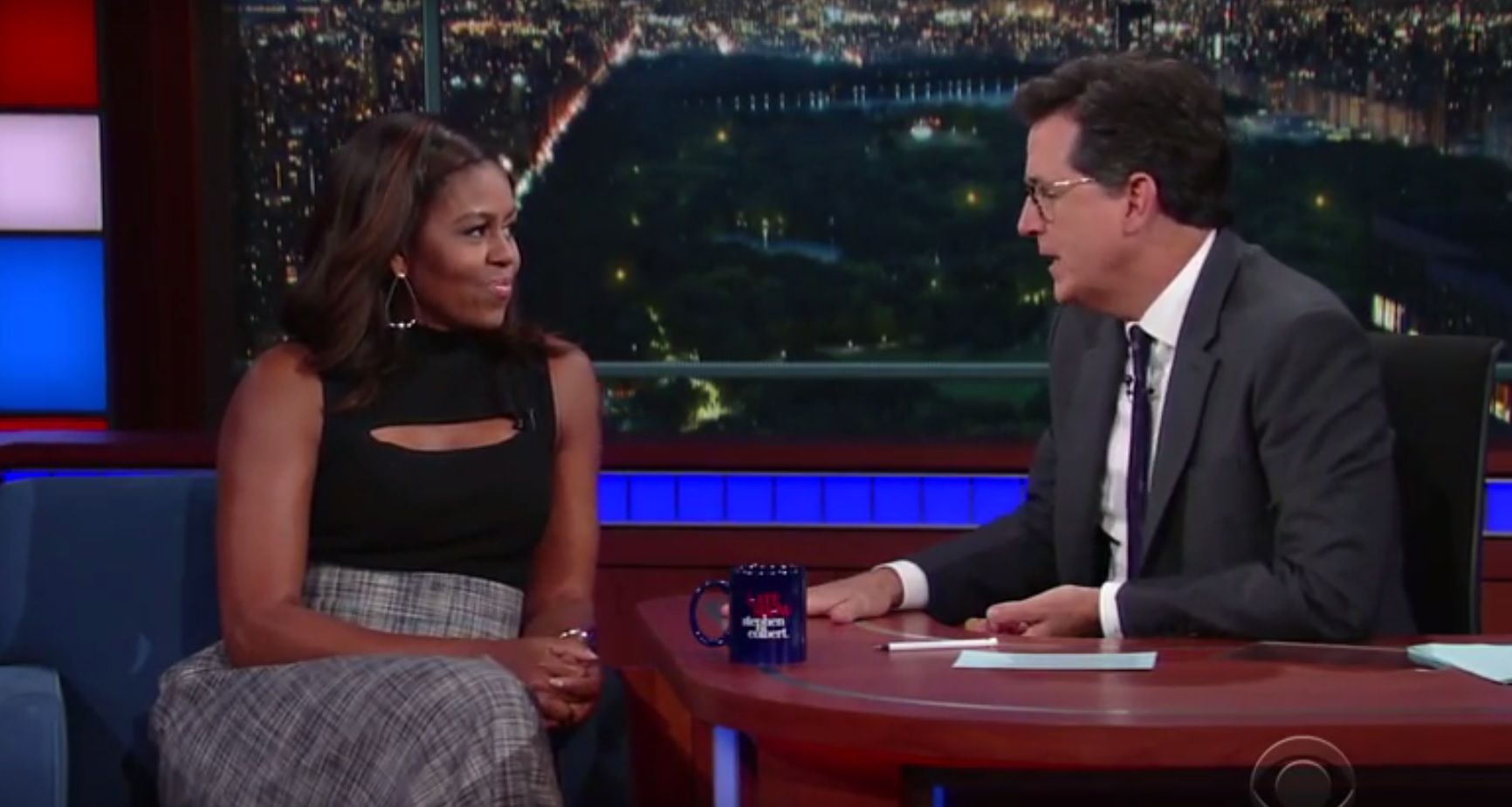 After carpooling with James Corden in July, Michelle Obama set herself a higher bar for her next late-night appearance Tuesday. But in a conversation with The Late Show 's Stephen Colbert, the U.S. First Lady managed to hit many talking points, from her superstar friend Beyoncé to Melania Trump's alleged plagiarism of her speech at the Republican National Convention in July.
Obama told Colbert she had little sympathy for spouses of presidential candidates who stand by their partners, even if they do not agree with their policies.
"No, not really," Obama replied when asked if she felt any sympathy for Trump or Bill Clinton. "You have to be in it. And if you don't agree, you should have [said so] before they ran. Bottom line is, if I didn't agree with what Barack was saying, I would not support his run. So I stand there proudly and I hope they are too. So no sympathy."
Watch the interview below:
Colbert then went in for the million-dollar question, asking Obama her opinion on Trump's RNC speech in July, portions of which were allegedly lifted from her own speech at the Democratic National Convention in 2008.
Obama's response? "Yeah, that was tough," she said drily, before breaking into a smile.
"Let's move on," Colbert said swiftly.
On a much lighter note, Obama also joined Colbert in a segment set in his makeshift "blanket fort," where the comedian asked the First Lady with whom she would like to be stranded on a desert island. Her answer echoed everyone in the world: Beyoncé.
Obama also shared some words of advice should any of us mere mortals ever find ourselves in Queen Bey's presence. "You shouldn't look her in the eye. She's a special person," the FLOTUS joked.
"She's a sweetheart. She's smart, she's creative, she loves her family… she's a low-key lady, we have a lot in common," Obama said. Well, there are a few caveats to that. "Except I can't sing, I can't dance," she added.
Obama appeared on The Late Show to promote We Will Rise , a new CNN documentary about her charitable initiative Let Girls Learn, due to air in October.