Michelle Obama on Trump's Election: What Is Going On in Our Heads?
Former first lady Michelle Obama revealed her surprise and concern that President Donald Trump had the support of 52 percent of white women voters in the 2016 election.
During an address to the United State of Women Summit on Saturday, Obama asked the crowd, "What is going on in our heads where we let this happen?
"In light of this last election, I'm concerned about us, as women, and what we think about ourselves and about each other," Obama said. "So I do wonder what our young girls are dreaming about, if we're still there.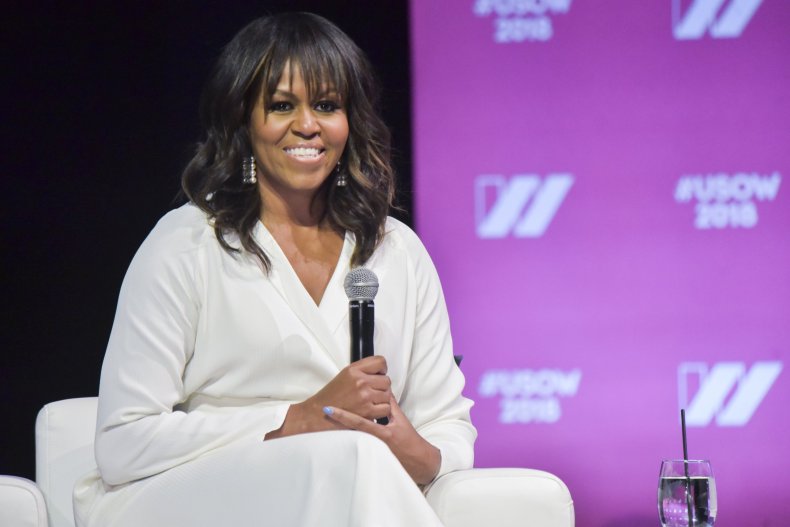 "When the most qualified person running was a woman, and look what we did instead, I mean, that says something about where we are, if we as women are still suspicious of one another, if we still have this crazy, crazy bar that we don't have for men… If we're not comfortable with the notion that a woman could be our president, compared to what?"
According to the exit polls, Trump received a 52 percent share of the white women votes and 25 percent of the Latina vote. He also got 61 percent of white, non-college-educated women's votes.
During her 40-minute conversation with Black-ish star Tracee Ellis Ross at the summit, Obama said she would not run in the 2020 presidential election, despite numerous public calls to see her take on Trump.
"That's not the answer, either," she said. "When I hear people say 'you run,' it's part of the problem. We still didn't get 'Yes, we can' right. It's not 'Yes, you can,' it's 'Yes, we can.' And until we get that right, it doesn't matter who runs."
Outside politics, Obama called on men to do more for women's rights. "Because the workplace you work in—the times you turn your head, you look the other way, the times you're sitting at a table where there are no people of color, no women. If you're tolerating that, that's the workplace that is going to be waiting for your little girl.
"You've sold her a bill of goods. You told her she could be anything, but you're not working to make sure that can be actualized."
The 2018 summit took place last weekend in Los Angeles.