Michelle Obama's Favorability Rating Nearly 20 Points Higher Than Trump, Biden and Pence's: Poll
Former first lady Michelle Obama's favorability rating is nearly 20 points higher than the ratings of President Donald Trump, presumptive Democratic nominee Joe Biden and Vice President Mike Pence.
A new national poll from Morning Consult and Politico found 60 percent of registered voters in favor of Obama, compared with Trump's 39 percent favorability rating, Biden's 46 percent rating and Pence's 38 percent rating.
Obama is most favorable among Democrats and Black voters, who gave her a 91 and 87 percent rating, respectively.
Trump and Biden are tied when it comes to who voters trust to handle the economy, jobs and national security. However, Biden takes a significant lead when it comes to healthcare, the environment, education, race relations and handling of the coronavirus.
The former first lady emerged as the highlight of the Democratic National Convention's first night of events after her keynote speech sent a clear message to voters about November's upcoming presidential election.
"Let me be as honest and clear as I possibly can, Donald Trump is the wrong president for our country," she said Monday night. "He has had more than enough time to prove that he can do the job, but he is clearly in over his head."
Nearly 60 percent of voters said they disapproved of the job Trump has done as president, according to the poll. Comparably, 39 percent said they approved.
"You know I hate politics, but you also know that I care about this nation," Obama added. "So if you take one thing from my words tonight, it is this: If you think things cannot possibly get worse, trust me, they can; and they will if we don't make a change in this election. If we have any hope of ending this chaos, we have got to vote for Joe Biden like our lives depend on it."
Almost half of voters said they are more enthusiastic about voting in comparison to previous elections.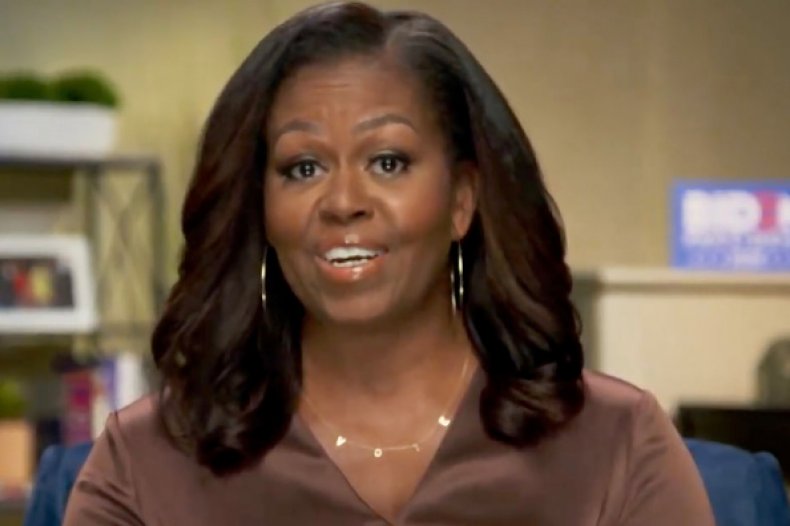 On Tuesday, Trump hit back over Twitter saying he would not have been elected in 2016 "if it weren't for the job done by" her husband and former president Barack Obama.
The poll, conducted between August 14 and 16, found that Barack Obama has a 58 percent favorability rating among registered voters.
Other politicians with fairly high favorability ratings include Senator Bernie Sanders with 47 percent and presumptive Democratic vice presidential nominee Kamala Harris with 42 percent.
Democrats made up 39 percent of the nearly 2,000 voters polled, while Republicans made up 34 percent.
When it comes to Congress, both sides of the aisle face scrutiny. More than half of voters disfavor both Democrats and Republicans in Congress. Only 24 percent of voters like Senate Majority Leader Mitch McConnell, while Senate Minority Leader Chuck Schumer is ahead of McConnell by 1 percent.
Last week, Congress left for August recess with no stimulus deal, leaving millions of Americans on their own when it comes to paying bills during the economic fallout of the ongoing coronavirus pandemic.
Voters said economic issues are the biggest concern being considered when casting their ballots, followed by health care issues and senior issues, such as Medicare and Social Security.