Michelle Rhee Talks About Education Reform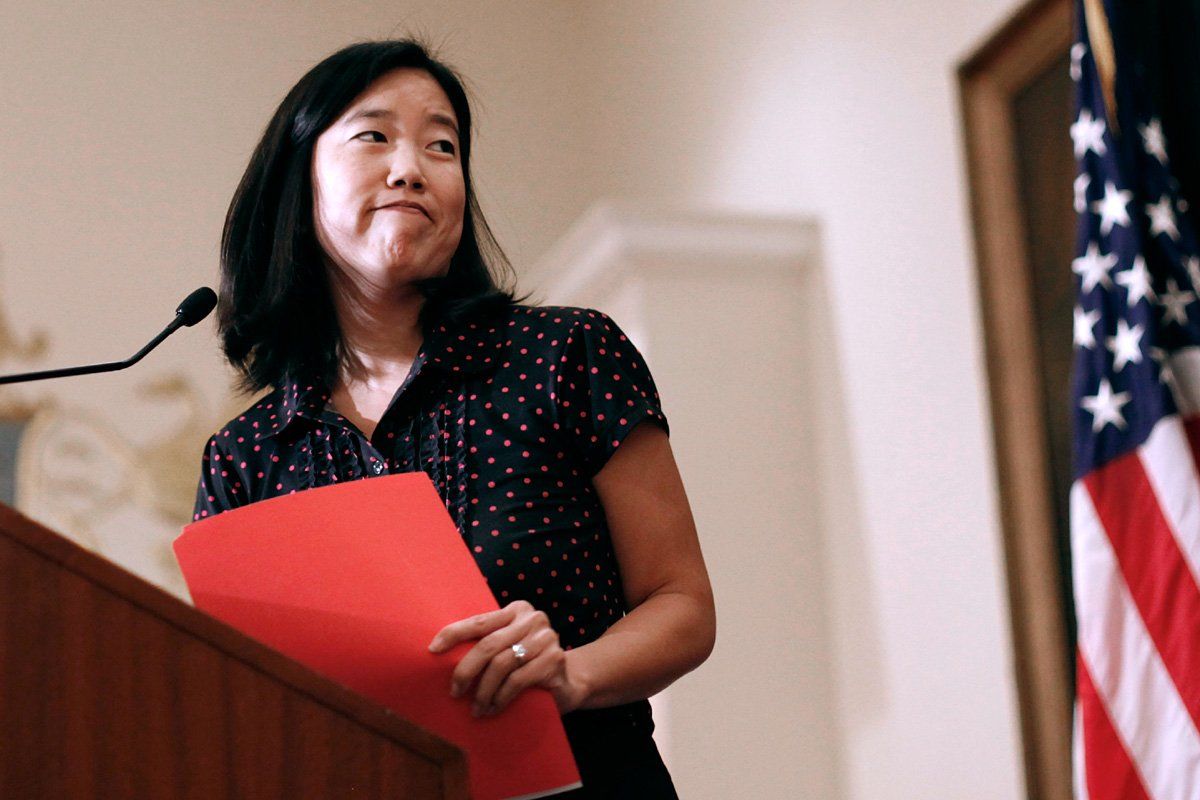 Education reform before D.C. schools chancellor Michelle Rhee was like AIDS activism before ACT UP. There were plenty of people politely calling for change, but no one was really paying attention, and even less progress was being made.
As Rhee announced her decision Wednesday to step down after three tumultuous years overhauling the worst urban school district in the country, the news launched a heated debate about her legacy in the District of Columbia and her impact on education reform nationally. Critics are right when they say that her blunt style and headlong pace of change angered many parents and teachers, and contributed to the primary-election defeat of her boss, Mayor Adrian Fenty. They're right when they say some of her reforms were more disruptive than they had to be, and that she underestimated the importance of communicating effectively.
But it's also hard to dispute the fact that the woman got results: enrollment is on the rise after decades of decline, long-stagnant achievement gaps are closing, and the quality of the city's teaching force is improving. It's also fair to say that almost no one deserves more credit for putting aggressive education reform on the nation's front burner. Even critics like Washington Teachers Union President George Parker, who has long criticized Rhee for being dictatorial and insensitive, agrees. "Without a doubt that's true," he says. "No one can take that away from her. All eyes were on D.C. schools."
Some reformers go much further and argue that Rhee would never have succeeded in shaking up the status quo as fast and as much as she did without being so outspoken, independent, and combative. Controversies over her attempts to reward the best teachers, fire ineffective teachers, and hold teachers more accountable for their students' progress drew the kind of national attention that gave school superintendents all over the country the cover they needed to make similar reforms without the same uproar.
"In New Orleans it took a hurricane to change the schools, and in D.C. it took Michelle Rhee," says Checker Finn, the president of the nonprofit Thomas B. Fordham Institute, a school-reform think tank. "You can't do disruptive reform without being disruptive. The kinds of changes she made were fundamental: closing schools and firing people and changing the ground rules under which people are employed. You can't get those things done by acting like a cream puff. She made a lot more headway because of her style than she would have without it."
There has been some hand-wringing and speculation in the press that Fenty's loss and Rhee's resignation may slow down the pace of reform nationally, because other mayors may be hesitant to follow their path. But the fact is that many of the ideals Rhee loudly advocated are shared by the bulk of education reformers nationally, and were incorporated into the federal government's $4.3 billion school-reform competition, Race to the Top. Not only have the majority of states since committed to making similar changes, but the 12 winners of the competition won't get their share of the prize money without following through on their commitments. Even as Rhee was announcing her resignation in downtown D.C. Wednesday, Obama spokesman Robert Gibbs was praising her at the White House: "The important work of Michelle Rhee and people like [Secretary of Education] Arne Duncan has to continue regardless of the outcome of the [mayoral] election."
Rhee's featured role in the education-reform documentary, Waiting for Superman, which was recently released for national distribution, as well as major media commitments to promoting education reform like NBC's recent Education Nation seem to be building national support for change rather than diminishing it.
It's also telling that despite large campaign contributions from the teachers' union, Vincent Gray, the city council chairman who won the D.C. Democratic primary, has publicly committed to move forward with Rhee's reform blueprint; promoted Rhee's deputy, longtime friend and ally, Kaya Henderson, into the top school job (at least through the end of the school year); and agreed to keep Rhee's entire management team in place. "We will not return to incrementalism," Gray said, about the boldness of future education-reform efforts. He also insisted that Henderson (who the WTU's Parker described as "aggressive" and "no nonsense") would be given a lot of freedom and that he had "no intention of micromanaging" the school system.
While Rhee acknowledged at her press conference that "the idea of not being in this role is heartbreaking—literally," she said in an interview with NEWSWEEK that she "wanted to stay and finish the job," but that she decided now was the time to bow out because "everyone in the city needs to embrace reform, and that couldn't happen while I am in the picture." She also told NEWSWEEK that she was proud of the fact that she had "talked my entire management team into staying, so reform can move on without a hitch, seamlessly, if there is enough support and political will." Henderson, she said, "is no shrinking violet. That lady speaks her mind more than I do. Anyone out there who is hoping this means that accountability is going away is absolutely mistaken." But she warned that ultimately, it would be up to the citizens of D.C. who strongly back school reform to keep pressure on the next mayor to keep reform moving forward. The union put a lot of money into the race and will "expect things to be rolled back," Rhee said. "Will Gray stand up to them? He will need to have the people behind him. If people don't want to see reforms rolled back, people need to make sure the next mayor knows very clearly that they want these reforms to continue, that they expect them to continue."
There's plenty of speculation about what Rhee will do next, and while she always said she'd never run another school system, those close to her say there is a chance that she might change her mind. Rhee says she plans to stay in D.C. until June so her daughters can finish the year in their own schools, but her pending marriage to Sacramento Mayor Kevin Johnson seems to make it more likely that her next move will be West Coast than East Coast. There's also a good chance that Rhee will soon be involved in some kind of national educational-reform effort. The irony, of course, is that rather than making life miserable for a teachers' union in one city, Rhee may now have the freedom to take on many more. The one thing everyone agrees on is that this isn't the last we've heard from Michelle Rhee.
"God no," agrees Finn. "She is a force of nature, and now she'll become even more of a national player than a district player. This is not a woman who is leaving town with her tail between her legs. She's slightly tragic, and slightly a martyr, but mostly heroic. She's going to be a real presence in education for a long time, and thank God for that."