Michelle Rodriguez Says She Took 'Widows' Over a 'Fear of Weakness'
"Soft" isn't a term commonly associated with actress Michelle Rodriguez but she embraced her vulnerability when she signed up director Steve McQueen for his heist drama, Widows.
Rodriguez's steady career has been dominated by action films. The 40-year-old's résumé includes titles like Fast & Furious, Avatar and Machete. Her characters are often known for playing strong, independent badasses—a woman not reliant on a man.
Her starring in Widows deviates from a role she's arguably been typecast as. Rodriguez plays Linda, a mother-of-two whose business is taken from her after her husband died during a failed robbery. She teams up with fellow widows—played Viola Davis and Elizabeth Dibecki—who were affected by the heist to complete a task that will ensure her family's safety and security.
Rodriguez was able to explore the strength that lies within femininity and vulnerability. It was new, but she was up for the challenge. Rodriguez, as you might imagine, has a "fear of weakness."
"It reminds me of my mom. It reminds me of all those girls that I saw get pregnant really young growing up in the ghettos of Jersey City," Rodriguez told Newsweek. "It's a vulnerability I never wanted to portray on film because I wanted to make movies that inspire escapism [and] inspire that kind of dignity paid off that you never see in the underprivileged areas. That's my attraction to action films. I was attracted to this project by how repulsed I was by it."
Rodriguez said she had never considered herself to be a "real actress." She instead saw herself as an "activist" who's "quest was trying to empower women." She turned down McQueen's initial offer to appear in Widows. What ultimately resulted in her change of heart was her desire to deviate from her action film roots. She was ready to sink her teeth into something new.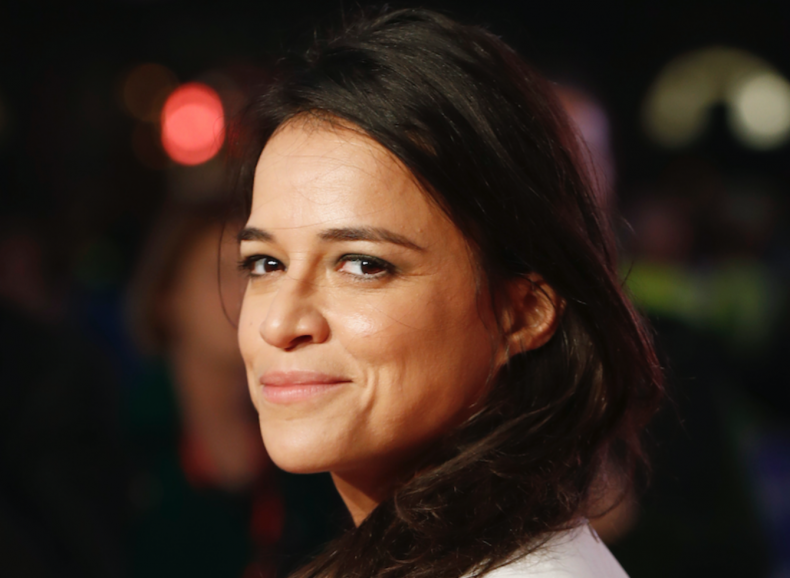 "Most of my life, I lived very masculinely. ...I always was super alpha. I wanted to project that onto the big screen because I never saw women that looked like me having that kind of power," she explained. "They were always hypersexualized. They were always looking for love. Always a man's perspective of what a woman is. So, I thought to myself, I've been doing this for so long and I've been holding up this flag."
Rodriguez continued, "Multiculturalism is taking over the big budget films and action films. I see what the Marvel genre is doing, and I was like, 'Wait a minute, I'm holding up this flag. I don't need to hold it up anymore.' ...Let me do something else. Let me try growing from here because there's nothing else I can do with action."
Widows is in the business of highlighting strong women from various walks of life, but it also addresses the abuse of power. Rodriguez recognizes this theme as something that ties the film together.
"Looking at what Steve and Gillian [Flynn, screenwriter] did with the script in 120 pages, I think they created a symbol of what urban economic subterfuge could be. The pyramid of power—what the quest by men is, usually," she said. "That's all the way to the drug dealer on the street, all the way up the totem pole to the guys in government who are taking advantage of government funds and pocketing a lot of that stuff. It's nepotism, really, at that government level."
Added Rodriguez, "They're taking advantage of the people who are in the lower [class]—the kids who grew up in the ghetto. They don't know the law. They know they're suckered. They just don't know how. I love how Gillian and Steve split that pyramid in half and showed you that world through a woman's perspective as she survives that environment."
Widows arrives in theaters Friday.