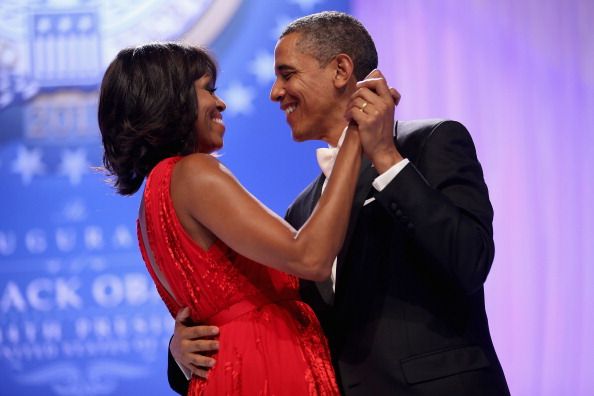 There have been countless reasons to miss Barack and Michelle Obama since they left the White House in January. Politics aside, the former first couple embodied many observers' loftiest dreams of what a romantic relationship and life partnership can look like.
"Happy 25th anniversary @barackobama. A quarter of a century later, you're still my best friend & the most extraordinary man I know. I _ you," the former first lady tweeted on Tuesday as she and her husband celebrated a quarter of a century of marriage. Her message got more than 190,000 likes and more than 44,000 retweets within hours.
Last year, Barack posted on Facebook a photo of him and Michelle dancing to celebrate two dozen years together. "Dancing through 24 years. Happy Anniversary," he wrote. The post garnered 1.3 million reactions, more than 43,000 shares and about 25,000 comments.
It has been 25 years since the two tied the knot at Trinity United Church of Christ in Chicago in 1992. A fictionalized version of their first date in 1989 served as the entire plot of Southside With You. In the film, which was released in August 2016, Parker Sawyers plays Barack as a young law school student who's working at a law firm as a summer associate and smitten with his supervisor, young lawyer Michelle Robinson. He invites her to a community organizing meeting, a get-together she initially insists is not a date. He picks her up way too early, on purpose, and they fill the day in each other's company. Michelle finally concedes that it's a date, and it ends with ice cream and a kiss.
How many other presidents and first ladies have their first date not only depicted in a major motion picture but also serving as the sole, unapologetic premise of the movie? None that we can name. The fact that the Obamas inspired this kind of film feels hardly coincidental, since they also spurred countless listicles and videos that reveled in their relationship.
Cosmopolitan made a video titled "27 Times Barack & Michelle Obama Were #Relationship Goals," BuzzFeed published a listicle titled "21 Times Barack And Michelle Obama Made Us Believe In Love," and People made a list of "Michelle and Barack Obama's Sweetest Moments as First Couple." They have so frequently inspired use of the hashtag and phrase "relationship goals" that it seems they have a monopoly on the term, especially as political spouseships go.
The public has swooned as it watched the Obamas dance, kiss, fist-bump, share Valentine's Day poems on The Ellen DeGeneres Show and show love and respect for each other. The strong sense of equality and teamwork lends a particularly feminist slant to the Obamas' seemingly quintessential partnership.
The love for their love hasn't abated since they left the White House. Perhaps that's in part because the couple that replaced them don't inspire any of the same wonder or seem to demonstrate the same affection or respect for each other. Barack and Michelle, your admirers miss you, but they surely hope you're enjoying your first anniversary on the other side.