Michelle Williams on My Week With Marilyn Monroe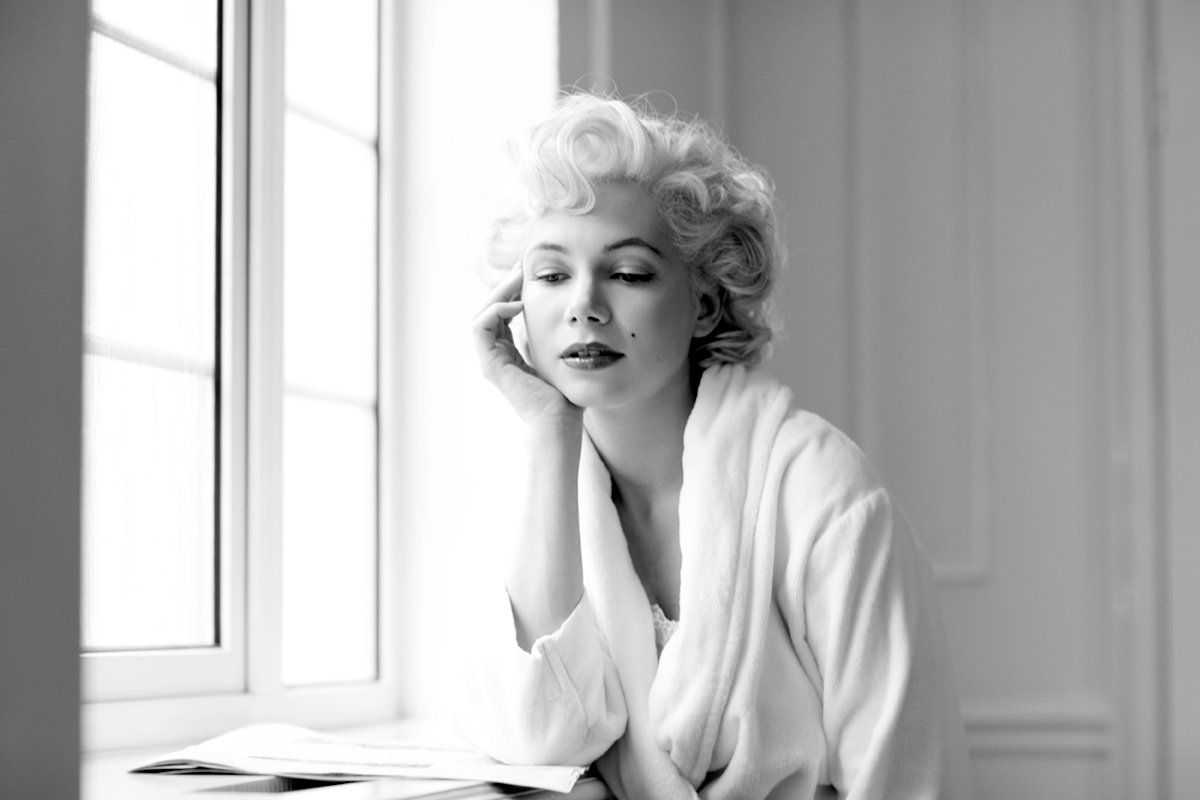 For Michelle Williams, playing Marilyn Monroe in the new film My Week With Marilyn was like building a house. She had to start with the foundation, watching Monroe movies nonstop. She devoured Monroe's autobiography and letters. She downloaded her interviews from iTunes—The Voice of Marilyn Monroe, volumes 1 and 2—and listened to her speak for months on her iPod. "So many bits and pieces," Williams says. "Just a lot of little discoveries that added up to a person." And then there is that wiggle, which she practiced by tying a belt around her knees. "Her head is up," Williams says, describing the star's famous strut. "It's like a balloon is attached to her breast bone, her back is arched, almost like she's offering—I hate to get graphic—sex from behind. There's a tilt in her rump. She's making an entrance and making an exit."
Even when she left, Monroe never really departed. It has been 50 years since Monroe died of a drug overdose, and she's just as pervasive as she was in her prime: the biographies, the museum tribute, the auctions of her memorabilia (one of her green dresses from River of No Return just fetched $504,000). "Naked Marilyn Monroe Picture Expected to Sell for Thousands," screamed a recent Telegraph story. "Because she died at an early age, she's forever preserved in our minds as a vibrant and young woman," says Darren Julien, the president of Julien's Auctions, which has seen a significant spike in the value of Monroe merchandise in the last decade. What fans have been missing, however, is the definitive biopic. "I've never seen a good movie made of her," says Bert Stern, who famously photographed Monroe weeks before her death. "She had a very special quality that's hard to capture on film. It's not easy being Marilyn Monroe."
Williams read the screenplay and decided she wanted to do it, but she was scared. "I was waking up in cold sweats for six months in anticipation of it," Williams says. The film's director, Simon Curtis, acknowledges the huge risk in playing such a well-known icon: "I knew it could go terribly wrong," he says. "But when I watched Michelle on the monitor, I thought, My God, she's doing it!"
My Week With Marilyn isn't Monroe's full life story. In 1956, at the height of her popularity, Monroe went to England to make a film, The Prince and the Showgirl, with Sir Laurence Olivier. He was thrilled to work with such a fox, but when she arrived, she drove him mad. "She was late and we used to sit and moan about her," says Vera Day, who played one of Monroe's onscreen pals. "She was very difficult." My Week With Marilyn chronicles the tumultuous shoot, made all the more disruptive by her affair with an assistant.
Williams is the first to admit she looks nothing like Monroe. "I would study my face in the mirror over and over again," she says. "I've never looked at my face so much. My lips are pointier than hers. We'd try to take down the points." She wasn't trying to mimic her, she was trying to find her soul. She would spend three and a half hours in the makeup chair each morning, applying subtle touches, like extending the arch of her eyebrows. Williams gained a few extra pounds, to capture Monroe's voluptuous figure. And she had to bleach her hair every few days, so that it wouldn't show under her blonde wig.
"You'd think playing Marilyn Monroe you'd be in full-on goddess mode," she says. "When I washed my face and took my makeup off at the end of the day, there was some sort of horrible Frankenstein staring back at me."
At night, on her way home, Williams would sometimes sit and weep in her car. "The other day," she says, "someone asked me how I got her sadness. I don't think I ever cried so much for somebody I didn't know." Like Philip Seymour Hoffman in Capote, Williams fully embodies the historic character. She's really juggling three different performances. First, there's Marilyn the movie star—the flamboyant celebrity who loves the cameras. That was the hardest for Williams ("a freaking stretch," she says) since she's more of an introvert. Next, there was Elsie, the showgirl character in the movie within the movie. And finally, the real Monroe: Norma Jeane Baker, the insecure pill-popper who was lost in a fog of loneliness. "I thought, it's three people, maybe I should separate them," Williams says. "Then I realized it's all coming from one person."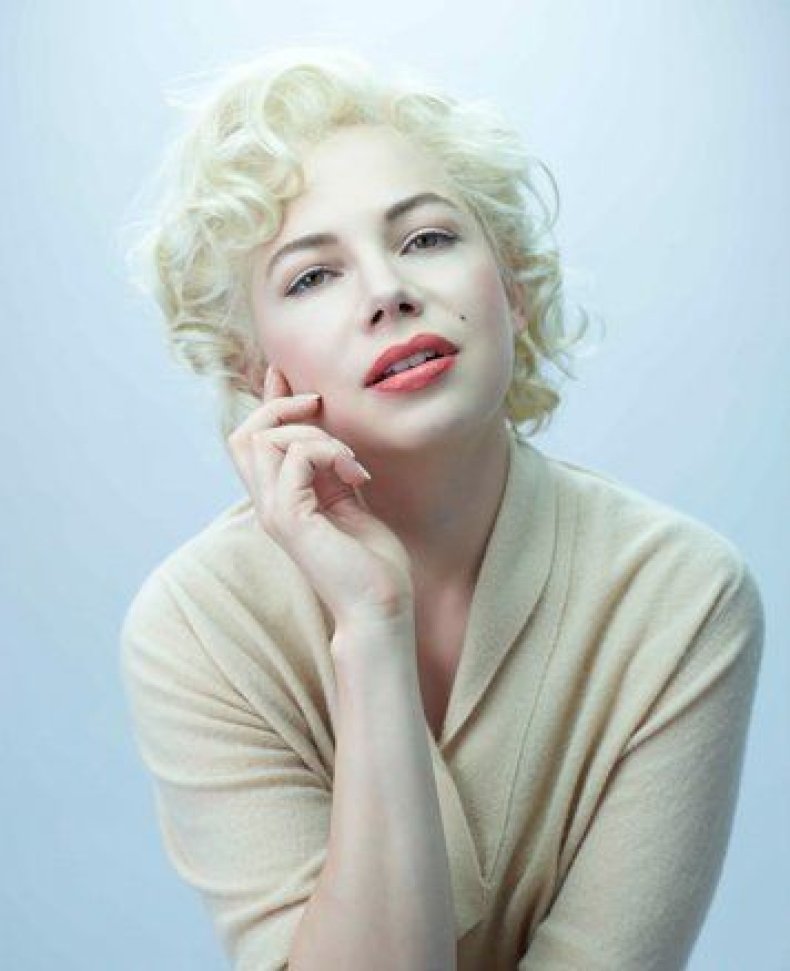 When the film opened at the New York Film Festival in October (its nationwide release date is Nov. 23), some critics cheered. "Does Michelle Williams get Marilyn Monroe right?" asked The Atlantic. "Yes." Hollywood handicapper David Poland predicted that she would not only get nominated for the best-actress Oscar, but that she'd win the statuette in February. "She gets into acting that is beyond acting," said Don Murray, one of Monroe's former costars, at a recent Hollywood event.
This winter Williams is in Detroit, where she has traded her Monroe for Glinda the Good Witch, in Sam Raimi's film Oz: The Great and Powerful. Williams's 6-year-old daughter from her relationship with the late actor Heath Ledger joins her on set every day after school. "Matilda gets to see her mom dressed up like a fairy princess," Williams says. "It's her after-school activity. When your kid is happy, you're happy."
Williams has come a long way for an actress who got her start as a teenager on Dawson's Creek and worked her way up in independent films like The Station Agent and Blue Valentine. But perhaps no role has affected her as much as Monroe. "The wonderful thing about Marilyn is that I haven't had to let her go," she says. "She's a part of me. You can't really forget her."