Comedian Michelle Wolf Accused of Bestiality, Being Fired from Netflix in Concerted Fake News Attacks
White House Correspondents Dinner host Michelle Wolf's comedy routine ripped on Washington journalists and politicians alike, but it also exposed the vicious rift in the country's political scene.
Among the many criticisms and praises of Wolf's jokes, a wide swath of seemingly sophisticated fake news stories began circulating on social media about the comedian, including one alleging she was arrested for bestiality. The false and often nasty accusations range from semi-believable stories about the comedian losing stand-up gigs to wholly unbelievable videos claiming that viral video teenage star "Woahh Vicky" is the 32-year-old comedian's daughter.
Wolf's WHCD routine making light of White House Press Secretary Sarah Huckabee Sanders' appearance received particularly harsh backlash and sparked intense scrutiny of her own personal life. But while some publications such as The Hill really did pull out of future dinners over her performance, claims that her upcoming Netflix show was canceled are outright false.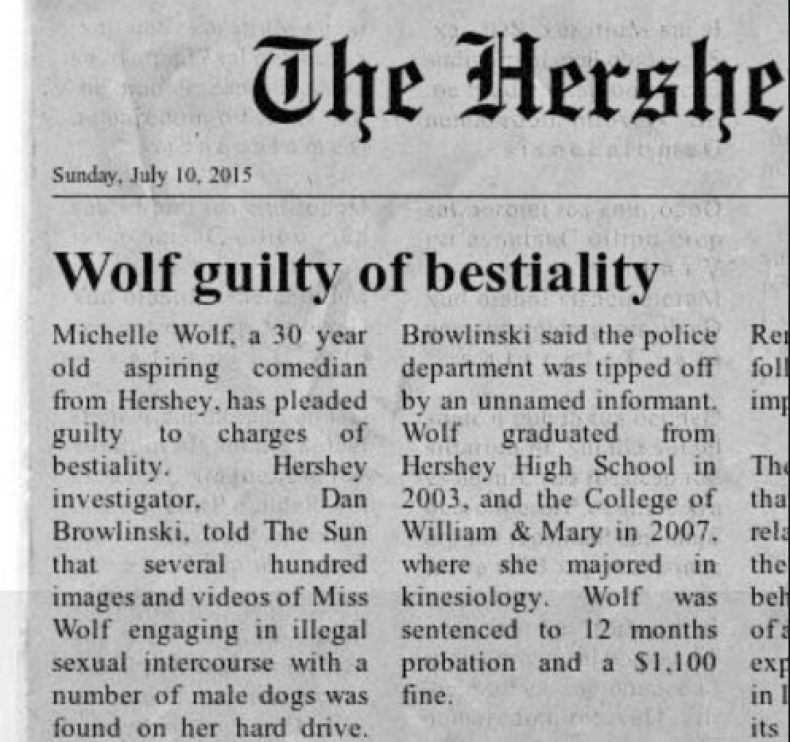 One vindictive fabricated news article clipping claims to show a 2015 arrest on bestiality charges in Wolf's hometown of Hershey, Pennsylvania. The brief news snippet outlined how a hard drive owned by the comedian allegedly showed images of her engaging in animal sex acts. However, the dateline on the article lists July 10, 2015 as a Sunday, when in actuality, that was a Friday. Additionally, the Hershey-based Sun is a weekly newspaper which publishes between Wednesdays and Thursdays.
Another claim circulating on social media appears to show a Comedy Central apology for the comedian's performance and an announcement that Wolf has been fired. But several comedians expressed their support for Wolf's jokes, including The Daily Show host Trevor Noah, where Wolf worked until she left in December to host her own upcoming Netflix show, The Break With Michelle Wolf. Noah spent an entire segment of his Monday show praising the former joke writer and criticizing Trump's call to end the annual dinner and calling Wolf "filthy" in an April 29 tweet.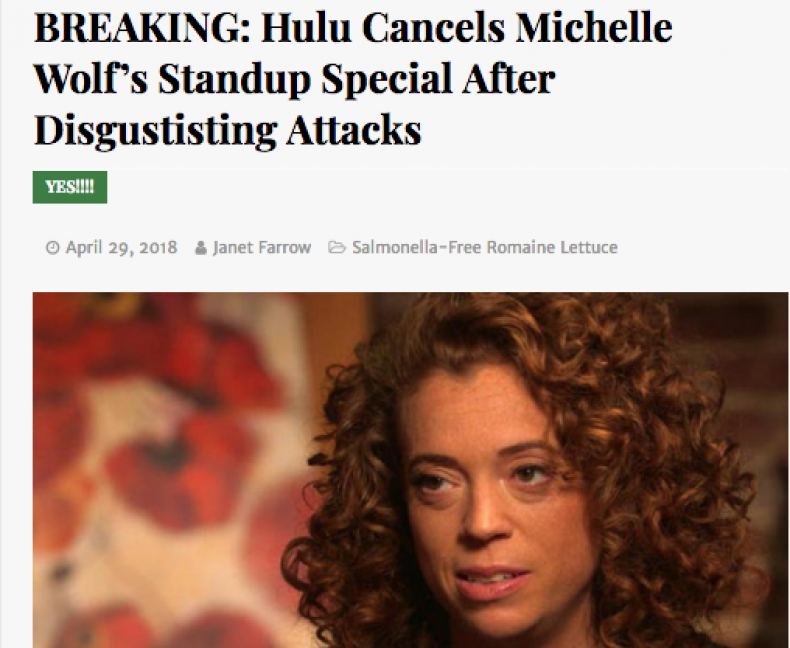 "I agree completely with President Trump and his team, comedians should be held to a higher standard than the president is," Noah said sarcastically at the end of the Monday segment. "Which is why even though Michelle Wolf left for her new show four months ago, tonight I'm announcing that I'm officially firing her. You hear that Michelle? You're fired!"
An additional fabricated news article appears to show a Hulu president named Irwin R. Fletcher "canceling" Wolf's upcoming "stand-up special." However, the video streaming service has no executives with that name and her weekly talk-show is set to begin on Netflix, not Hulu, beginning on Sunday, May 27.