Who Is Michelle Wolf? Meet the Comedian Who Mocked Trump Staffers to Their Faces at White House Correspondents' Dinner
Michelle Wolf, a comedian and former Daily Show With Trevor Noah correspondent, drew both uncomfortable laughter and some gasps with a scathing routine as host of the 2018 White House Correspondents' Dinner on Saturday night.
Nothing was off-limits at the annual gathering of political figures and journalists as Wolf lampooned President Donald Trump's sex life, mocked Vice President Mike Pence's anti-abortion politics and called Sarah Huckabee Sanders a liar right to her face. At one point, Wolf acknowledged the visible discomfort in the room and joked, "Yeah, [you] shoulda done more research before you got me to do this."
It was a vicious critique of an administration in apparent chaos, and it seemed to have the desired effect: Wolf's jokes provoked current and former members of the Trump administration who were in attendance, a list that included Kellyanne Conway, Commerce Secretary Wilbur Ross and former press secretary Sean Spicer. Spicer tweeted that the dinner was "a disgrace."
The president, who declined to attend the event for the second year in a row, tweeted that the comedian "bombed." (Watch some highlights from Wolf's performance here.)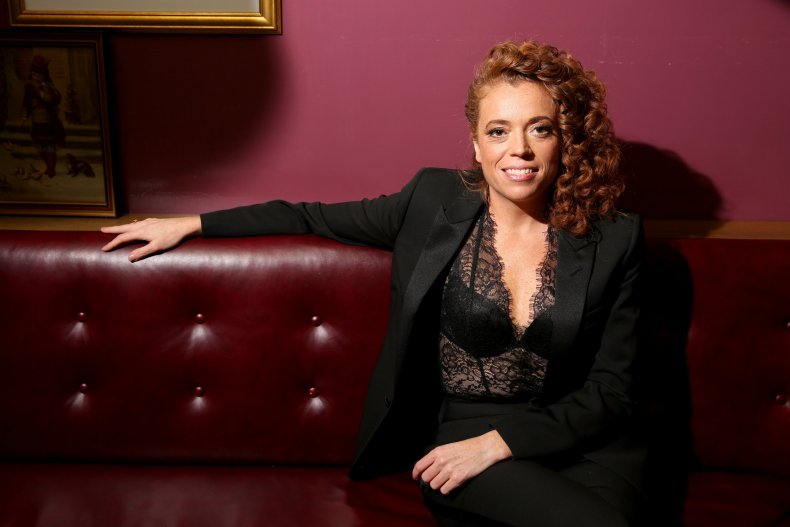 Wolf is a 32-year-old stand-up comedian whose career in late-night television began when she was hired in 2014 to write for Late Night with Seth Meyers, where she frequently appeared on-camera and sometimes portrayed her fictional character "Grown-Up Annie," a grown-up version of Little Orphan Annie.
Wolf's profile rose when she became a contributor on The Daily Show during the spring of 2016.
She has appeared in many Daily Show segments throughout the last two years, but she also continued to hone her stand-up skills off-camera, "performing as many as 15 or 20 sets a week, by her estimate, at clubs like the Comedy Cellar and Village Underground," according to a New York Times profile.
In late 2017, Wolf got her own HBO stand-up special, Michelle Wolf: Nice Lady. In May, she will be the star of a new Netflix series, The Break With Michelle Wolf.
Wolf told the New York Times that she was initially ambivalent about hosting the Correspondents' Association dinner.
Related: Five jokes from the Michelle Wolf routine that stunned Washington
Indeed, Wolf's raunchy routine has subjected her to scrutiny and criticism from conservatives, Washington personalities and even some journalists. (Wolf didn't shy away from mocking the opportunistic media, which "created this monster," in her remarks.)
Right-wing commentators (including lobbyist Matt Schlapp) have reacted with outrage, desciribing her performance as "tasteless" and "twisted."
But Wolf also converted new fans with her willingness to call out Trump staffers to their face, and riff plainly and impolitely on a presidency that has never shied away from vulgarity. The backlash will likely only help the comedian increase her profile right before her Netflix series is scheduled to debut.