Michigan AG Accuses Republicans Supporting Trump Lawsuits of Violating Their Oaths of Office
Michigan Attorney General Dana Nessel, a Democrat, accused Republican lawmakers backing lawsuits attempting to overturn President-elect Joe Biden's election victory in favor of President Donald Trump of violating their oaths of office.
The Supreme Court rejected a lawsuit filed by Texas Republican Attorney General Ken Paxton to overturn the election results in Georgia, Michigan, Pennsylvania and Wisconsin on Friday. More than 100 GOP members of the House of Representatives—including four from Michigan—signed an amicus brief in support of the Texas lawsuit. Additionally, 15 Republican state lawmakers in Michigan backed Paxton's brief.
"These are individuals who, in my opinion, have violated their oaths of office. And have sought to, in order to appease a demagogue, they've chosen Donald Trump over democracy and over their constituents," Nessel told the Detroit Free Press in a Saturday interview.
"And of course I certainly don't understand how it's possible that you could think that you won an election when you were on the same ballot that you claim to be fraudulent, in terms of who was elected at the top of the ticket. It's just nonsensical, I don't understand it at all. You're undermining your own elections," she said.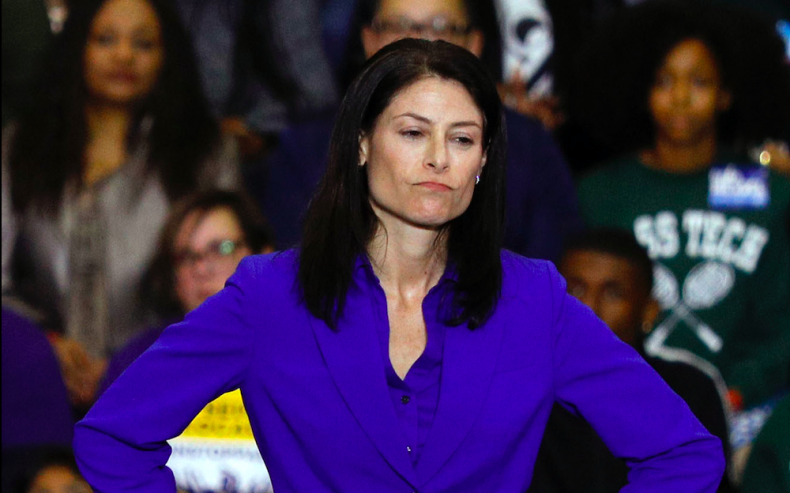 Republican Representatives Jack Bergman, Bill Huizenga, John Moolenaar and Tim Walberg of Michigan signed onto the Texas lawsuit, which asked the Supreme Court to to prevent Georgia, Michigan, Pennsylvania and Wisconsin from allowing Biden's electors from casting their votes in the Electoral College on Monday. Fifteen Michigan state lawmakers also backed Texas.
The Supreme Court rejected the case, saying that Texas "has not demonstrated a judicially cognizable interest in the manner in which another state conducts its elections."
Newsweek reached out to Bergman, Huizenga, Moolenaar and Walberg's press representatives for comment, but they did not immediately respond.
Nessel suggested that lawyers representing Trump and his supporters in their long-shot bid to overturn Biden's win should be held accountable for pushing disinformation through their court filings. She said her office would begin seeking sanctions in any future lawsuits.
"Because it's disinformation that they are spreading. It's injurious to our democracy, it's injurious to our system of elections, it's injurious to our courts," the Michigan attorney general said.
"People have to be held accountable. These are professionals, who have professional licenses. What does a professional license mean if you're allowed to bastardize the court system that way," she said.
Although Nessel said that she believes the Friday Supreme Court decision was essentially the end of Trump's legal hopes of overturning the election results, she predicted litigation may persist until Biden is sworn in on Inauguration Day on January 20.
"I would say that when Joe Biden has been sworn in as president of the United States, at that point I think there are absolutely no further challenges that can be made, obviously, to stop him from becoming president. What will happen between now and that time, I really can't say," she said.
After the Supreme Court decision, Paxton issued a statement:
"It is unfortunate that the Supreme Court decided not to take this case and determine the constitutionality of these four states' failure to follow federal and state election law. I will continue to tirelessly defend the integrity and security of our elections and hold accountable those who shirk established election law for their own convenience," the Texas attorney general said.
Trump tweeted his frustration with the Supreme Court. "The Supreme Court really let us down. No Wisdom, No Courage!" he wrote Friday after the decision.
The president and his supporters have claimed that Biden won the election through widespread voter fraud. They have not presented evidence to back this extraordinary claim. Although the Trump campaign and GOP allies have filed more than 50 lawsuits across the country, nearly all of them have failed. Judges—including some appointed by Republicans and even Trump—have repeatedly pointed out that the pro-Trump attorneys have not provided evidence to support their allegations.
U.S. Attorney General William Barr, who was nominated by Trump in December 2018, has said that there is no evidence of widespread fraud that would overturn the results. While Barr was generally seen as one of the president's most loyal and effective Cabinet members, the president has appeared to have now turned on him as well.