Michigan will allow full capacity at indoor sporting events when 65% of state residents 16 and older have received a COVID-19 vaccine, Governor Gretchen Whitmer announced on Thursday as part of a new "MI Vacc to Normal" plan.
Nearly 50% of Michigan residents 16 and older have received at least one vaccine dose.
"Today, I announced the #MIVaccToNormalChallenge, a pathway to gradually get back to normal as we hit our vaccination targets and push toward our goal of vaccinating 70% of Michiganders ages 16 and older. Please, sign up for your vaccine appointment today. Let's get it done," Whitmer tweeted on Thursday.
When vaccination rates hit 60%, indoor sporting event capacity can be increased by 25%, the Associated Press reported. The same goes for conference centers, banquet halls and funeral homes. Gyms will be allowed to increase capacity to 50% and curfews on bars and restaurants will be lifted.
Along with indoor sporting events, all indoor capacity limits will be lifted when 65% of residents have received at least one dose, AP reported.
Once the goals are reached, the new rules will be implemented after two weeks.
At a 70% vaccination rate, Michigan's gatherings and face mask rules will be lifted, possibly leading to a partial mask rule.
For more reporting from the Associated Press, see below.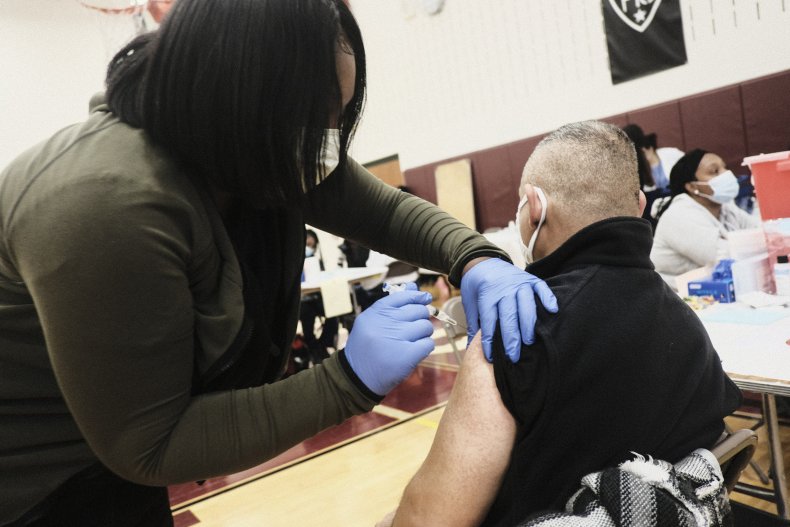 As more people get shots, Whitmer said, the state will allow office work, relax and ultimately end indoor capacity limits, and lift a health order designed to curb COVID-19.
Michigan has become a national hotspot for COVID-19 infections and hospitalizations at a time when more than half the U.S. adult population has been vaccinated and other states have seen the virus diminish substantially.
Under the "MI Vacc to Normal" plan, rules will be eased two weeks after each of four milestones. When 55% of the 16-plus population has one shot, in-person work will be permitted in all business sectors.
At 70%, the state health department will stop imposing broad mitigation measures unless unanticipated circumstances arise, such as vaccine-resistant variants. The agency could delay eased restrictions in regions with a seven-day case rate of more than 250 per million residents.
Whitmer called it a "realistic goal."
"If we work together, we can get this done," she said.
Newsweek, in partnership with NewsGuard, is dedicated to providing accurate and verifiable vaccine and health information. With NewsGuard's HealthGuard browser extension, users can verify if a website is a trustworthy source of health information. Visit the Newsweek VaxFacts website to learn more and to download the HealthGuard browser extension.