Michigan Announces Guidelines for Reopening After Weeks of Protests, Controversy Over Lockdowns
Michigan Governor Gretchen Whitmer has issued a new executive order on Thursday rescinding previous orders that suspended most nonessential activities to help curb the spread of the new coronavirus.
"We can now start the process of gradually resuming in-person work and activities that were temporarily suspended under my prior orders," Whitmer said. "In so doing, however, we must move with care, patience, and vigilance, recognizing the grave harm that this virus continues to inflict on our state and how quickly our progress in suppressing it can be undone."
Since the start of the COVID-19 pandemic, there have been 53,009 cases of the new coronavirus in Michigan, including 5,060 deaths, Whitmer added.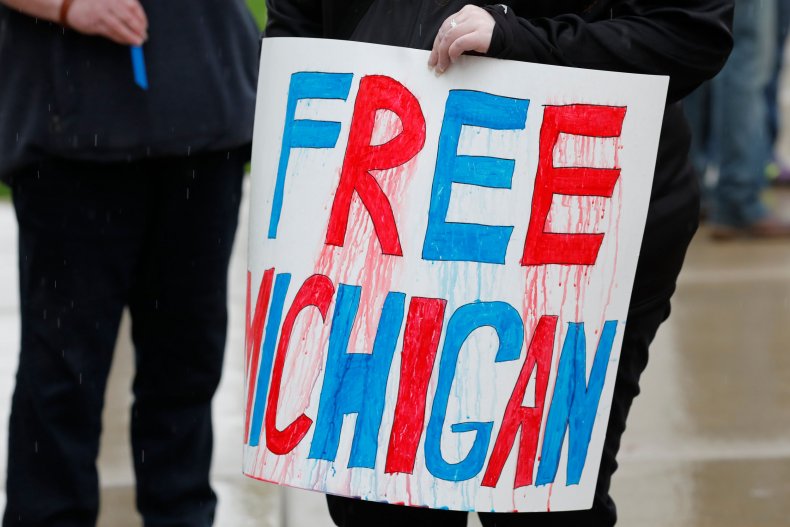 The new executive order allows gatherings of no more than 10 people, effective immediately; allows retailers and motor vehicle dealerships to see customers by appointment starting on May 26; and lifts restrictions on nonessential medical and veterinary procedures as of May 29.
So far, 36 states have reopened businesses and eased social distancing, while 10 others have resumed limited reopening. Only Delaware, Illinois and New Jersey are still closed according to a New York Times report.
The newest executive order comes three weeks after armed protesters entered the capitol building in Lansing, in defiance of the state's stay-at-home order, which Whitmer enacted on March 23.
Despite the easing of social distancing and some businesses being allowed to reopen, there are still restrictions in place and a stay-at-home order remains in place for most residents.
Businesses are required to determine which of their workers are necessary to conduct minimum basic operations; define that worker as essential in writing; and ensure that person has a copy with then when they are working.
Only first responders and police, health care professionals, public transit employees, sanitation workers, and critical government workers are among those who are exempt from this order.
Some of the activities allowed under the new order include: making deliveries or purchasing groceries; caring for a family member or a family member's pet in another household; caring for a child, the elderly, persons with disabilities, or other vulnerable persons; attending a funeral, provided that no more than 10 people are in attendance; and attending legal proceedings.
Michigan residents will be required to wear a face-covering or face mask when they are in an enclosed public space. They are still prohibited from traveling, except for necessary activities such as grocery shopping, caring for family members, or leaving the state to return home.
Michigan's stay-at-home order is set to expire on May 28. Whitmer said she will rely on data related to the COVID-19 outbreak from medical professionals to determine if the order will be allowed to expire, or if the order needs to remain in place.