Michigan Attorney General Dana Nessel Hops in Dunk Tank to Encourage COVID Vaccination
Michigan Attorney General Dana Nessel has given those willing to be vaccinated against COVID-19 the opportunity to "dunk" her in a tank of water as a reward.
Nessel, a Democrat, sat in a dunk tank during her Genesee County Expungement Fair event in Flint on Wednesday. The event was intended to provide eligible residents with the opportunity to legally expunge their criminal records of now-obsolete marijuana convictions.
COVID-19 vaccines were available on-site as part of the event. Nessel tweeted a video of herself being dunked by a person who had received a vaccine.
"At the AG Expungement Fairs, get vaccinated and you get to dunk the AG," Nessel commented alongside the video.
Michigan reported 420 new cases of COVID-19 on Wednesday, the lowest number since last August. The expungement event came one day after the state revoked a series of public health restrictions, removing capacity limits on outdoor gatherings and increasing capacity for indoor gatherings. However, Michigan has vaccinated a smaller percentage of residents against the virus when compared to many other states.
Approximately 39.3 of Michigan's total population has been fully vaccinated against COVID-19 as of Wednesday, under the U.S. average of 41.5 percent, according to Johns Hopkins University. Among those eligible, 12 years and older, the state says that 46.8 percent have been fully vaccinated. In Genesee County, where Wednesday's event took place, only 40.7 percent of eligible residents were fully vaccinated.
"The AG recognizes that some people may need some encouragement to get vaccinated, so what better motivation than an opportunity to dunk the people's attorney? We're thrilled the expungement fair for Genesee County was so effective and that people enjoyed the dunk tank. It will definitely be included in conversations surrounding future events," Lynsey Mukomel, press secretary for the Attorney General's office, told Newsweek.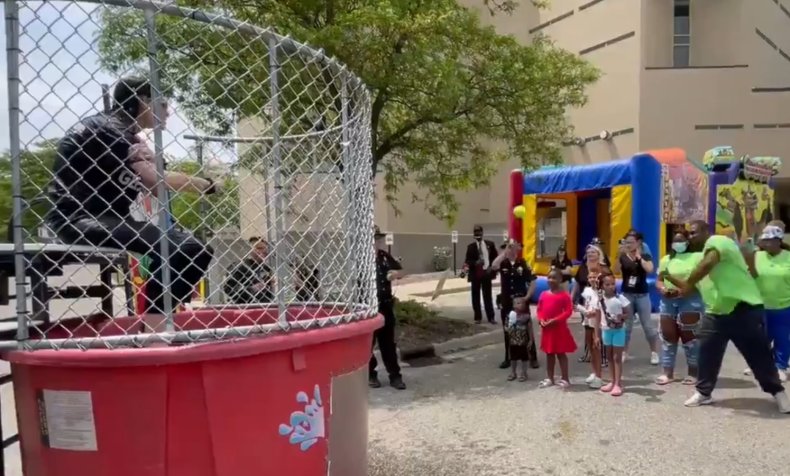 The event took place following an expungement law going into to effect in Michigan on April 11. The state voted to legalize marijuana for adults in November 2018. Almost 1,000 people were prescreened to participate in the event using an online questionnaire. Those eligible were assisted with expunging misdemeanor marijuana convictions at the event and provided information about expunging other misdemeanor and felony convictions under the law.
People with more than three felony convictions are not eligible under the new expungement law. While some non-marijuana related offenses are eligible for expungement, there is also a list of excluded convictions including sexual offenses, most violent crimes and drunk driving offenses.
"I am thrilled to see this event come together," Nessel said in a statement. "I was personally involved in crafting the bills that overhauled our state's expungement law, including eligible misdemeanor marijuana convictions. These changes offer an overdue second chance for residents who would otherwise have to carry the burden of a public criminal record well past the point of having paid their debt to society."
Further expungement events are expected to take place in Michigan over the summer. It is possible that Nessel will sit in a dunk tank to incentivize COVID-19 vaccinations at future events.
Newsweek reached out to Nessel's office for comment.