Michigan Bar Stirs Controversy With 'Kiss Me, I'm Contagious' T-Shirt for St. Patrick's Day
A restaurant and bar in northern Michigan gained attention in recent days for a controversial slogan that appears on the St. Patrick's Day-themed T-shirts it is selling ahead of this week's holiday.
The slogan puts a spin on the "Kiss me, I'm Irish" phrase that appears on many pieces of St. Patrick's Day merchandise. The phrase The Iron Pig Smokehouse is using instead reads, "Kiss me, I'm contagious."
The owner of the barbecue joint, located in Gaylord, told MLive.com the spin on the phrase is not a reference to the coronavirus pandemic, as some critics assumed.
"A lot of people are quick to be upset about the conclusion of 'kiss me, I'm contagious' about it having something to do with COVID," restaurant owner Ian Murphy told the news outlet. Instead, he said the slogan was intended to mean, "I'm contagious because I'm Irish, I'm fun, we're having a good time. Contagious is part of being the life of the party."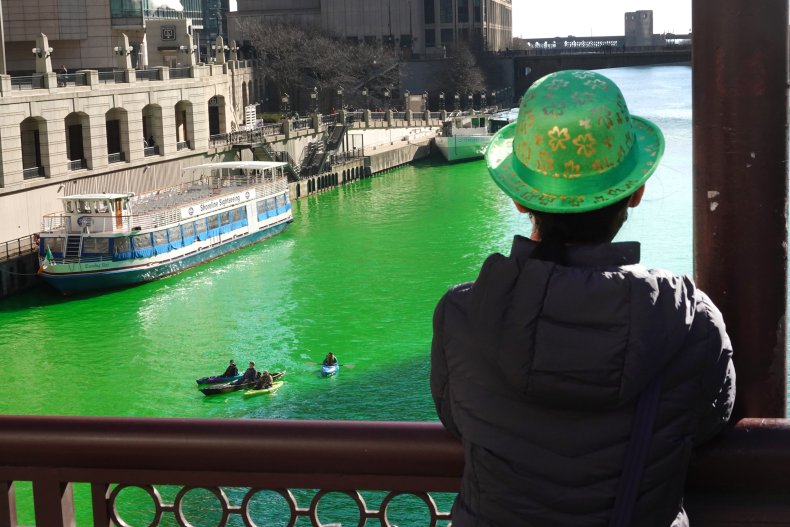 "We chose 'Kiss Me....I'm contagious' a spin on the traditional 'Kiss me....I'm Irish,'" Murphy said in an email to Newsweek. "I'm as Irish as I can be being born in Oregon and having a very Irish lineage. Generally speaking, and especially those of us in hospitality are outgoing sanguine personalities and tend to be the life of the party. We like to have fun and good times. Hence, kiss me I'm contagious...contagious fun, good times, life of the party....which is why everyone loves shenanigans for St. Patrick's Day.
"For years our community has used these events to come together and this year is very different and even more important that we come together to laugh and reflect...hopefully move forward," Murphy continued.
Murphy said it was "simply not the case" that the slogan was intended to mock COVID-19 patients.
"It's very easy to say we're making fun of C19 victims of any kind across the board. This simply is not the case. It's easy to say something like this must refer to C19 denial. This is simply not the case. We all choose to handle things differently. We chose to have a party, bring people together that have desperately needed safe social interaction, and heaven forbid, forget for a few moments about what's going on."
An ad for the T-shirt appears in a pop-up window on the restaurant's website and has also been advertised on Facebook. Reactions to the slogan appeared mixed on social media, with some Facebook users celebrating the controversy it inspired and others accusing the restaurant of not taking the pandemic seriously.
"Man have you stirred the pot, it's amazing I can't get enough," one Facebook user commented.
"17,000 Michiganders who died (in great part because people like you think Covid-19 is something to joke about) don't think this is funny," another Facebook user wrote.
The restaurant began selling the T-shirts ahead of a St. Patrick's Day event held over the weekend. Murphy and local health officials collaborated before the event, which was held at an event space instead of inside the restaurant, to put precautions in place and set attendance limits that would be in line with the state's current 50 percent capacity rule, according to MLive.com.
Murphy told Newsweek about 200 people attended the event.
The Iron Pig Smokehouse sells another shirt that also features a controversial phrase, which became the rallying cry for a "freedom rally" the restaurant held earlier this year, according to WPBN-TV. Those T-shirts, which read "Risk it for the brisket," are also still available for purchase on the restaurant's website.
Michigan's Democratic governor, Gretchen Whitmer, implemented some of the nation's strictest lockdowns in response to the pandemic last year and faced resistance from many Michiganders for doing so.
By Monday, March 15, Michigan health officials reported more than 607,000 virus infections since the start of the pandemic and more than 15,700 virus-related deaths.
A year into the pandemic, the U.S. appears to be turning a corner as vaccination efforts speed up across the country. President Joe Biden announced last week that all American adults will be qualified to receive a COVID-19 vaccine by May 1, though he estimated the first holiday Americans would be able to celebrate safely in small groups would be July 4th.
Newsweek, in partnership with NewsGuard, is dedicated to providing accurate and verifiable vaccine and health information. With NewsGuard's HealthGuard browser extension, users can verify if a website is a trustworthy source of health information. Visit the Newsweek VaxFacts website to learn more and to download the HealthGuard browser extension.