A Michigan barber who has had criminal charges against him dropped after reopening business in defiance of the state's coronavirus executive orders will have to wait to see if his can still keep his license
Karl Manke was facing two misdemeanor charges after he reopened his barbers in May despite Michigan Governor Gretchen Whitmer ordering all non-essential businesses to close in March to help stop the spread of COVID-19.
Manke kept his store open after the local Shiawassee County Sheriff's office and five other sheriffs departments said they would not enforce Whitmer's executive orders.
The barber became a key figurehead in the protest movement against the Democratic governor's order, inspiring a mass "Operation Haircut" demonstration outside Michigan's Capitol building in Lansing in May at which people flaunted social distancing guidelines to give and receive free cuts.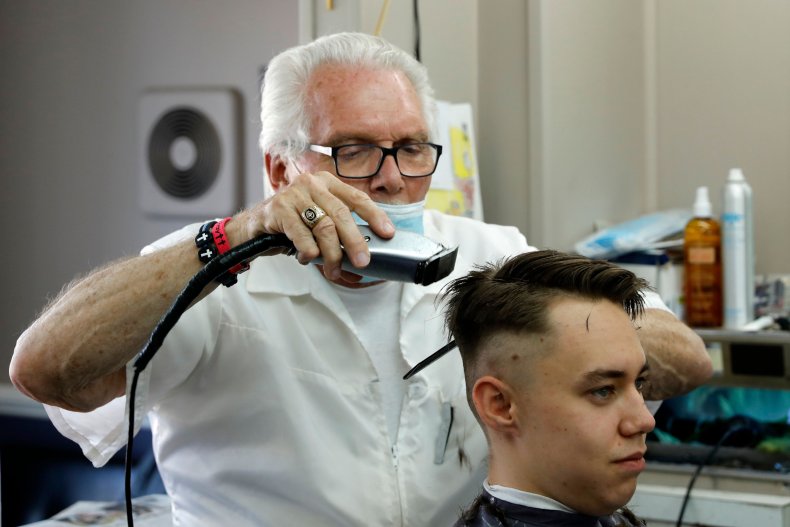 David Kallman, Manke's attorney, toldMLive-The Flint Journal that the Shiawassee County Prosecutor's Office would drop the case after the Michigan Supreme Court ruled that Whitmer did not have the authority to impose statewide executive orders without the full backing of the legislator.
"I'm not surprised [Shiawassee County Prosecutor] Scott [Koerner] went through and dismissed the charges," said Kallman. "We appreciate the prosecutor simply following the law...Karl is very happy about it."
Manke is still waiting to hear whether his barber license will be revoked following complaints he posed a public health risk by keeping his business open amid the pandemic.
Kalmman is calling for Whitmer and Attorney General Dana Nessel to drop the remaining licensing action against Manke now that the criminal charges have been dismissed.
Nessel's spokesman, Ryan Jarvi, said a decision would come from the Michigan Department of Licensing and Regulatory Affairs and not the Attorney General's office.
A hearing is scheduled for November 19.
In a statement, Manke said: "I appreciate the prosecutor dismissing all criminal charges against me in light of the Supreme Court's decision. It is definitely a weight off my shoulders.
"I just want to earn a living, and I am not a health threat to anyone.
"The courts have consistently upheld my constitutional rights affirming that the governor's attempts to shut me down were out of line."
Kallman added: "I am pleased that justice has been done and Karl has been vindicated. He is not a threat to the public's health, safety, or welfare.
"This is a great day for upholding the rule of law and restoring the faith of Michigan citizens that our legal system still operates in a fair and just manner. I trust Governor Whitmer will comply with the Supreme Court's ruling and dismiss the final administrative case against Karl."
Whitmer's office have been contacted for comment.