Michigan Becomes 'No-Kill' State for Shelter Animals
The Michigan Pet Fund Alliance (MPFA) announced that its state has achieved "No Kill" status for animal shelters after a stellar 2018 year when shelters statewide had live releases of at least 90 percent of its animals.
MPFA founder and chairperson Deborah Schutt said the gargantuan achievement happened through shelters getting pets back to their original owners, adopted or released to foster care or rescue organizations. She also said the task was not easy with so many shelters in the state.
"This is an amazing first for our state," Schutt said in this report by NBC's TV 6 in the Upper Peninsula. "When the shelters in a state combine to meet the 90 percent target, that state is considered 'No-Kill' for shelter animals. Only Delaware, which has three shelters, compared to 174 in Michigan, also reached the 'No-Kill' benchmark last year."
Schutt said the most challenging part has been trying to release healthy cats, as some communities in the state have experienced difficulty finding feline homes.
"While it's exciting to see Michigan as a state achieve No Kill status by reaching the 90 percent goal, we still have a few communities struggling to save lives, especially with cats," Schutt said. "We will continue to work with shelters and rescue organizations to implement best practices, decrease overall length of stay in the shelter and improve the quality of life for homeless pets while they are in shelter."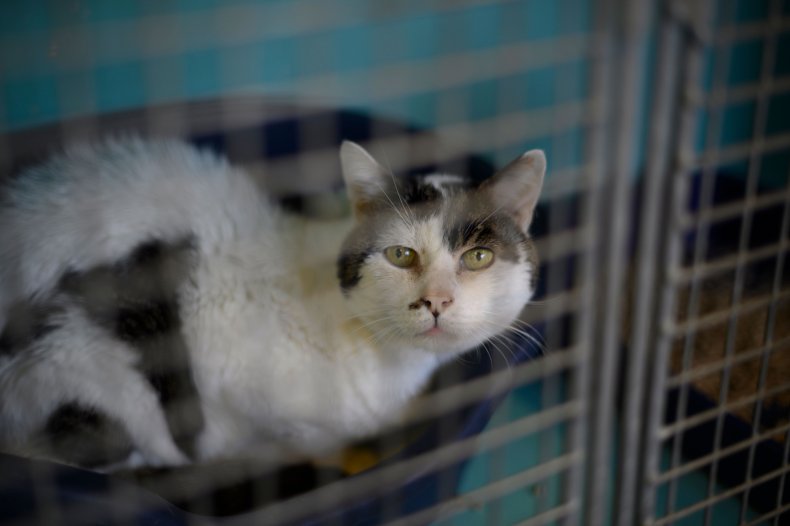 Michigan law requires shelters from around the state to provide annual reports to the Michigan Department of Agricultural & Rural Development, and MPFA has tracked these the last 10 years. Reports dating to 2009 show more than 120,000 cats and dogs lost their lives in shelters every year, and that number trimmed to just more than 13,000 for 2018.
The chart below, provided by Statista, shows which states are taking in the most shelter animals.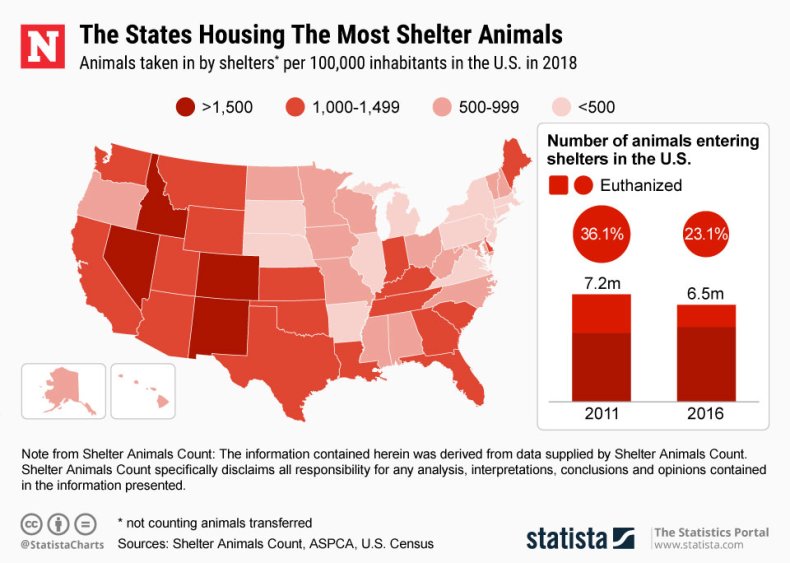 The MPFA is reportedly the only organization in Michigan that aims to end euthanization of healthy, or medically treatable, homeless dogs and cats. Their mission to end the killings by utilizing grants to help support statewide rescue groups and shelters. Grant money can go towards veterinary bills for elderly animals or others with special needs.
The group also offers technical assistance to shelters, hands-on training and mentoring.
The organization called People for the Ethical Treatment of Animals (PETA) last week said the "no-kill" shelters were a method to raise more money for statewide groups, and that it "spells disaster" for the homeless cats and dogs in such shelters.
"Keeping animals out of shelters may keep 'no-kill' shelters' euthanasia rates low and make for effective fundraising, but it spells disaster for animals," PETA said on its website.
PETA posted this video along with its statement.