Labor's Revenge: Why Bernie Sanders Won Michigan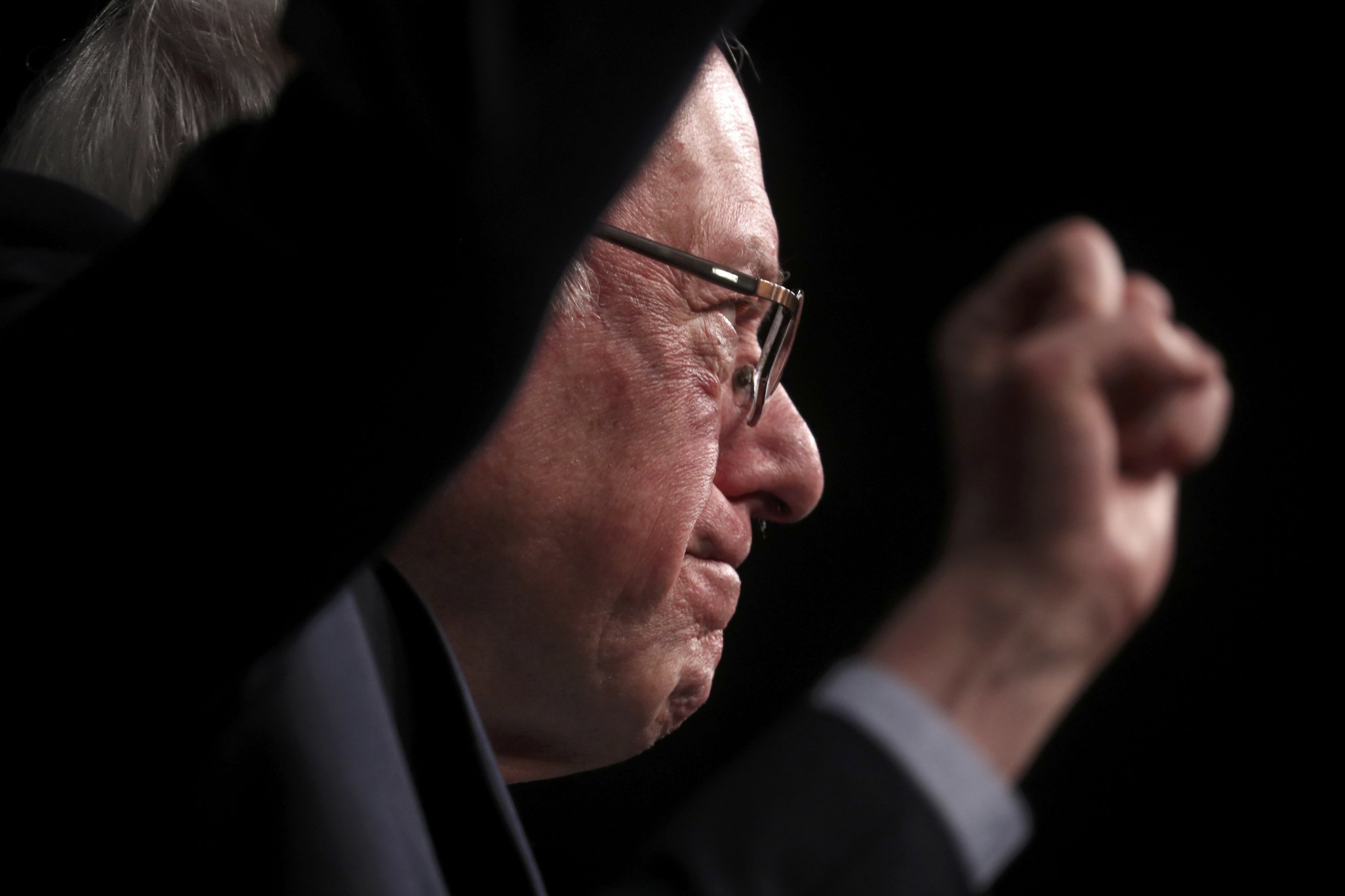 At the Democratic debate Sunday night in Flint, Michigan, Hillary Clinton's tone was mocking. She razzed Bernie Sanders for wallowing in the past. The septuagenarian Vermonter, she said, seemed to want "to argue about the 1990s instead of talking about the future." She said she'd prefer the latter, "because I think every election is about the future." Michigan voters, however, disagreed.
In a surprise result, Sanders eked out a narrow win in the Wolverine State on Tuesday, despite polls showing him trailing by wide margins in the days leading up to the vote. The vote shows Sanders understood the desire of many Michigan voters to re-litigate those old 1990s fights, particularly when it comes to trade. And it raises some red flags for the Clinton campaign going into Ohio and Illinois, which have more delegates but many of the same complaints about the free trade '90s, which were brought about by another Clinton.
One of the most striking data points out of the Michigan exit polls is the sizable majority of voters who said they believe trade with other countries "takes away U.S. jobs." In the CNN survey, 58 percent of Democrats agreed with that statement, as did 55 percent of Republicans. Sanders won anti-trade voters by double digits on the Democratic side, and Donald Trump did so on the Republican side.
The Rust Belt, once the beating heart of American manufacturing, continues to blame trade deals for the industry's decline. And America's era of free trade agreements really kicked off with the NAFTA agreement, which created a trade bloc consisting of the United States, Canada and Mexico in 1994. One of the leading supporters of that deal: President Bill Clinton.
To many people, the debate over NAFTA is from a bygone era. One Chicago-area labor lawyer I spoke to scoffed when I noted that Sanders brought up the issue repeatedly in the Flint debate. It's America's trade deficit with China, not Mexico or Canada, that is hurting the American economy, Thomas Geoghegan pointed out. "If NAFTA is a code word for China, OK I get it, but so far as I know, NAFTA has nothing to do with China," he said.
Sanders briefly mentioned trade with China on Sunday, but it was the 1994 agreement he spent the most time harping on. "Look, I was on a picket line in early 1990s against NAFTA because you didn't need a Ph.D. in economics to understand that American workers should not be forced to compete against people in Mexico making 25 cents an hour," the Vermont senator said at one point. His campaign also tweeted pictures of crumbling Detroit buildings, suggesting that "the people of Detroit know the real cost of Hillary Clinton's free trade policies."
His attacks seem to have resonated. Despite her disavowal of the Trans-Pacific Partnership, the multilateral Asia-Pacific trade deal that the Obama administration is hoping to get ratified this year, Clinton lost Michigan's anti-trade Democrats to Sanders by 17 points. On the other side of the coin, she won 53 percent of Democrats who said they believe trade with other countries creates U.S. jobs.
The former secretary of state had the lion's share of labor union endorsements in Michigan, though it's notable that her strongest union support comes from public sector unions—the American Federation of Teachers, the American Federation of State, County and Municipal Employees, the Services Employees International Union and others. And as Robert Bruno, director of the School of Labor and Employment Relations at the University of Illinois, emphasizes, a union's attitude toward trade "really depends on the nature of the workforce." The segments of the labor movement most antagonistic toward free trade are in traditional manufacturing sectors like the United Steelworkers and United Auto Workers unions. They and the AFL-CIO have stayed out of the Democratic primaries thus far.
But as Bruno tells Newsweek, "I have no doubt there is a lot of support for Sanders in those manufacturing-based unions." Indeed, Sanders narrowly beat Clinton among union households in Michigan (he actually won non-union households by a bigger margin).
Because Michigan awards its delegates proportionally, Sanders's 1.5-point victory nabbed him only seven more delegates than Clinton got, nowhere near enough to start closing the gap she's built up in the race. But it does give him a jolt of much-needed momentum. It also gives the senator's campaign some reason for optimism going into a series of even bigger contests next Tuesday.
Sanders needs big wins in both Ohio and Illinois if he has any hope of catching her in the nomination race. For Clinton, meanwhile, the warning in the Michigan results is more long term than short term: Democrats need to win the Rust Belt and its trade-skeptical voters to get to the White House. That last president to win the presidency while losing Ohio? John F. Kennedy in 1960.
Labor's Revenge: Why Bernie Sanders Won Michigan | U.S.