Michigan City Advised By EPA to Forfeit Ownership of Water Facility Due to Lead Pipes
The city of Benton Harbor, Michigan, is experiencing a water crisis, and the Environmental Protection Agency is taking notice.
The agency toured the city's water facility and found multiple problems that could be responsible for its lead-infested water. As a result, the EPA is considering forfeiting ownership of the facility, the Associated Press reported.
"The people of Benton Harbor have suffered for too long," Michael Regan, an EPA administrator, said in a statement.
Fixing Benton Harbor's systems would involve replacing about 2,400 pipes that could be transferring lead into drinking water, a move many have rallied around, but the lack of resources provided to the city has resulted in little progress.
Outreach efforts, including town halls and public notices, began in 2018, and officials distributed water filters to residents in 2019. Despite slightly lower lead levels, progress to curb the lead problem hasn't been fast enough for the residents. In September, environmental groups and Benton Harbor residents petitioned the EPA and urged immediate and extensive action.
"We couldn't take it anymore," said the Rev. Edward Pinkney, one of the petition's contributors.
For more reporting from the Associated Press, see below.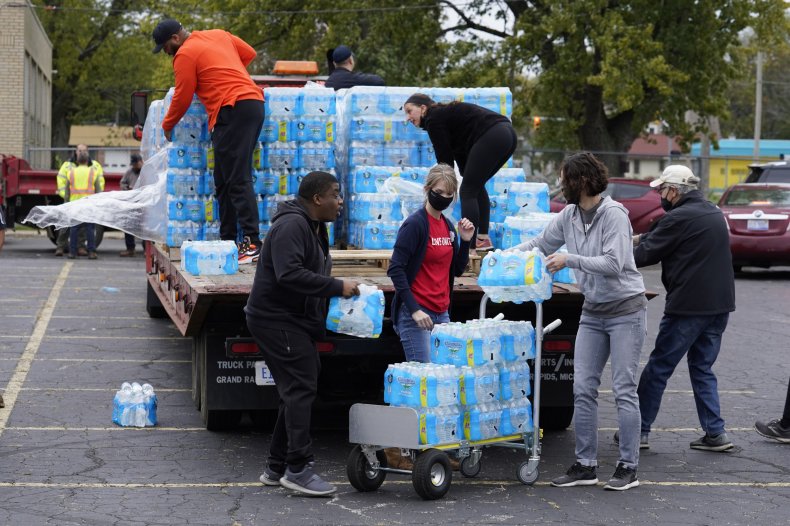 Shortly after sunrise on a recent Saturday, residents began lining up for free bottled water so they could drink and cook without fear of the high levels of lead in the city's tap water.
Free water distribution sites are a fixture of life in the majority Black city in the southwestern corner of Michigan, where almost half of the nearly 10,000 residents live below the poverty line.
Waiting for free bottled water is time consuming and some residents wonder why, in a state that recently dealt with the Flint water crisis, the problem wasn't fixed sooner.
"It's tiresome," said Rhonda Nelson, waiting in line at a site run by the Boys & Girls Clubs of Benton Harbor. "I understand what Flint was going through, I really do."
Michigan Governor Gretchen Whitmer has promised to spend millions of dollars to replace the city's lead service lines within 18 months—a blistering pace for a process that often takes decades. For now, residents have been warned not to cook, drink or make baby formula with tap water.
Residents worry what the elevated lead levels mean for their families' health. The problem is also inconvenient and stressful. Drivers line up at water distribution sites early, pulling people away from jobs and family. Bottled water must be used carefully so it doesn't run out. Even waiting in line has consequences—idling uses gas that drivers have to pay to replenish more often.
Waiting in line, LaKeena Crawford worried about the consequences for her 8-year-old daughter, whom she has seen try to turn on the water.
"I'm like, 'No!'" Crawford said, adding that she wants her daughter to understand that lead in water is dangerous. But, "I don't want to frighten her too much."
Lead exposure can slow cognitive development, especially in young children, according to the Centers for Disease Control and Prevention, and federal officials say no amount of lead in drinking water is considered safe for their consumption. In recent months, activists have pushed for more immediate, aggressive action, and the state has ramped up its response.
Some wonder whether the problem would have been handled more quickly if Benton Harbor's residents looked more like those in neighboring St. Joseph who are predominantly white.
"Sometimes you just have to call out racism, and that's what it feels like," Ambie Bell said while helping distribute water to residents.
The lead water problem in Flint started when that city switched its water source to the Flint River as a temporary cost-saving move without proper treatment, corroding its lead pipes. But Benton Harbor's water source, Lake Michigan, is considered safe and many other places get their water there, City Manager Ellis Mitchell said.
"Our problem is clearly our own infrastructure," he said.
"This results in a knock-on effect of reduced technical, managerial and financial capability at the water plant due to underinvestment in staff, equipment and training," said Scott Dean, a spokesman with the Michigan Department of Environment, Great Lakes and Energy.
After Flint's water crisis, Michigan tightened requirements for lead in drinking water in 2018, boasting it had passed the nation's most protective law. It imposed more stringent requirements for testing water for lead and mandated that old lead service lines be replaced.
The Michigan House of Representatives oversight committee held a hearing last month on Benton Harbor. Republican Committee Chair Steven Johnson questioned why the recent state response to the city's lead crisis feels like it has gone "from zero to 100 miles per hour" even though the problem has persisted for years.