Michigan College Will Defend Against Potential School Shooters by Throwing 2,500 Hockey Pucks at Them
Students and faculty members at a university in Michigan have been distributed with hockey pucks as part of plans to protect themselves from a potential active shooter.
Oakland University, a public school in Rochester Hills, Detroit, is handing out 2,500 pucks to students and faculty union members following a discussion which rose from an active shooter training session in March in the wake of the massacre in Parkland, Florida, which left 17 people dead.
When asked how faculty members could protect themselves and others in a school that has a zero weapons policy, Oakland University Police Chief Mark Gordon suggested throwing something heavy—using a puck as an example—if running or hiding is not an option.
"It was just kind of a spur-of-the-moment idea that seemed to have some merit to it and it kind of caught on," Gordon told the Detroit Free Press.
Following the discussion, Tom Discenna, a professor of communication and president of the faculty union, put forward the notion to buy thousands of 94-cent hockey pucks to give around the school.
"It's just the idea of having something, a reminder that you're not powerless and you're not helpless in the classroom," Discenna told the Detroit Free Press.
The school police department's own advice is to only act with "physical aggression and throw items at the active shooter" as a last resort in such a situation, reports UPI.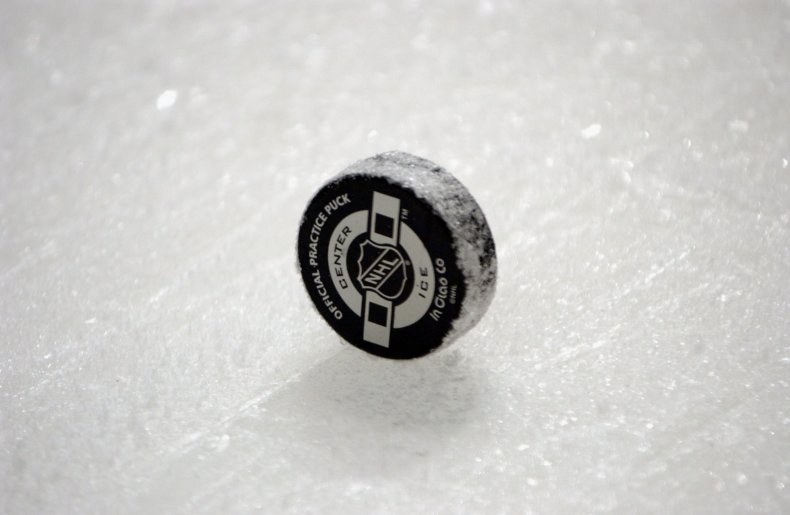 Gordon reiterated that using the puck should only be as an "absolute last strategy" and the school holds several training sessions times a year which focuses on fleeing first or hiding if that is not possible.
However, Gordon does still see the merit of having dozens of hockey pucks in a classroom.
"Anything that you can throw that's heavy and will cause damage, because injury is the bottom line of what you're trying to do," Gordon said.
"[A hockey puck] was just a thing that was suggested that could possibly work, especially when you have 20 or 30 people in a classroom and they all throw hockey pucks at the same time, it would be quite the distraction."
The pucks also have another purpose. Each disc is emblazoned with a number which people can enter on the university's website to donate money towards new locks at the school.
Currently, some of the school's doors are only lockable from the outside, not from inside the classroom, noted the student newspaper The Oakland Post in March.