Michigan Congressman Justin Amash Says He Will Not Run for President This Year
Michigan Independent congressman Justin Amash told his supporters Saturday that he will not enter the presidential race a a Libertarian candidate this year.
Amash, a frequent critic of President Donald Trump and the country's two-party system, said he will not pursue a 2020 presidential campaign. In April, the ex-Republican April threw his name into the race alongside Libertarian Party candidates for president. But on Saturday, citing circumstances, he decided to abandon his presidential bid. Amash said Saturday that despite dropping out, he believes the Libertarian Party is "well positioned to become a major and consistent contender to win elections at all levels of government."
"After much reflection, I've concluded that circumstances don't lend themselves to my success as a candidate for president this year, and therefore I will not be a candidate," the Michigan congressman tweeted Saturday afternoon, ending weeks of speculation and hints that he was pursuing a third-party presidential run.
"I've spent nearly three weeks assessing the race, appearing in media, talking to delegates and donors, watching the Libertarian Party's convention plan unfold, and gathering feedback from family, friends, and other advisers," he continued.
Newsweek reached out to the Michigan congressman's office for additional comment Saturday afternoon.
"I remain invested in helping the party realize these possibilities and look forward to the successes ahead," Amash wrote on Twitter. He went on to encourage Americans of all political affiliations to consider offering their support to the Libertarian Party as he stressed his continued opposition to the binary political options of the Republican and Democratic parties. The former GOP-turned-independent congressman from Michigan announced he was leaving the Republican Party last July, citing a "partisan death spiral" in part due to Trump's influence on national politics.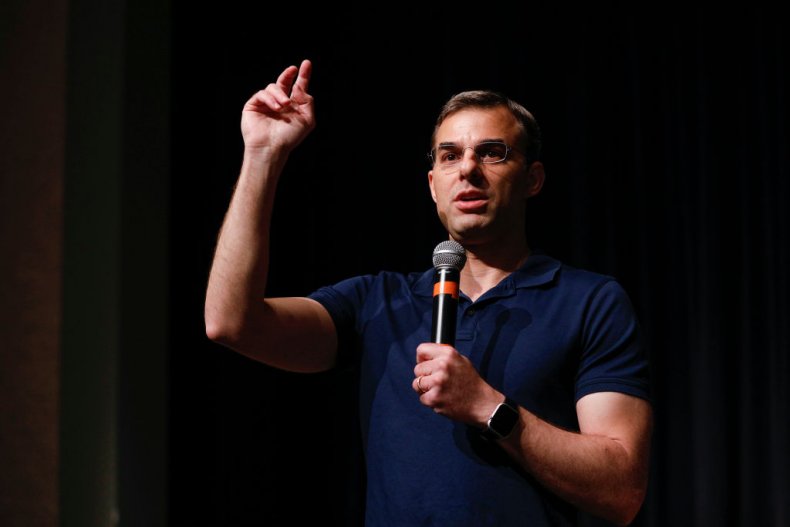 The Michigan congressman highlighted difficulties that third-party candidates have in even being placed on ballots across all 50 states. He said the ratification of online voting and the legal challenges associated with ballot placement are something the Libertarian Party will need to focus on moving into the future.