Consumers Energy Outage Map as Around 150,000 in Michigan Without Power After Storm
Lower Michigan experienced storms on Tuesday night that continued through Wednesday evening and left more than 235,000 Consumers Energy customers without power. The storms resulted in 4,000 downed wires, 2,500 tree hazards, and 206 broken poles.
Consumers Energy says restoration work will continue through Friday for most of its customers but the hardest-hit areas, including Branch, Calhoun, Kent, Jackson, and Saginaw counties, could undergo restoration work through the weekend.
As of 6.50 a.m., local time Thursday morning, approximately 147,000 Consumers Energy customers were without power, caused by around 3,500 outages across the state. However, 92 percent of customers currently have power.
The Michigan areas currently experiencing outages include Battle Creek and its surrounding areas and areas south-east of Mount Pleasant. Michigan residents can consult the Consumers Energy outage map for more detailed information on which areas are currently affected.
Newsweek subscription offers >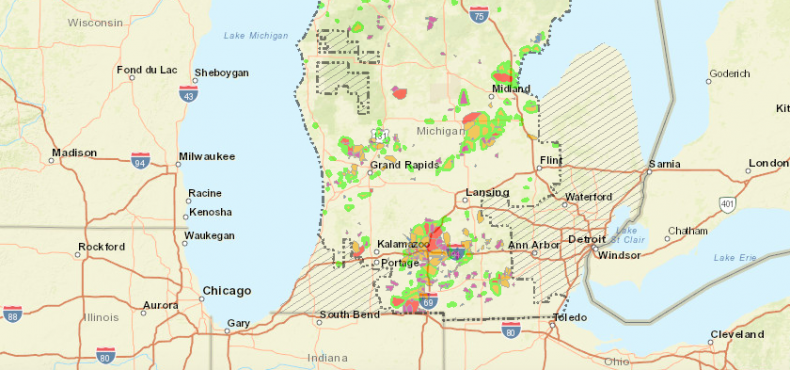 There are 337 Consumers Energy crews out working on restorations and according to the company, outages caused by storm damage typically take around 24 hours to restore, based on average restoration times for events impacting around 50,000 customers. It may take up to three days for 100 percent of customers affected by the outages to have their power restored.
Guy Packard, VP electric operations was quoted on the Consumers Energy Twitter page as saying: "Our crews have been able to work safely and efficiently all night, restoring power to over 90,000 homes and businesses since Tuesday. With better weather in the forecast, we expect to continue making progress today."
The energy company said on Twitter: "We urge you to stay at least 25 feet away from downed wires, keep children or pets away, and report the issue by calling 9-1-1 and us at 800-477-5050.
Newsweek subscription offers >
"Our crews are taking extra health and safety precautions because of the COVID-19 situation and asks the public to keep at least six feet of distance from its crews."
Additionally, Detroit-based energy company, DTE Energy has reported outages in Southeast Michigan. DTE Energy reported that 93 percent of customers are with power but more than 139,000 customers are experiencing outages. DTE Energy crews are out working on restorations currently.
On Twitter, DTE Energy said: "We know that being without power is an inconvenience. More than 1,000 field resources are activated this morning, including 400 out-of-state crews, to help restore power to impacted customers as quickly and safely as possible.
"Public safety is always a priority, so our teams remain in the field working with police and fire to respond to hundreds of downed power lines caused by the winds that accompanied the storm yesterday and through the night."
Consumers Energy Outage Map as Around 150,000 in Michigan Without Power After Storm | U.S.