Michigan Coronavirus Cases Jump By Over 1,000 As Armed Anti-Lockdown Protesters Shut Down Capitol
The number of coronavirus cases in Michigan increased by over 1,000 on the day of an armed anti-lockdown protest that demanded an immediate reopening of the state.
According to Michigan's Department of Health, at least 1,191 newly confirmed cases were reported on Thursday, as well as at least 73 deaths. It was a significant increase from the past few days, with at least 370 cases reported on Wednesday, 469 on Tuesday and 370 on Monday.
This brings the state's totals to at least 49,582 confirmed cases and 4,787 deaths.
Thursday's increase in cases came after armed anti-lockdown protesters arrived at the Capitol in Lansing, demanding that Governor Gretchen Whitmer ease lockdown restrictions and reopen the state. In anticipation of the protests, Michigan closed the Capitol on Thursday, canceling the legislative session previously planned for that day.
The protest on Thursday was the third demonstration against Whitmer's stay-at-home order, which is set to expire on May 28. Thursday's protest, as well as the previous ones, was orchestrated by the conservative group Michigan United for Liberty.
According to NBC News, several militia members, armed with guns, participated in the anti-lockdown rally. NBC News also reported that while some of the protesters wore protective face masks during the rally, most did not follow social distancing guidelines.
The Michigan State Police estimated there "were around 200 people" during the high point of the protest, but the crowd later dwindled to about 75.
Whitmer is slowly reopening the state's economy, allowing several manufacturing companies to resume business on Monday, but the protesters on Thursday demanded an immediate end to the statewide lockdown.
Over the course of the state's three anti-lockdown protests, President Donald Trump has expressed support for the rallies, and on April 17 he tweeted, "LIBERATE MICHIGAN."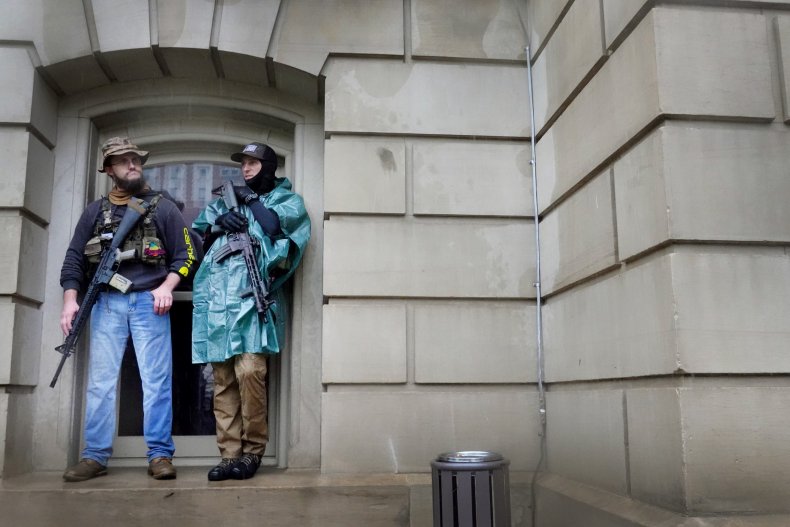 On May 1, Trump showed his backing for the demonstrators once again, writing, "The Governor of Michigan should give a little, and put out the fire. These are very good people, but they are angry. They want their lives back again, safely! See them, talk to them, make a deal."
Whitmer responded to the protests while appearing on CNN's New Day on Friday, suggesting that the protesters "are not just citizens unhappy about having to stay home."
"This is a political rally, essentially, when the big float rolls in that is about Donald Trump," the governor said. "When people are showing up with guns, when people are showing up with things like Confederate flags, it tells you this really isn't about the lockdown or about a perception of a stay-home order. It's really an organized political statement."