Michigan Could Face 'Constitutional Crisis' Over Election: State House Speaker
Michigan lawmaker Lee Chatfield, a Republican who serves as speaker of the state's House of Representatives, discussed accusations of misconduct and procedural irregularities that some conservatives say impacted election results in Wayne County, which encompasses Detroit.
During a Fox News appearance on Sunday morning, Chatfield said allegations could prompt "a constitutional crisis" in Michigan if elections officials and jurists decide against a prompt certification of the state's election results next week.
Michigan's bipartisan canvassing board, which is composed of two Republicans and two Democrats, will hold a vote on Monday to determine whether it moves to certify results immediately or delays the process.
Chatfield said he does not intend to "interfere" with the board's upcoming vote, and noted that a deadlock would then extend the decision to jurists seated on the Michigan Supreme Court.
"If they didn't have an order that [the election results] be certified, well, now we have a constitutional crisis in the state of Michigan that's never occurred before," he continued. Later, the state representative added: "It's a place I really don't want to be in."
The state representative referenced sweeping criticisms from politicians and members of the public who are denouncing efforts by sitting president Donald Trump to challenge results of the general election. In doing so, his re-election campaign launched numerous lawsuits aiming to invalidate mail-in ballots and, ultimately, delay certification procedures across the U.S. The legal proceedings target jurisdictions where ballot tallies showed a majority of voters supported President-elect Joe Biden.
Biden is projected to have won Michigan, a key battleground state that both presidential candidates were pushing to secure ahead of Election Day. Ballot tallies showed the Democratic former vice president led Trump by roughly 154,000 votes statewide, and all 83 counties had certified their results individually as of Sunday.
Wayne County, a predominantly Democratic area whose large population of voters contributed to Biden's overall Michigan triumph, became subject to legal attacks from the Trump campaign in the weeks after polls closed November 3. Two Republican members of the county's board of canvassers initially voted to halt its certification, which would effectively delay Michigan from doing the same statewide, but eventually backtracked last week.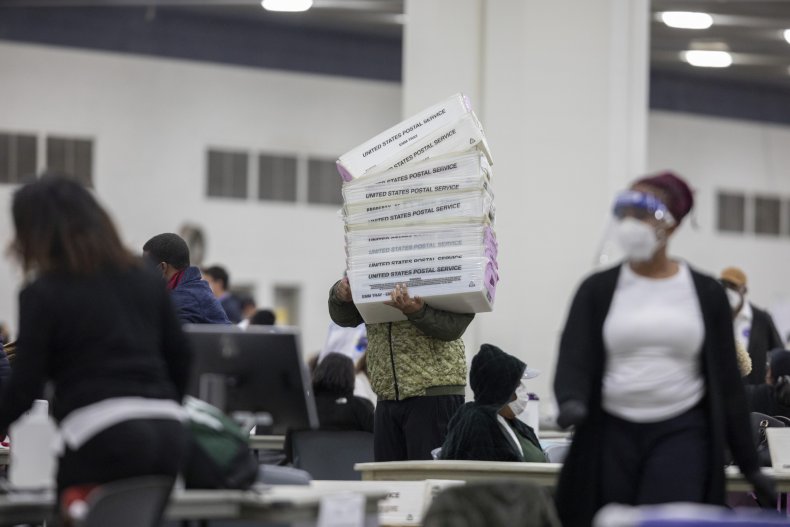 The Trump campaign withdrew its Wayne County lawsuit shortly after. In announcement, the campaign said its decision came "as a direct result of achieving the relief we sought: to stop the election in Wayne County from being prematurely certified before residents can be assured that every legal vote has been counted and every illegal vote has not been counted."
The campaign's broad allegations of voter fraud and corruption skewing election results for Biden are unsubstantiated and widely discredited. Most of its lawsuits have already been dismissed in court.
Following Wayne County canvassers' decision to certify local election results, Trump held a meeting at the White House with Chatfield and Michigan's Senate Majority Leader Mike Shirkey. Although the state legislators said they had "not yet been made aware of any information that would change the outcome of the election in Michigan" in a subsequent statement, Trump insisted that "massive voter fraud will be shown" in a tweet that referenced their comments. Twitter flagged the post to notify users of its unproven claims.
Several leading Republicans—including Michigan GOP Chair Laura Cox and Republican National Committee Chair Ronna McDaniel—urged the state's board of canvassers to delay Monday's scheduled vote in the aftermath of Trump's meeting with the pair of lawmakers. The Detroit Free Press countered their push with an editorial piece published on Saturday, which called for the canvassing board to proceed with their vote as planned.
"Enough, already. The fanciful conspiracy theories have been debunked," the article read.
Numerous government officials, from both parties, share the newspaper's perspective. During a CNN interview on Sunday morning, Republican Fred Upton, a Michigan representative in the U.S. House, noted plainly that "no one has come up with any evidence of fraud or abuse" as it concerns the state's election process.
Experts have explained that bookkeeping issues identified in Wayne County, which seem to be the root of Trump's mounting allegations of misconduct, only involve a small number ballots and would not impact Michigan's election results. Others point out that "irregularities" such as these happen often during elections.
Newsweek reached out to the Michigan Bureau of Elections for comment, but did not receive a reply in time for publication.