Michigan County Has Charged 18 Youths Ages 12 to 17 for Making Threats Against Schools
Following the recent shooting at Oxford High School in Michigan that left four students dead and eight wounded, neighboring Wayne County has charges pending against 18 young people for various threats against schools in the area.
County Prosecutor Kym Worthy reported the number to the press Wednesday and spoke about nine of the cases in detail.
The students charged last week are aged 12 to 17, and the threats occurred Dec. 2-6, directed at schools in Detroit, Grosse Pointe Farms, Melvindale, Wayne, and Wyandotte.
Eight face charges of intentional threat to commit an act of violence against a school employee or students, one faces a charge for making a false report or threat of terrorism, and six of the nine were charged with malicious use of a telecommunications device.
"Juveniles do not receive adult sentences," Worthy's office said Wednesday. "Upon conviction, a judge will fashion a sentence considering the crime committed, and the rehabilitation of the juvenile offender."
Several Michigan schools canceled classes in the days following the Nov. 30 shooting, in which 15-year-old sophomore Ethan Crumbley shot 10 students and one teacher as the similar threats were posed to other local schools, prompting safety concerns from students, parents, and school officials.
Crumbley has been charged as an adult with murder, terrorism, and other crimes, and his parents James and Jennifer Crumbley were arrested following a brief search that found them hiding in a basement.
The couple has been charged with involuntary manslaughter for purchasing the gun involved in the shooting and ignoring advice from the school that Ethan Crumbley was potentially a danger to his fellow students.
The day before the shooting, the couple was contacted after a teacher saw their son searching for how to get ammunition for guns on his phone.
On the day of the shooting, a teacher reportedly found a note Crumbley had drawn, with a drawing of a gun pointed at the words "The thoughts won't stop. Help me." There was also a drawing of a bullet below the words "Blood everywhere."
The parents were called into the school and refused the idea from school officials for their son's bag to be searched or to take him home early. They left him in school, where the shooting occurred later that day.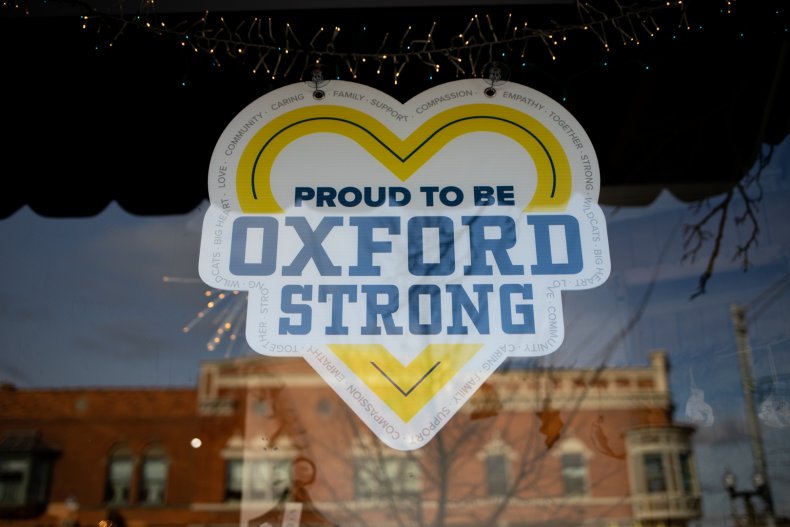 The gun used in the shooting was bought days before by James Crumbley.
"Much has been written about these types of cases lately, yet still these serious events continue to happen," Worthy said. "Quelling school threats is going to take the work of all of us. It is also going to take facing head-on the access our children have for guns and their fascination with them."
The Associated Press contributed to this report.