Michigan County Investigating Unofficial Election Results After Local Republicans Raise Alarms
A county in Michigan is investigating the unofficial elections results posted by the county clerk after Republicans raised concerns about irregularities—showing a dramatic shift favoring Democratic candidates compared to past elections.
The results posted by Antrim County—located in the northwest of Michigan's lower peninsula—showed Democratic presidential nominee Joe Biden with more than 7,700 votes, or some 3,000 more than incumbent President Donald Trump, Interlochen Public Radio reported. In 2016, Trump easily carried the county with 8,469 votes (62.4 percent) compared with Clinton's 4,448 votes (33.2 percent).
Triston Cole, a Republican who represents Antrim County in the Michigan State House, raised questions about the results to Interlochen Public Radio. "There is no way that we flipped from 62 percent Trump in 2016 to upside down this time around," Cole said.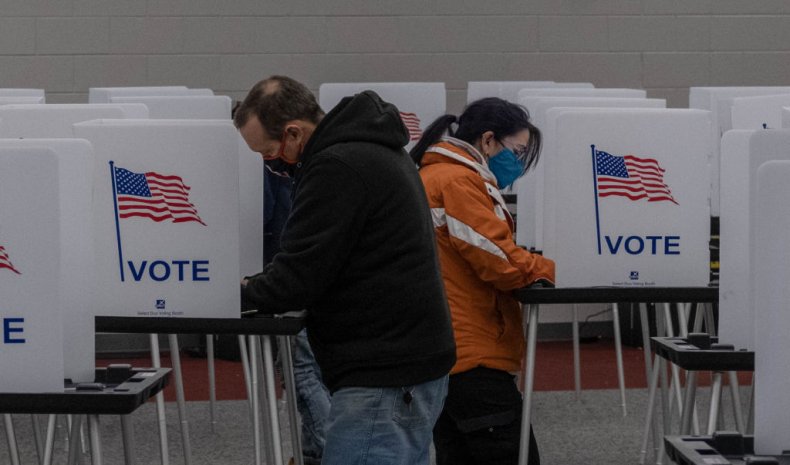 Cole pointed to the results for Congressman Jack Bergman (a Republican) at his polling place in Chestonia Township—which showed the GOP incumbent winning just 2 votes there. "I can guarantee that there were 6 [Bergman votes] in my immediate family alone," Cole said.
Bergman has been declared the winner in his district, whether or not the results are shown to be inaccurate. He easily defeated Democratic challenger Dana Ferguson by a margin of 61.4 percent to 37.1 percent. But Antrim County said in a press release that it's investigating the results it posted.
"Early this morning the Antrim County Clerk, Sheryl Guy became aware of apparently skewed results in the Unofficial Election Result tabulations. Since then, the Clerk's Office has been reviewing the results and the multiple redundancies to search out any possible discrepancies," the county said.
Guy said in the release that the county expects to have a "clear answer" by Wednesday afternoon.
"Staff is currently working on entering each jurisdictions results by hand into our reporting program. Until then I am asking all interest parties to bear with [us] while we work to resolve our unofficial election night report. Further information will be [released] as it becomes available," Guy told Newsweek in an email.
As the race in Michigan currently stands, even if the votes in Antrim County are skewed, it does not appear that it would change the trajectory of the presidential race. However, it remains possible that the race could tighten as some 100,000 ballots remain uncounted in the key Midwestern swing state.
With some 96 percent of Michigan's votes tabulated, Biden leads Trump by more than 45,000 votes—a margin of 0.9 percent. It is possible that the race could become closer as the counting proceeds, making any possible discrepancies in Antrim County more significant to the presidential contest. But analysts expect the remaining ballots to strongly favor Democrats, as they are largely from urban areas that skew Democratic.
This article has been updated with further comment from the Antrim County Clerk.