Michigan Covid Guidelines Explained as Governor Whitmer Announces New Restrictions
Michigan faces three weeks of further restrictions in an effort to curb the spread of coronavirus as the state is said to be "entering the most challenging phase of the pandemic thus far."
Governor Gretchen Whitmer and the Michigan Department of Health and Human Services (MDHHS) announced the new COVID rules and extra guidelines on Sunday, as cases continue to rise across the state.
As of November 13, Michigan had recorded a total of 244,741 confirmed cases, and 7,929 deaths attributable to COVID-19, according to state data.
In late March, the number of new cases each day peaked at nearly 2,000. Following a statewide stay-at-home order, which ran from late March until early June, daily case counts were driven down to fewer than 200 by mid-June.
However, daily new case counts currently stand at more than 6,000—three times higher than in the spring. The MDHHS has said that while testing has increased by 78 percent since October 1, the test positivity rate has increased by 225 percent during the same period. That suggests COVID is spreading faster than tests are being administered.
Additionally, the current death rate is four times higher than it was in early October. There are more than 300 weekly deaths in Michigan and nearly every region has more than 20 weekly deaths.
The MDHHS has said that the sharp increase in new infections suggests "the state is entering the most challenging phase of the pandemic thus far."
Michigan will be subject to a number of restrictions from 12:01 a.m. local time on Wednesday until 11:59 p.m. on December 8.
Michigan Restrictions
Only two households can gather inside residences at one time, and the MDHHS is strongly urging families to choose only one other household to interact with over the next three weeks
Bars and restaurants will remain open but only for outdoor dining, carry-out, and delivery only. Casinos and movie theatres will be closed
Gyms will remain open for individual exercise with strict safety measures, but group exercise classes will be closed
Professional and college sports that meet extraordinary standards for risk mitigation may continue without spectators, but all other organized sports must stop
College and high schools may proceed with remote learning but in-person classes must end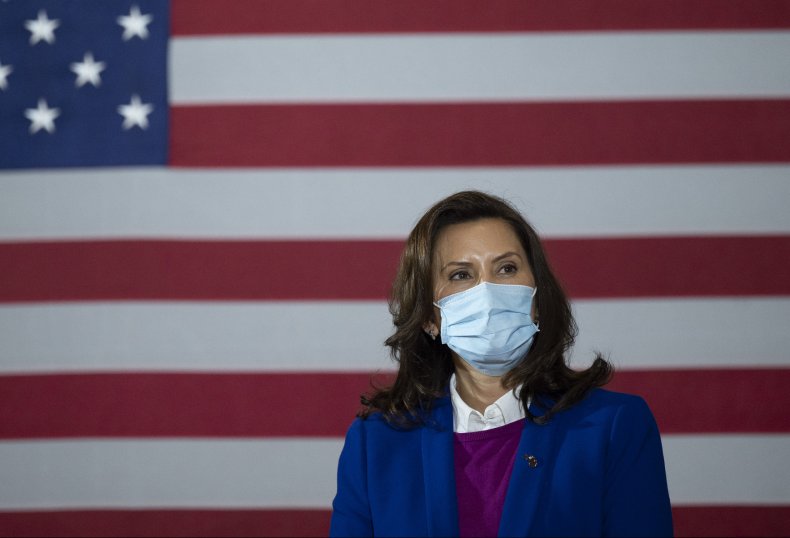 In a statement, Whitmer said: "In the spring, we listened to public health experts, stomped the curve, and saved thousands of lives together. Now, we must channel that same energy and join forces again to protect our families, frontline workers, and small businesses.
"Right now, there are thousands of cases a day and hundreds of deaths a week in Michigan, and the number is growing. If we don't act now, thousands more will die, and our hospitals will continue to be overwhelmed.
"We can get through this together by listening to health experts once again and taking action right now to slow the spread of this deadly virus."
MDHHS director Robert Gordon added: "Indoor gatherings are the greatest source of spread, and sharply limiting them is our focus.
"The order is targeted and temporary, but a terrible loss of life will be forever unless we act. By coming together today, we can save thousands of lives."