Michigan Dam Flooding Is a Once in 500 Years Event, Water Levels Won't Peak Until Wednesday Night, Governor Whitmer Says
Michigan Governor Gretchen Whitmer gave an update Wednesday on the state's response to the recent flooding, saying that water levels wouldn't peak until later in the evening.
"We are anticipating the height being around 8 o'clock tonight," Whitmer said during a press conference. "And so we do know the water is continuing to rise, albeit at a slower pace, but that's why we've got to continue to take this seriously."
Whitmer's comments came after the Tittabawassee River filled with rain and breached the Edenville and Sanford dams Tuesday night. The flooding caused thousands of Midland, Michigan, residents to evacuate their homes. By Wednesday morning, the river's levels had risen to historic highs.
According to National Weather Service Meteorologist Bryan Bachman, by 1:15 p.m. ET the river was recorded at 35.03 feet, topping a previous high of 33.9 feet set in 1986.
"It's devastating. We know that this water is incredibly damaging. It has meant the evacuation of thousands," Whitmer said. "Experts are describing this as a 500-year event. It's going to have a major impact on this community and on our state for the time to come, and that's why we are going to be very aggressive about getting help from our federal partners."
She added: "This is an event unlike anything we've seen before. This is going to be hard, but we are anticipating several feet of water across this area, and so while we're in the midst of a global pandemic, it's really important that to the best of our ability we observe the best practices to keep ourselves and our families safe."
As of Wednesday, there have been no reports of casualties from the flooding, the governor said.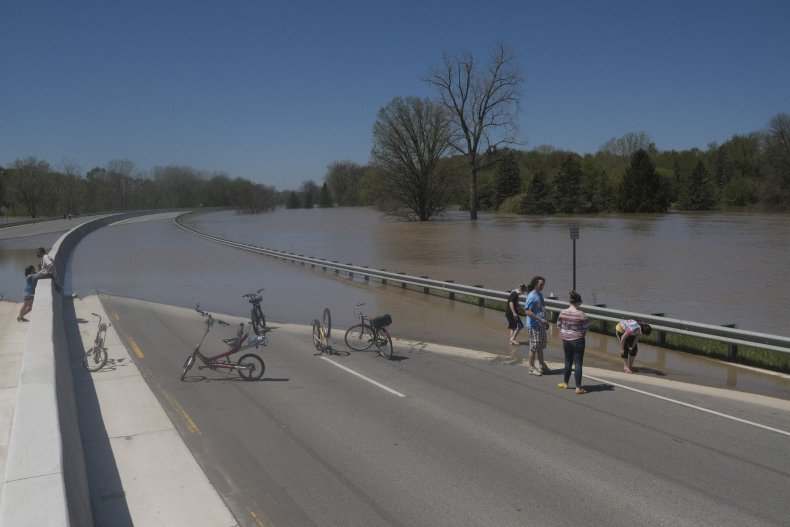 Pictures and videos of the flooding and the damage it has caused appeared on social media.
"Well, flooding update in Freeland, Michigan just south of Midland. This used to be a road & a 4-way stop," Twitter user Erika Weadock wrote.
ABC News shared an aerial video of the flooding, with a caption that read, "DAM BURST: Residents who live along two lakes and a river in Michigan urged to evacuate after dam fails following days of heavy flooding across parts of the Midwest."
According to the U.S. Geological Survey, the Tittabawassee is now discharging 374,000 gallons of water per second. During a press conference on Tuesday, Whitmer said that areas in downtown Midland could be under 9 feet of water.