Michigan Democrats Call for State Senator's Resignation After Calling Capitol Riots a 'Hoax'
The Michigan Democratic Party has called for a state Senator Mike Shirkey's resignation after a video surfaced showing him calling the January 6 riots at the U.S. Capitol a "hoax."
"We have one message for @SenMikeShirkey, who amplified and repeated lies to undermine our democracy, openly met with militia groups and gave them messaging advice: Resign. His rhetoric and actions are not worthy of the office he holds," the Michigan Democratic Party wrote in a tweet on Wednesday.
The state's Democratic Party issued several other tweets calling for Shirkey's resignation, with one including a petition for residents to sign to show support for their resignation calls.
"@SenMikeShirkey's actions have undermined our democracy, encouraged militia groups, and brought shame to Michigan. That is why we are urgently calling for his resignation. Add your name now to demand Shirkey resign," the tweet said.
In an email sent to Newsweek, a Michigan Democratic Party Chair Lavora Barnes wrote, "Mike Shirkey has proven he is totally unfit to lead and should resign immediately given his recent outrageous assertion that the insurrection and violence at the U.S. Capitol was a hoax."
"Shirkey has coddled and funded paramilitary groups and his latest comment has exposed him as a QAnon kook who pushes conspiracy theories that foment violence to one group while trying to play the statesman to others. Shirkey's irresponsible actions have endangered public health, put lives at risk and made Michigan a national laughingstock," the email added.
The calls for Shirkey's resignation come shortly after he was captured on video referring to the riots at the Capitol a "hoax." On January 6, supporters of former President Donald Trump breached the building in protest of Congress certifying state's electoral votes.
The video, which was posted to YouTube by Reclaim Our American Republic, showed a private conversation Shirkey had with the leaders of the Hillsdale County Republican Party at Spangler's Family Restaurant in Jonesville, Michigan.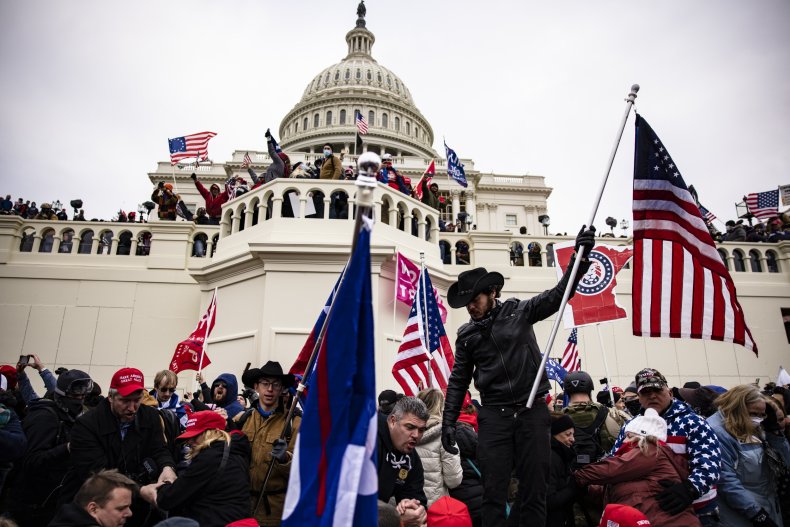 During the conversation, Shirkey was asked about the January 6 Capitol riots and in response he said, "That's been a hoax…from day one."
"That wasn't Trump people," Shirkey said in the video. "That was all prearranged."
The state's Republican leader also said the Capitol riot events were "staged" and "arranged by somebody that was funding it all," while also suggesting that Senate Minority Leader Mitch McConnell was part of it.
Shortly after the video gained traction across social media, Shirkey issued an apology, in which he wrote, "I said some things in a videoed conversation that are not fitting for the role I am privileged to serve. I own that. I have many flaws. Being passionate coupled with an occasional lapse in restraint of tongue are at least two of them."
"I regret the words I chose, and I apologize for my insensitive comments," his statement said.
In addition to calls for his resignation, Shirkey also faced backlash from his own district's party, as they voted 14 to 5 to censure the state's top Republican.
The Hillsdale County Republican Party voted to censure Shirkey for what they called "complete and utter surrender to Governor Gretchen Whitmer in regards to her unconscionable and unconstitutional shutdown of small businesses," according to WTVB news in Michigan.
Newsweek reached out to Shirkey for comment but did not receive a response in time for publication.