Michigan HS Students Slam Lesson Blaming How Girls Dress for Harassment: 'Teach Men Not to Over-Sexualize Women's Bodies' Instead
A Michigan Catholic school has been criticized after a campus minister told female students how they dress could be to blame for objectification from men.
Dozens of girls at Divine Child High School in Dearborn protested after the comments, which were made on May 31 during a theology class that featured teachings about sexual harassment, local media reported. Some of the comments were recorded and shared with WXYZ-TV.
"Those younger guys go, oh, that is how you talk about women, that's how you look at women, as an object, something to be dissected," the unidentified minister was heard saying. He added: "Ladies, if you dress provocative, if you dress and leave absolutely nothing to the imagination younger girls look and go 'oh my gosh, she's got plenty of boys around her.'"
Dozens of female students later decided to protest the lecture by pinning paper targets to their school uniforms and placing posters around the building, Detroit Free Press reported.
The posters read: "Instead of publicly shaming girls for dressing how they want, teach men not to over-sexualize women's bodies." To back up the point, the sign also included a biblical verse at the bottom from the book of Matthew. It stated: "And I say to you that everyone who looks at a woman with lustful intent has already committed adultery with her in his heart."
According to WXYZ-TV, any students who refused to remove the paper targets were given one hour of detention after lessons—but the school's faculty has denied this happened.
One father, who declined to be identified as the school is private and he feared retribution, told WXYZ-TV: "He was telling a woman, if you dress a certain way then you are asking for it." The dad said that some of the students had been threatened with suspension for the protest.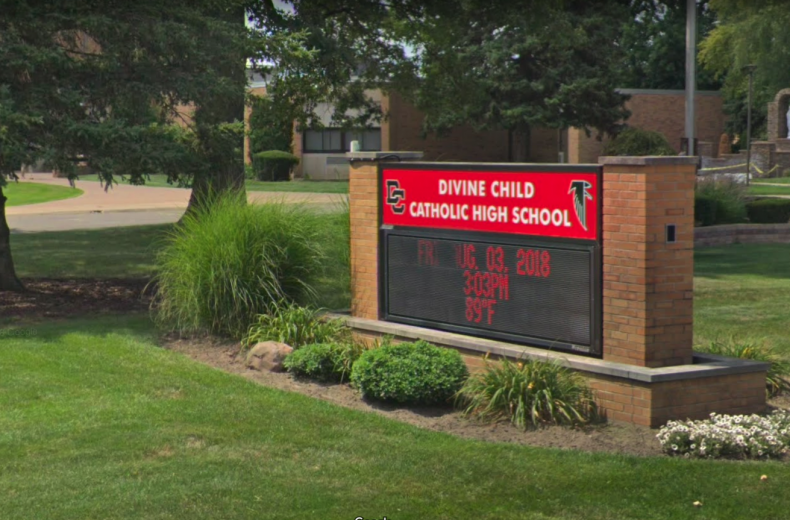 In a statement, the Catholic school responded: "Administration at Divine Child High School recently became aware of concerns from some students about a recent presentation given to all ninth-graders, over the course of May 28-31, covering students' rights, responsibilities, and situations they may face while participating in Christian service opportunities.
"Our students' comfort, safety, and well-being are paramount to their experience at Divine Child High School, and we are taking all concerns seriously.
"To that end, we have discussed these concerns with some students and parents and welcome input from all of our stakeholders. School administration has no record of students being suspended, issued detentions or otherwise disciplined as a result of this situation."
The administrators' statement continued: "While we are confident in the message and value of the program, this input from our community has and will help us continue to improve our delivery of this important information to our students."
It is not the first time Divine Child has been criticized for its stance on women's autonomy. Last April, it hit the headlines about a plan to force "modesty ponchos" on girls wearing revealing clothing that failed to meet "formal dance dress requirements" at prom.
After a backlash, officials scrapped the idea. "The poncho will not be passed out at prom," read a letter sent to parents from the school principal at the time. "It was on display to proactively remind students of our dress code policies and eliminate any confusion prior to this special event."