Michigan Doctor Doesn't Want 'I Told You So' Demeanor as COVID Hits The Unvaccinated
With unvaccinated patients accounting for almost all of the recent COVID-19 hospitalizations across the country, one Michigan doctor said the conversation on vaccines has become increasingly difficult to have in his intensive care unit.
"It's a very delicate conversation to have. When somebody's very ill, you certainly don't want to have this 'I told you so' demeanor to it," Dr. Justin Skrzynski told Newsweek. "But that is a conversation that almost always comes up."
"I find that people on the whole, they'll tell a narrative which sort of exonerates them in terms of, you know, they had other things going on or they're waiting for some sort of condition to happen," he said. "It's very difficult for someone who is critically ill with COVID to look back in hindsight and say well, this is certainly better than any theoretically or fantasy risk that the vaccine would have had."
In a Monday interview, Skrzynski, who has run the COVID-19 unit at Beaumont Health's flagship hospital in Royal Oak since the beginning of the pandemic, said while he never wants to seem patronizing about vaccines, most of his patients often leave the hospital wishing they had gotten the jab before their infections.
"To be honest, I would say the majority of people who do come in sick, and again, all of them are unvaccinated, we're seeing most of them are regretful about that," he said.
In Michigan, 97 percent of COVID hospitalizations are among unvaccinated people and 99.5 percent of COVID-related deaths are in unvaccinated individuals—a trend that has been seen from state to state.
The rapid spread of the highly transmissible Delta variant has resulted in a new wave of coronavirus hospitalizations, particularly in states with low vaccination rates.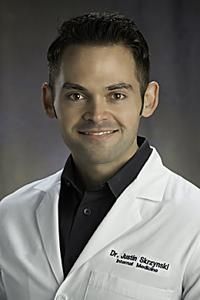 As of Monday, 66.5 percent of Americans aged 12 and older have received at least one dose of the vaccine. Dr. Justin Skrzynski of Beaumont Health.
Beaumont Health
Skrzynski warned that while Michigan had some fallback measures to help prevent the spread of the virus during its spring surge, states that are experiencing a spike now may have even fewer ways to mitigate a strain that is harder to contain.
"The most immediately effective measures are still going to be masking and distancing," he said. "Unfortunately, those are measures which a lot of people, at this point, are not willing to return to."
"If you really want to put out the fire, so to speak, the way to do that is with a mass return to mass distancing," he said.
While Michigan is not seeing a COVID spike as extreme as places like Arkansas or Florida, Skrzynski said hospital workers across the U.S. are preparing themselves for the worst this fall.
"The entire medical community here, as a whole, is bracing for the next few months," he said.
"With the uncertainty going into the fall, there's a huge amount of attrition everywhere you look in the healthcare system, my hospital included," Skrzynski added. "For those who are left, who are still willing and able to fight this thing, the idea of returning to a situation—for instance in Michigan, our fall surge was awful—to think of returning to a situation like that again, a lot of people don't have the energy for it."
The COVID hospitalist is urging people to get vaccinated, even those who have already contracted the virus, noting that one COVID hospitalization does not rule out any future ICU admissions.
"It's not a zero percent chance of reinfection," Skrzynski said. "We absolutely recommend to still get vaccinated after infection. It's a much more comprehensive coverage. It's a much more durable and, as we understand, long lasting coverage."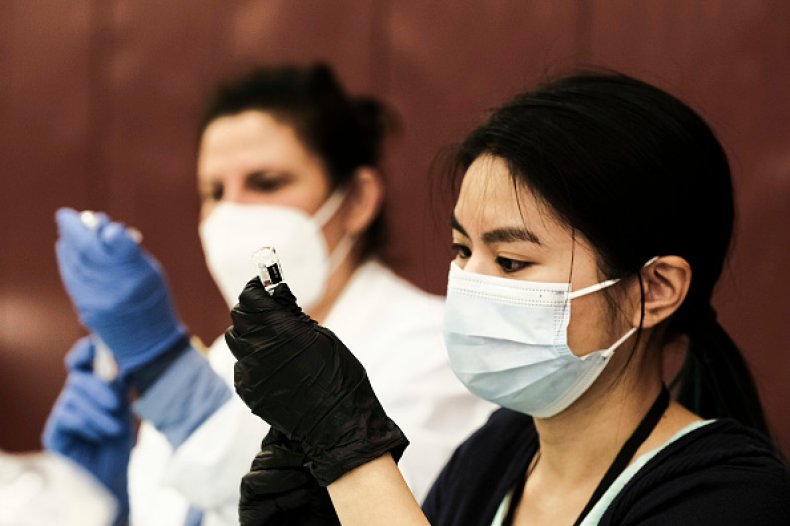 "The problem is that COVID is in people," he told Newsweek. "If you have all these unvaccinated people that perpetuates this reservoir of COVID, then at anytime you can seed vulnerable communities where people are not vaccinated, where you have people who are, say, transplant patients who can't form a proper immune response."
As of Monday, 66.5 percent of Americans aged 12 and older have received at least one dose of the vaccine.
Newsweek, in partnership with NewsGuard, is dedicated to providing accurate and verifiable vaccine and health information. With NewsGuard's HealthGuard browser extension, users can verify if a website is a trustworthy source of health information. Visit the Newsweek VaxFacts website to learn more and to download the HealthGuard browser extension.