Michigan Doctor on Intubated COVID Patients, 'People Die Once They Get to That Point'
Ventilators have become a common hospital metric over the course of the coronavirus pandemic, but one Michigan doctor highlighted that the use of such machines typically signals a dire future for most COVID-19 patients.
"Once people get intubated, their course tends to be long and protracted," Dr. Barbara Ducatman, the chief medical officer at Beaumont Hospital, Royal Oak, told Newsweek. "People die once they get to that point."
"Those are where we see most of our deaths—from patients who have been intubated in the ICU," she said.
Across Beaumont's eight hospitals, which are a part of Michigan's largest healthcare system, there are currently 563 COVID patients. Among those hospitalizations, unvaccinated people account for two-thirds.
But those figures become much more skewed when analyzing the number of patients who require ventilation. Of the 51 patients on a ventilator, more than 85 percent of them are unvaccinated.
"Vaccinated patients tend to come in and they spend a few days in the hospital, usually on a little bit of supplemental oxygen, not a lot. They may end up in the progressive unit, which means they're a little bit sicker, but generally, they don't end up going to the ICU, getting intubated, and then spending a very long time in the hospital," Ducatman said.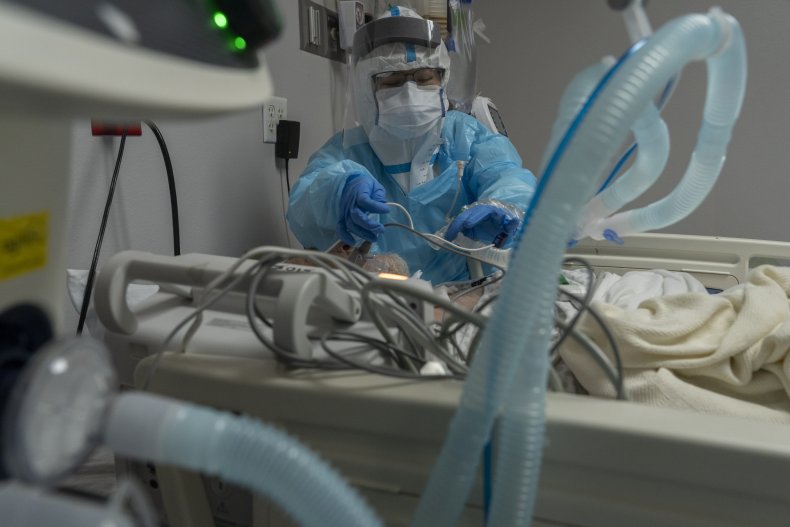 Comparably, she said some of the unvaccinated patients she's treated have spent up to months in the hospital.
Ducatman emphasized that healthcare workers across the country are hard at work looking after COVID patients regardless of their vaccination status, but added that it can be "frustrating for us when people refuse [the vaccine] even at the point when they're going home from the hospital."
She said she continues to recommend people, even those who have had a COVID infection, to get both their initial vaccine sequence and a booster shot in order to prevent severe infection from new variants, like Omicron.
While Michigan's hospitalizations are on a downward trend following the most recent surge in early December, hospital officials are preparing for numbers to rise again with the spread of the highly transmissible strain and large gatherings over the holidays.
"We're hoping that the numbers continue to decline, but we're planning for the numbers to spike up after the holidays, particularly after Christmas and New Year's where people get together," Ducatman. "At this point, the vast majority of cases are the Omicron variant, which is very infectious and is able to infect vaccinated people, although their outcomes are so much better."
On Monday, Michigan reported another 32,957 new cases of COVID-19, bringing up the state's total number of confirmed cases to 1,481,480.
A number of hospitals across the state, including Ducatman's, have requested assistance from the Department of Defense (DOD) to help Michigan with its fourth COVID wave.
While only one hospital in Dearborn has been provided a temporary medical response team, the additional support has already provided some relief statewide.
"We have a nursing pool at Beaumont Health. So when the DOD team came into Dearborn, it meant we could shift some of our nursing pool—which covers all the hospitals—to some of the other hospitals," Ducatman explained. "It provided relief, not only for Dearborn but for the entire system."
"Of course, we would love to have more relief," she added.
The 23 military medical personnel who were sent to the hospital system's location in Dearborn earlier this month is expected to remain until January 2, but a request from Governor Gretchen Whitmer's office to extend their mission remains pending.
Since the operations began this past August, the U.S. Army North COVID-19 Hospital Support has helped civilian health care providers treat patients across 13 states, including Alabama, Arkansas, Colorado, Idaho, Louisiana, Michigan, Minnesota, Mississippi, Montana, New Mexico, Tennessee, Utah and Washington.