Michigan Doctors Say Trump's Lansing Rally Will 'Only Make Things Worse' as COVID Cases Rise
A panel of physicians in Michigan expressed concern on Tuesday just hours before President Donald Trump is scheduled to host a campaign rally in Lansing, Michigan, criticizing his response to the pandemic and arguing the events are contributing to the spread of COVID-19.
"As a physician, I join my medical colleagues across Michigan and here today and the nation who've raised serious concerns about President Trump holding these crowded rallies in the middle of a highly contagious, deadly pandemic," said Dr. Stephanie Markle, a critical care surgeon in Kalamazoo.
Three Michigan physicians, all of whom are members on the Committee to Protect Medicare, participated in Tuesday's panel. The event began at 11 a.m. ET, the same time that doors opened at the Capital Region International Airport Tuesday for Trump's supporters. The president is scheduled to take the stage at 2 p.m.
Like many states in the U.S., Michigan recently hit a daily record of coronavirus cases, recording 1,747 new cases on October 19. Tuesday marks the 14th day in the row in which daily cases have been above 1,200.
At Markle's hospital, workers have begun to bring back coronavirus units that were previously shut down. Many hospitals have surge plans in place and doctors are "bracing for the next wave that we know is already here," she said.
"COVID-19 is not disappearing. Trump's rally in Lansing only threatens to make things worse," Markle said. "We are extremely concerned that the president's rallies will infect people in our communities, this will cause uncontrolled spread, will worsen the pain and suffering we're already seeing across the state."
Both Trump and Democratic nominee Joe Biden have hosted campaign rallies throughout the summer in cities across the U.S. amid the coronavirus pandemic. But the two candidates approach their rallies quite differently, particularly when it comes to adhering to social distancing and mask-wearing.
Biden has recently held a series of drive-in rallies in several key swing states, where supporters park their cars around the stage Biden speaks from. Large projectors are also used to help visibility.
Trump's rallies are often held at large outdoor spaces, like airfields. While campaign organizers say they take precautions like mandatory temperature checks for each guest and handing out face masks and hand sanitizer, photos from the events often show packed crowds and people without face coverings.
Courtney Parella, a deputy national press secretary for the Trump campaign, told the Omaha World-Herald that campaign organizers take "strong precautions" for the large rallies.
"Every attendee is provided a mask they're instructed to wear and has access to plenty of hand sanitizer," she said in an email. "We also have signs at our events instructing attendees to wear their masks."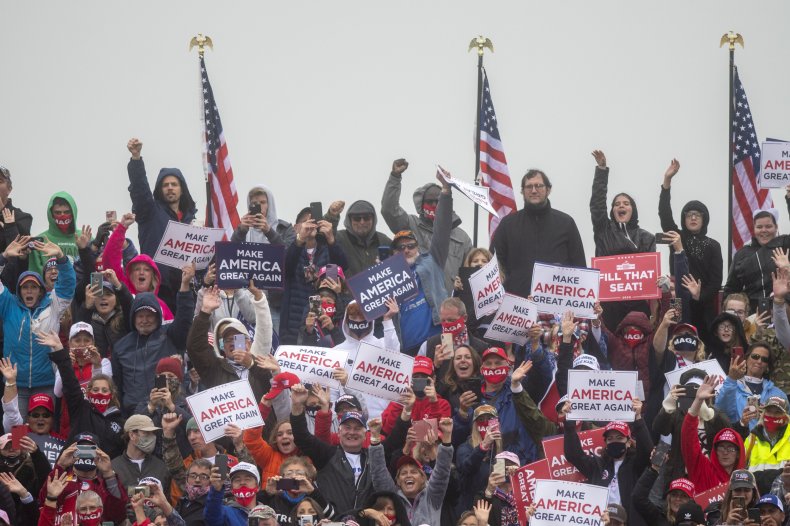 But Markle argued on Tuesday that even with such precautions in place, the president's demonstrated attitude toward safety guidelines yield little adherence among his supporters.
"Where President Trump should be promoting social distancing and mask wearing, he is instead packing people together," Markle said. "When he should be telling people to wear masks, he mocks them instead."
Dr. Rob Davidson echoed this criticism, offering anecdotes from his experience as an emergency room doctor. Davidson said he has had to ask many patients to wear a mask while on his shifts, asserting that every time Trump mocks mask-wearing, it emboldens his supporters to do the same.
"Those of us who see for ourselves what COVID-19 looks like up close with patients who can't breathe know that COVID-19 is not going anywhere anytime soon, and the people we entrusted to lead us through this pandemic have not lived up to their responsibilities," Davidson said.
The Center for American Progress, a nonpartisan institute, published a report Monday finding that "at least 26 individual COVID-19 cases have been linked to participation in Trump rallies since June." About half of Trump's 22 campaign rallies held between June and September were followed by a county-level increase in COVID-19 cases, the institute found.
While doctors are concerned that the rally could start a chain reaction of new coronavirus infections, Davidson also expressed worry that Trump "continues to spread medically inaccurate misinformation that will endanger peoples' lives," listing the president's repeated claim that the U.S. is "rounding the turn" as evidence.
Instead, Davidson said, the facts are that more than 225,000 Americans have now died from the disease. On both Friday and Saturday, the U.S. reported more than 83,000 new COVID-19 cases each day, according to Johns Hopkins University.
"Instead of holding another rally, President Trump should buckle down and do the hard work he should've done starting in January," Davidson said.
Newsweek contacted the Trump campaign for comment but did not hear back in time for publication.