Michigan Dollar Store Security Officer Reportedly Killed For Not Letting Customer Enter Without Face Mask
Police are investigating the death of a security officer who was shot and killed during his shift at a Family Dollar store in Flint, Michigan, on Friday.
A motive has not been officially determined, but comments from the victim's loved ones suggest the shooting occurred after a customer was refused entry to the establishment for not wearing a face mask, per Governor Gretchen Whitmer's executive order to protect against transmission of the new coronavirus as Michigan begins to reopen businesses. Newsweek did not receive replies to requests for additional information from the City of Flint Police Department or Michigan State Police by the time this story was published.
The late security officer has been identified as 43-year-old Calvin "Duper" James Munerlyn, a father of eight. A GoFundMe campaign organized by friend Courtney Cabine, who referred to Munerlyn as "Big Bro" in a commemorative post shared to her Facebook page one day after his passing, includes details about his family as well as the nature of the alleged altercation that led to his death in its description.
"Duper was a hard-working father and husband who lost his life while doing his job securing the place of business and asking all customers to wear a mask for our own safety as well as others. He leaves behind 8 amazing kids, a super loving wife, & his wonderful mother," Cabine's message reads. The GoFundMe campaign has surpassed its $10,000 goal since it was first created on May 2.
Civilian comments shared to social media over the weekend have made similar statements about an argument between Munerlyn and a Family Dollar customer regarding the use of face coverings. Their claims prompted law enforcement to consider the dispute as a possible motive, Detroit News reported on Sunday.
"We're seeing a lot of these reports on social media, so we're investigating them," said Michigan State Police 1st Lt. David Kaiser, according to the outlet. "We'll talk to all the potential witnesses."
The University of Michigan-Flint's Department of Public Safety shared preliminary information about the shooting in a Facebook post on Friday afternoon, which confirmed it took place around 1:15 p.m. EDT. At that time, the suspect had fled the area "on foot," and public safety officers asked anyone with knowledge of his location to contact the police department.
Whitmer's executive order mandating use of face masks in public places went into effect on April 27 and will remain so through at least May 15. The policy states that "any individual able to medically tolerate a face covering must wear a covering over his or her nose and mouth—such as a homemade mask, scarf, bandana, or handkerchief—when in any enclosed public space."
Discussing the order's terms during a news conference on April 24, Whitmer said businesses are permitted to deny entry to customers who are not wearing face masks, adding that she "would encourage" them to do so. The governor signed an additional executive order on Saturday that requires individuals to wear face coverings when entering all grocery stores and pharmacies through May 29.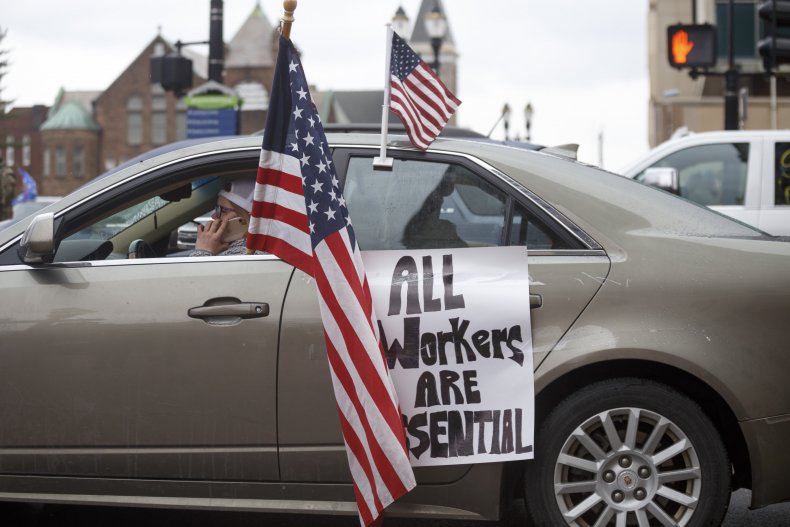 Regarding enforcement, Whitmer's original order additionally noted that any "willful violation" of its terms warrants a misdemeanor charge. Whitmer has faced criticism from Michigan residents who have voiced disapproval of her policy decisions amid the pandemic during recent protests.
Michigan has confirmed at least 43,801 cases of the new coronavirus, and the U.S. has 67,710 coronavirus-related deaths, as of Monday morning, according to Johns Hopkins University's tracker. It ranks seventh among states in the U.S. impacted by the pandemic.
Correction (5/4/2020, 7:00 p.m.): This article has been updated to correctly attribute the number of deaths due to coronavirus to the United States, rather than just the state of Michigan.