Michigan Flooding Map: Where Flooding Has Caused Evacuations After Two Dams Break in State
About 11,000 people in Midland County, Michigan, are evacuating from their homes as the Tittabawassee River continues to rise.
After days of heavy rain, the Tittabawassee breached the Edenville and Sanford dams on Tuesday. The National Weather Service urged people to seek higher ground immediately, and thousands of people were advised to leave their homes.
About 10,000 people in the city of Midland were evacuating on Wednesday, and an additional 950 in other Midland County townships and villages were leaving their homes, according to the city's government. All city residents within the shaded areas of the map below were told to evacuate, as well as those living south of U.S. 10 and west of Eastman Avenue.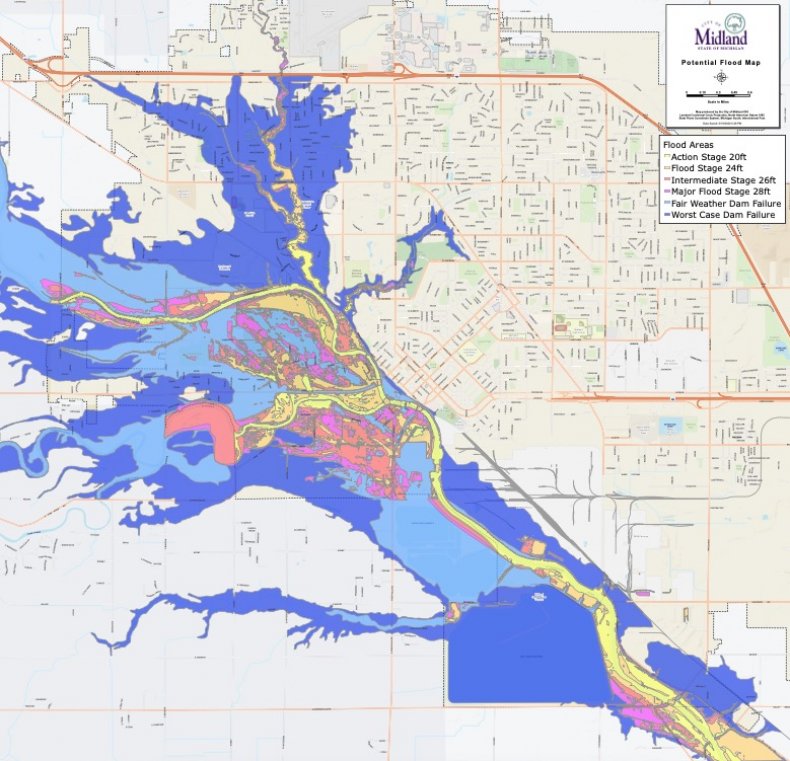 In the broader Midland County, all residents living within the shaded areas of the map below were told to evacuate. Midland Township residents on Ashby Road between Poseyville and Patterson roads; Homer Township residents on East Wheeler Road or Homer Road; and Lincoln Township residents east of M-30 on any roads between Price and Wackerly were also told to leave.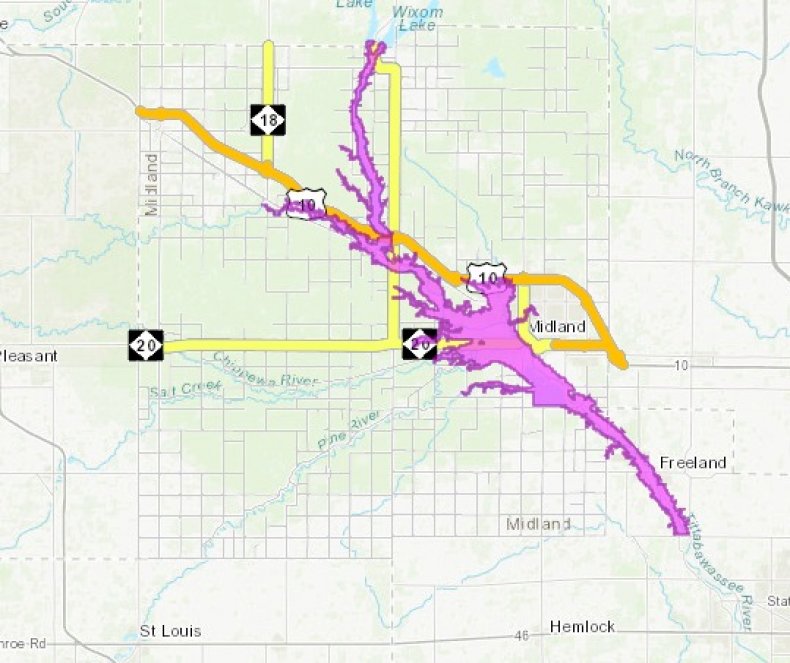 Those who did not have a safe place to go after leaving their home could go to one of five shelters: West Midland Family Center, Midland High School, Bullock Creek High School, Coleman High School and North Midland Family Center.
Officials anticipated it would take several days before it was safe for people to return, and evacuated residents were told not to go back home until they were advised it was safe.
The Tittabawassee River reached 35 feet on Wednesday afternoon, according to the National Weather Service. The NWS expected the river to crest between 35 and 36 feet by Wednesday evening. A separate NWS forecast said it was possible the river could reach up to 38 feet before cresting.
After cresting, "significant flooding" was expected to continue in the city, and northeastern Midland County is set to remain under a flood warning until Thursday morning.
Michigan Governor Gretchen Whitmer declared a state of emergency on Tuesday and told people to seek safety. She said in a statement the flooding was "unlike anything we've seen" in the county and noted on Wednesday that experts called it a 500-year event.
"It's going to have a major impact on this community and on our state for the time to come," Whitmer said during a Wednesday briefing, adding that it was happening during another crisis, the coronavirus pandemic. "It is a tough time to be sure, but we are going to get through this."