Michigan GOP Candidate Uses Gretchen Whitmer's Account of Being Raped in Attack Ad
The Michigan gubernatorial race's nasty rhetoric was amplified this week by Republican candidate Bill Schuette, whose campaign released an ad showing Democratic candidate Gretchen Whitmer telling her personal account of surviving a rape in college.
Schuette, Michigan's current GOP attorney general, unveiled the campaign ad video Friday that labeled Whitmer and her lieutenant governor pick, Garlin Gilchrist, as the "most left-wing ticket in Michigan history." The video claimed both members of the Democratic ticket were "so extreme, they attacked Israel and praised Hamas."
Update: The Schuette campaign issued an additional statement denying the photos used were from Whitmer's 2013 "rape insurance" account. In an email to Newsweek Tuesday, the Republican candidate's campaign said Democrats provided the Detroit News photo to media outlets and are "playing politics."
"The photo in question came from a Detroit News story which indicates that the photo was provided by the Michigan Democratic Caucus. 'Whitmer named interim Ingham County prosecutor' The photo has been provided by the Senate Democrats for use to various news outlets and the Whitmer campaign attacking the Schuette campaign is playing politics...The Whitmer-Gilchrist team is simply trying to deflect attention away from their extreme positions that put Michigan families' security at risk by aboloshing [sic] ICE, closing the U.S. Department of Homeland Security and supporting a terrorist organization, Hamas, against Israel.
Newsweek subscription offers >
And while the video showed several unflattering images of Whitmer, some of them were taken from her account of being sexually assaulted that she told to members of the state's Senate considering a "rape insurance" bill in 2013.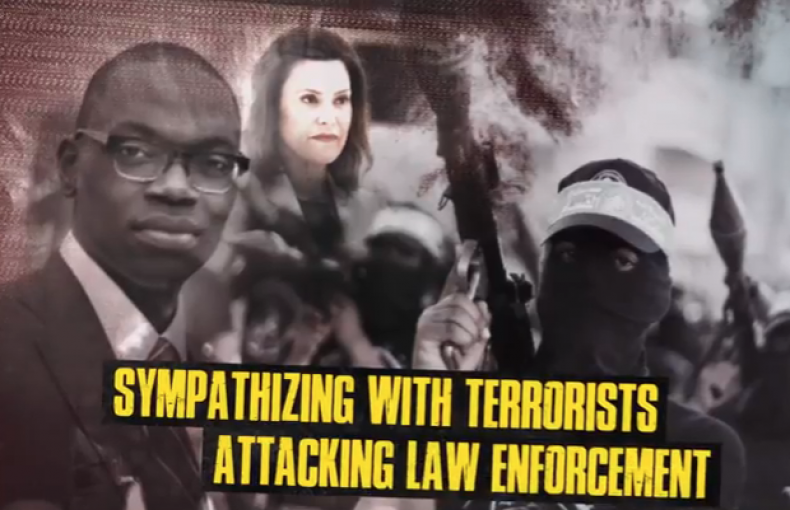 "Does Gretchen Whitmer have the judgment and values to be governor?" the attack ad narrator asks as eerie music plays. "Whitmer supports abortion with no restrictions, taxpayer-funded abortions, painful late-term abortions. Gretchen Whitmer approves of it." The ad also labels Gilchrist a "left-wing radical."
Newsweek subscription offers >
In December 2013, Whitmer revealed to the state Senate the emotional and physical struggle she endured from being raped as a freshman at Michigan State University.
"It's something that I've hidden for a long time," she said at the time. "But I think you need to see the face of the women that you are impacting by this vote today."
In addition to connecting Whitmer and Gilchrist to Hamas, the attack ad painted them as "so radical, they want to abolish ICE...sympathizing with terrorists, attacking law enforcement." Schuette tweeted a description of the Whitmer-Gilchrist ticket, writing, "Gretchen Whitmer and Garlin Gilchrist are the most extreme Democrat candidates in Michigan history—opposing immigration enforcement, bashing Israel, supporting Hamas. They are an extreme risk we can't take."
Bill Schuette for Governor, the organization behind his gubernatorial run, sponsored the attack advertisement which pulled images from the emotional speech. Whitmer, a former Democratic state senator and representative, is set to face Schuette and Libertarian Bill Gelineau in the bid to replace Rick Snyder, the outgoing Republican governor.
Tony Zammit, deputy communications director for the Michigan Republican Party, told the Detroit Metro Times the ad used images from another appearance in the Senate. But Zach Pohl, communications director for Whitmer for Governor, rejected that claim and said the images are in fact from her speech opposing the proposed "rape insurance" law.
Michigan GOP Candidate Uses Gretchen Whitmer's Account of Being Raped in Attack Ad | U.S.