Michigan GOP Lawmaker Punished After Hinting at Violence Ahead of Electoral College Vote
Michigan state House Speaker Lee Chatfield, a Republican, on Monday announced that a GOP colleague had been removed from his committee assignments for the rest of the term after he said in a radio interview he couldn't guarantee there wouldn't be violence as electors gather in Lansing Monday to cast their electoral votes for President-elect Joe Biden.
State Representative Gary Eisen of St. Clair Township told radio host Paul Miller on WPHM-AM that Republicans "have a Hail Mary" attempt to prevent the electoral votes from being cast in Biden's favor on Monday. "Can you assure me that this is going to be safe day in Lansing, nobody's going to get hurt?" Miller asked Monday morning.
"No," Eisen replied. "I don't know because what we're doing today is uncharted. It hasn't been done. And it's not me who's doing it...it's the Michigan Republican Party."
In a statement released later Monday morning, Chatfield said Eisen would be removed from his committee assignments as a result of his remarks.
"We as elected officials must be clear that violence has no place in our democratic process. We must be held to a higher standard. Because of that, Rep. Eisen has been removed from his committee assignments for the rest of the term," Chatfield said.
The Michigan House Speaker said that leadership had been "consistent" in taking a stand against threats and suggestions of violence.
"We have been consistent in our position on issues of violence and intimidation in politics—it is never appropriate and never acceptable. That is true of threats or suggestions of violence against Gov. [Gretchen] Whitmer, Secretary [of State Jocelyn] Benson, Rep. [Cynthia] Johnson and others on the Oversight committee, Republicans, Democrats, and members of the Electoral College. That applies to threats made toward public officials, and it must also apply when the public officials open the door to violent behavior and refuse to condemn it. We must do better," he said.
Newsweek reached out to Eisen for comment but he did not immediately respond.
The Michigan state capitol and legislative buildings in Lansing are closed to everyone except those required for the Electoral College vote, which will be held at 2 p.m. A spokesperson for the state Senate said this was at least partially due "a credible threat of violence," the Detroit Free Press reported. But a Michigan State Police spokesperson said they weren't aware of a threat. A spokesperson for the Michigan Republican Party also said the party was "unaware of what Rep. Gary Eisen is referring to."
Many Michigan Republicans have backed President Donald Trump's efforts to overturn the election results in their state and others around the country. Although Trump lost Michigan to Biden by more than 150,000 votes, he has baselessly claimed that this was due to widespread voter fraud.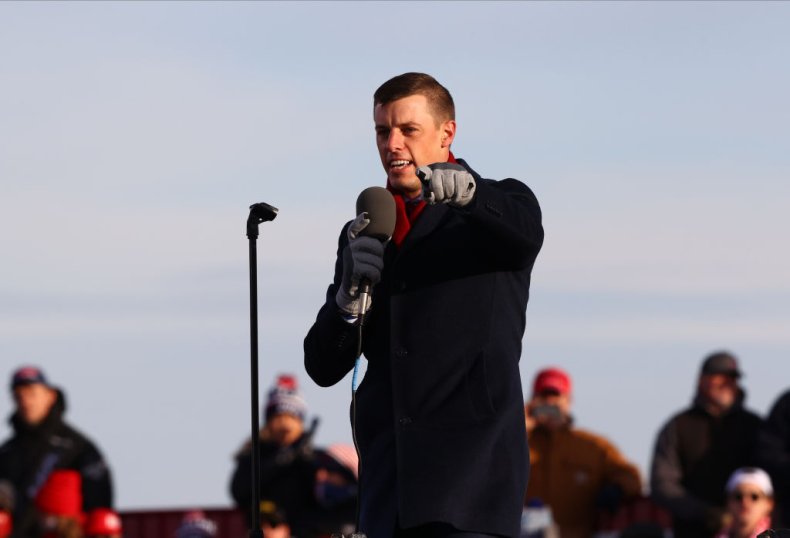 Trump's legal challenges to Michigan's results have failed in court, as judges have pointed out that the president's lawyers have not provided evidence to substantiate the allegations. Attorney General William Barr, appointed by Trump, also said at the beginning of December that there is no evidence of election fraud that would change the results.
Last week, Chatfield and state House leadership removed Representative Cynthia Johnson, a Detroit Democrat, from her committee assignments after she made what appeared to be threats during a video posted to social media. Johnson's video came in response to law enforcement reportedly investigating threats against her.
"So, this is just a warning to you Trumpers. Be careful. Walk lightly. We ain't playing with you. Enough of the shenanigans. Enough is enough," Johnson said. "And for those of you who are soldiers, you know how to do it. Do it right. Be in order. Make them pay. I love y'all."
In early October, federal and state investigators announced charges against 13 men who were involved in an alleged plot to kidnap and possibly execute Michigan's Governor Gretchen Whitmer, a Democrat. The plotters were angered by COVID-19 lockdown measures, and investigators said some of the men had monitored one of the governor's homes as they planned the abduction.